10 Shows You Should Stream If You Like The Walking Dead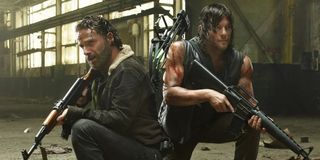 Horror has seen several big, lasting trends come and go with varying degrees of notoriety, from monster movies in the '50s to the height of the slasher in the '80s, but the zombie has never been more popular than after the dawn of The Walking Dead. When the series, inspired by Robert Kirkman's long-running Image comic book series, debuted on AMC on Halloween in 2010, a new generation of fans obsessed with apocalyptic horror dramas spread faster than an outbreak of flesh-eating corpses ever could.
Now, after years on the air, spawning two spin-off series and a movie centered on former series lead Andrew Lincoln as Rick Grimes, The Walking Dead is just one of countless TV shows about zombies, the apocalypse, or both at your disposal. Even if you no longer follow the adventures of Norman Reedus' Daryl Dixon and the rest of the rotating cast of Walker fighters, there is still plenty of options to satisfy your craving for survivalist drama that ranges from the disturbingly real to the hilariously absurd, even.
Fans of The Walking Dead need not worry when the series will eventually reach its end because there are several TV shows like it available to stream right now. To help narrow down your search, I have 10 recommendations to choose from prepared for you here.
Z Nation (Netflix)
If you are a fan of The Walking Dead, you probably live and breathe fiction revolving around the dead. The series may be the one zombie show that takes the cake in popularity in critical acclaim, but that is no reason to ignore this overlooked gem about a world overrun by reanimated corpses.
Not to be confused with Ulli Lommel's much lambasted B-movie Zombie Nation, Z Nation takes place three years after an outbreak of undead flesh eaters has turn the United States into a wasteland of carnage and despair, until the discovery of one person immune to the plague sparks some newfound hope for a group of everyday heroes determined to make America a land for the living again. Lasting five seasons on Syfy, this series that is equal parts bloody drama and zany comedy is a breath of fresh air, but if The Walking Dead's earnestness is what you really crave, try the Netflix exclusive Z Nation prequel, Black Summer. Stream it on Netflix here.
The Strain (Hulu)
Zombies are usually the first creature you think of when picturing a cataclysmic, viral outbreak transforming humans into ravenous monsters. Because, of course, the more sophisticated, suave vampire would never cause the fall of civilization, right? Not in the mind of Guillermo del Toro.
Guillermo del Toro and Chuck Hogan adapted their own book trilogy into this FX series, which lasted four season, about an epidemic that slowly transforms most of humanity into grotesque, animalistic bloodsuckers. Corey Stoll plays a CDC employee who fails the contain the vampiric virus in The Strain and becomes humanity's last hope in this chilling, complex survivalist horror drama. Stream it on Hulu here.
Dead Set (Netflix)
There are not enough stories these days that act on the potential for zombies to represent an underlying meaning that goes deeper than how far their teeth sink into human flesh, much like Night of the Living Dead and its subsequent spiritual follow-ups did. With that in mind, I guess you can call Charlie Brooker, the creator of Black Mirror and this satirical horror miniseries, the new George A. Romero.
Dead Set follows a group of contestants participating in the British version of Big Brother, unaware of the gory, apocalyptic madness happening right outside their camera-rigged home. In addition to its bloody thrills, the five episodes of this program, which originally aired on the U.K.'s Channel 4 in 2008, also poke fun at the manipulative mastery that takes place behind-the-scenes of shows that just barely earn the right to be called "reality television." If you like your horror with a dash of ironically funny symbolism, this is for you. Stream it on Netflix here.
The Mist (Netflix)
Where were you when you first witnessed the ending of Frank Darabont's 2007 adaptation of the Stephen King novella The Mist? Were you like me and thought the shockingly devastating moment was the perfect conclusion to the film chronicling a group of people trapped in grocery store when a mysterious mist hiding a deadly threat rolls into their town, or would you have rather seen things go in a different direction?
Well, you certainly will not find the same ending of in this 2017 series adaptation of The Mist, which takes liberties with a new setting and cast of characters, because Spike TV (now the Paramount Network) cancelled it after one season. Despite its premature axing, like The Walking Dead, this is a boldly intense story of survival that puts the morality of its victimized protagonists into question, keeping you guessing where who the real enemy is. Stream it on Netflix here.
Band of Brothers (HBO NOW, Amazon Prime)
The concept of the zombie apocalypse may be one that only exists in fiction, however, the struggle to survive in a hellish environment with death at every turn is a harsh reality for many. That description matches the experiences of the men who inspired Band of Brothers, the Golden Globe-winning HBO miniseries from producers Steven Spielberg and Tom Hanks, who had previously exposed the horrors of World War II in Saving Private Ryan.
Featuring interviews with the actual veterans who inspired the story, Band of Brothers follows these young patriots, played by such recognizable faces as Donnie Wahlberg, Damian Lewis, and Michael Fassbender, from the beginning of their training to final days of WWII over the course of 10 fascinating and often heartbreaking episodes. It is one of the most acclaimed, authentic, and ultimately upsetting war epics of all time. Stream it on Amazon Prime here or HBO NOW here.
3% (Netflix)
Even after the global collapse of civilization, in The Walking Dead, survivors of the zombie outbreak have managed establish their own functioning communities, some with differing levels of class that certain people are barred from. The concept of a class-based divide in the wake of the apocalypse is also explored explored in 3%.
With themes reminiscent of The Hunger Games, this Brazilian Netflix original series is set on the uninhabitable wasteland that Earth has become, prompting the ensemble cast of young characters to fiercely compete to be one of the three percent allowed entry to the "better side." With three seasons currently available, 3% is a clever, intense dystopian drama that forces the viewer to ask if they would have what it takes to survive hell. Stream it on Netflix here.
Vikings (Hulu)
In a time of danger, desperation, and distrust, the only thing more important than the battle against the undead is the battle for territory, as survivors struggle to claim the most efficient safe haven as their own no matter the cost. Of course, in the 13th Century, conquering territory was just another day at work for some.
In 2013, The History Channel introduced its first scripted series, Vikings, which initially followed Ragnar Lothbok (Travis Fimmel), one of the fiercest warriors of his time according to Norse legend, as he and fellow Vikings plunder and take control of whatever land they wish. The thrilling series from fact-based drama auteur Michael Hirst (The Tudors, Elizabeth) is currently in its sixth and final season, but an original spin-off, Vikings: Valhalla, is coming soon to Netflix. Stream it on Hulu here.
Deadwood (HBO NOW, Amazon Prime)
In any group of survivors of apocalyptic trauma, there is always an alpha male (or female) to take leadership and, consequently, one black sheep who questions their authority. This theme has been touched upon many, many times in The Walking Dead, from Rick Grimes' tragic clash with his former friend and partner Shane Walsh (Jon Bernthal) to Rick's quarrel with the sinister Governor (David Morrissey), and also runs deep in the western Deadwood.
Inspired by the lives of actual residents of the titular South Dakota town in the 1870s, the central conflict of Deadwood is between lawman Seth Bullock (Timothy Olyphant), who wants to free the town of the crime and corruption that consumes it, and saloon owner Al Swearengen (a Golden Globe-winning performance by Ian McShane), who is essentially the Devil taking ownership of the Hell that Deadwood has become for its citizens. In three Emmy-winning seasons and a TV movie to tie a few loose ends, this HBO series provided viewers with an intense story and a brutal reminder of why they called it the Wild West. Stream it on Amazon Prime here or on HBO NOW here.
Fortitude (Amazon Prime)
One of the most striking elements of The Walking Dead's pilot, directed by developer Frank Darabont, is how it depicts society's transition from an average, picturesque society to a dismal, cataclysmic aftermath in a snap, reflecting how fast the outbreak and its delimitating effects must have seemed to the survivors. The titular town of the Amazon exclusive series Fortitude also falls victim to an unprecedented event that quickly turns life for its citizens upside down.
Fortitude, a peaceful arctic community with a non-existent criminal record, is shaken by discovery of a brutal murder, convincing the viewer that they are in store for a crime thriller, until that crime ends up becoming the first of a series of increasingly disturbing (and very strange) events. Starring a talented ensemble cast, including Dennis Quaid (who joined in the second of its three seasons), this British import is an addictive thriller with a relentlessly grim atmosphere and unpredictable characters that always keep you on edge. Stream it on Amazon Prime here.
Ash Vs. Evil Dead (Neftlix)
In The Walking Dead, hunting formerly human creatures of monstrous ability is an unquestionably taxing, devastating, and thankless task. For Ash Williams, it's a hobby he takes full pleasure in, especially when equipped with a chainsaw to replace his right hand and a boomstick.
Sam Raimi's Evil Dead franchise, which ranges from pure terror to cartoonish absurdity, sees its most perfectly executed marriage of horror with slapstick in Ash vs. Evil Dead, which puts Bruce Campbell's selfish, absent-minded titular hero, accompanied by his S-Mart colleagues Pablo (Ray Santiago) and Kelly (Dana DeLorenzo), in another war with the demonic "Deadites" that lasts three seasons. Campbell actually retired the character of Ash Williams following Starz's cancellation of the series in 2018, but this irresistibly absurd and unapologetically gory splatterfest is one groovy send-off. Hail to the king, baby. Stream it on Netflix here.
What do you think of our list? Do these series satisfying the Walking Dead fan in you, or did we leave out your other favorite zombie show? Let us know in the comments and be sure to check back for more updates on the apocalyptic AMC series and additional TV horror here on CinemaBlend.
Your Daily Blend of Entertainment News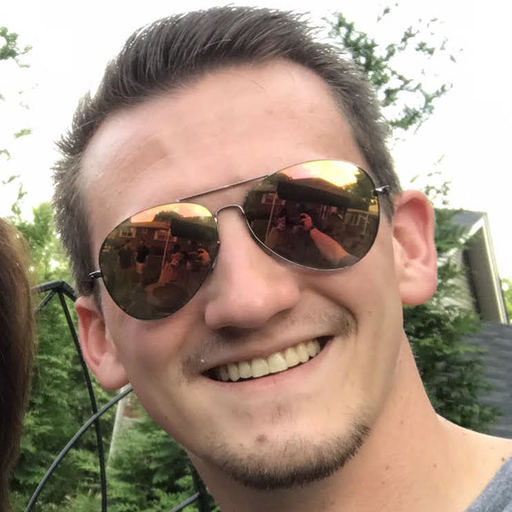 Jason has been writing since he was able to pick up a washable marker, with which he wrote his debut illustrated children's story, later transitioning to a short-lived comic book series and (very) amateur filmmaking before finally settling on pursuing a career in writing about movies in lieu of making them. Look for his name in almost any article about Batman.