The 8 Funniest Funko Pops From The Office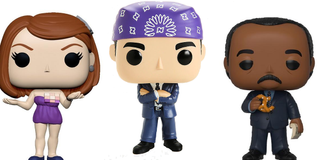 The Office is one of the most beloved comedies of the early 2000s and one of the most successful TV adaptations. During The Office Season 1, its DNA stayed close to its UK counterpart, but The Office built its own identity by Season 2. It has become a sitcom classic with numerous memorable characters, moments, and episodes. Some of The Office's best moments have been turned into Funko Pops.
Funko began in 1998. As of 2020, it has produced over 8,300 collectables. These figurines are geared towards different sets of fandoms, such as Star Wars, K-Pop, and political fandoms. The Office is one of those rare series that still has life way beyond its finale. Therefore, Funko Pops are still being made for the series. The Office has plenty of Funko Pops, ranging from plain character ones, to various figurines that depict moments in the show and long-running jokes. We look through Funko Pop's current, past, and future Office collections and picked some of the funniest ones.
Dwight As Dark Lord
In The Office Season 2, Episode 5, "Halloween," Dwight (Rainn Wilson) gets into the Halloween spirt by dressing up a Sith Lord, probably as Emperor Palpatine. Everyone praises Jim (John Krasinski) for his simple costume consisting of three black dots on his shirt. He's a three-hole punch Jim. Phyllis (Phyllis Smith) and others don't recognize Dwight's costume, even mistaking him for a monk. The hilarious thing about this costume is that Dwight would make an awesome sith lord. The Dwight as Dark Lord Funko Pop is available in June 2020. (opens in new tab)
Michael As Prison Mike
The Office episode "The Convict" from Season 3 gives Michael (Steve Carell) the chance to use some of his stellar improv skills. He finds out that one of his new employees has a criminal record, and like any good boss, he tells the whole office. The new employee shares the good parts of his prison time, and the Dunder Mifflin employees comment that prison sounds better than their jobs. Michael becomes "Prison Mike" to prove to them that they're wrong. Prison Mike (opens in new tab) is just one of Michael's various hilarious Funko Pops.
Jim As Dwight
The Jim and Dwight office dynamic involves Jim pranking Dwight continuously. The two men eventually become friends and learn to respect each other. However, it's a long road of pranks before that happens. One of Jim's best pranks occurs in The Office Season 2, Episode 21, "Product Recall." Jim shows up to work dressed as Dwight and proceeds to nail his Dwight impression. One of the funniest things about the prank is that it takes Dwight a minute to realize that Jim is doing an impression of him. Once he does, he gives Jim a speech about identity theft. Identity theft is not a joke, Jim! The Jim as Dwight Funko Pop (opens in new tab) manages to look exactly like Jim dressed as Dwight. It's magic.
Stanley With A Pretzel
Stanley (Leslie David Baker) and Michael live for Pretzel Day. It's a time once a year when a man arrives with a small oven and soft pretzels with various toppings. Each employee that works in the Scranton Business Park receives a complementary pretzel if they stand in line. During the Season 3, Episode "Initiation," the Dunder Mifflin employees gladly stand in line for some pretzels. Stanley even gives a speech about his bed being too small, his daughter's school being too much, and he's paid too little, but he "likes Pretzel Day." This Funko Pop (opens in new tab) represents Stanley at his happiest.
Casual Friday Meredith
Meredith (Kate Flannery) is a very colorful character around the Dunder Mifflin Scranton office. She's a boozy, sexually liberated, inappropriate icon. In The Office Season 5 episode 26, "Casual Friday," the employees take too much liberty with their outfits. Meredith really goes too far with a dress too short. When she pulls the dress down more, her breast pops out, and when she pulls it up, her lack of underwear shows. The other employees plead with Toby (Paul Lieberstein) to make her change, but Meredith is going to be Meredith. This hilarious Meredith Funko Pop (opens in new tab) comes with a blurred boob out and all.
Florida Stanley
In season 8, some of The Office gang travel to Florida as part of a new Sabre business venture. These series of Florida episodes start with Season 8, Episode 15, "Tallahassee." Stanley is particularly excited about getting to enjoy the Florida vacation lifestyle. Stanley becomes a whole new man in Florida. He's happy, fun, adventurous, and smooth. Jim even notices that Florida Stanley may be much cooler than he could ever be. We all wish we could be that cool, but I guess this Funko Pop (opens in new tab) will just have to immortalize the myth, the legend that is Florida Stanley.
Casual Friday Kelly
Kelly (Mindy Kaling) is a fashion icon. She has worn some of the most interesting outfits throughout The Office. Funko Pop seems to really enjoy the looks from the "Casual Friday" episode, because along with the Meredith casual Friday Funko Pop, they made a Kelly casual Friday one. Kelly's casual Friday look isn't as extremely inappropriate as Meredith outfit, but it's still a really crazy look. She looks like someone from a 90s girl band. The Kelly Casual Friday Funko Pop (opens in new tab) really got the outfit right, from the big gold hoop earrings to the silver cowgirl boots.
Toby V. Michael
Michael's hatred for Toby is one of The Office's biggest and best ongoing gags. Toby works for the HR department and corporate, so to Michael, he represents everything not fun. He sees Toby as someone always trying to stop him from bringing joy, happiness, and entertainment to the office. Toby, on the other hand, has no ill-will towards Michael. He's just trying to do his job. Funko Pop cleverly paired these two mortal enemies together (opens in new tab) in a duel pack. The Toby figurine even has Toby holding a rock with a "suck on this" note, a present given to him by Michael in the episode "Goodbye, Toby."
We hope that Funko Pops continues to make The Office collections, because we want to see more hilarious moments made into collectables. You can relive some of the moments shown in these Funko Pops by streaming The Office while it's on Netflix. Stream it HERE (opens in new tab).
Spent most of my life in various parts of Illinois, including attending college in Evanston. I have been a life long lover of pop culture, especially television, turned that passion into writing about all things entertainment related. When I'm not writing about pop culture, I can be found channeling Gordon Ramsay by kicking people out the kitchen.
Your Daily Blend of Entertainment News
Thank you for signing up to CinemaBlend. You will receive a verification email shortly.
There was a problem. Please refresh the page and try again.