Who Is The Masked Singer's Dinosaur? Here Are Our Best Guesses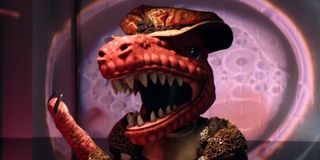 The Masked Singer Season 3 is working its way through Group C, and is one step closer to solidifying its final 9 contestants. That means the fans are running out of entrants to watch and guess about, and there is some dispute between people on who's who in the latest grouping of singers. The verdict is out on a few masked singers, and I'm feeling pretty confident on the identity of The Dinosaur.
The Dinosaur's opening week on The Masked Singer was high energy, and that alone probably set off a ton of alarms for those familiar with her work. Before we get into our guess in earnest though, let's revisit the clues and go over the names of candidates floating around the web.
The Clues
Week 1 of Group C showed The Dinosaur's first clue package, which was full of colorful imagery. A member of The Masked Singer's security team pulled a dinosaur from a bunch of pink goop, and viewers were told about the magic of "Dinosaur Island." There, Dinosaur danced with a lot of other Dinosaurs that looked and were just as talented as her.
Viewers then saw two Dinosaurs facing off in a zorb ball, and a giant inflatable "U" with blue and pink stars attached to it. The Dinosaur and her friends were on the verge of extinction, but The Masked Singer contestant said one "cataclysmic" event changed her life forever.
The second clue package featured a continuation of Dinosaur's story, though there wasn't a ton of new information to grab onto. Dinosaur mainly spoke about her fear of becoming a "one hit wonder" which seems to imply she has some sort of musical career.
As for how The Dinosaur performed, she was all energy in her first performance of P!nk's "So What." It wasn't a phenomenal performance vocally, but definitely better than the average singer. Plus, The Masked Singer contestant really brought it with her dance moves, which led some of the judges to guess she's more of a youthful contestant than most. So, who could it be beneath the mask? Here are some of the popular guesses floating around the web.
Miley Cyrus
Miley Cyrus is a television and pop star, and somebody who just doesn't know the right time to share a penis cake. Cyrus is a name many in the mainstream know well, and is certainly as colorful an individual as that first clue package from The Dinosaur hinted at. She was also part of the child star circuit and finally broke loose into an uber successful career. She's done shows like The Voice, so it isn't so crazy to imagine she'd show up on The Masked Singer. That's especially true given that some of the wild outfits she's worn on tour look like something straight out of the The Masked Singer's wardrobe.
Jojo Siwa
Anyone with grade- to middle school-aged daughters likely knows the name Jojo Siwa, as she's one of the biggest YouTubers among that crowd. This former Dance Moms kid made quite a career for herself on the platform, and even tours around the world spreading a message of optimism and acceptance of oneself. She's a great dancer, and has a solid voice as well. It's not hard to see her playing The Dinosaur on The Masked Singer, but is it really her? There are quite a few people on the internet who seem to think so, but the masses of the web have been wrong before.
Lindsay Lohan
Although Lindsay Lohan is one of those names that emerges for at least one contestant per season, she does make sense considering the clues for The Dinosaur. Lohan was a child star, and her career might have gone extinct a couple times had it not been for some stints in reality television over the years. Lohan is the celebrity sweet spot for the level of stardom The Masked Singer typically searches for, but does she have the voice to last that long in the competition? She did have that iconic scene in Mean Girls, but reception to the artist's other musical endeavors in the past has been mixed at best.
Who We Think It Is
Without a doubt, The Masked Singer's Dinosaur is none other that Jojo Siwa. The YouTube celebrity and former Dance Moms star is a great fit for The Masked Singer, and also the popular choice on the internet. I don't advocate always going with the majority guesses, but considering The Masked Singer is a family program, I wouldn't be surprise if a lot of folks familiar with Siwa watch the program.
The pink goop in the first clue package was a reference to slime, something Jojo Siwa featured on her YouTube channel so much she has her own slime kit for sale. The whole thing about dancing with a lot of other dinosaurs was a clear nod to Dance Moms, in which Siwa and others all competed for a chance to shine in the spotlight. It's a dog-eat-dog world (at least that's how other reality television portrays it) but despite that, Siwa managed to come out of the process a star.
Beyond the stuff seen in the clue package, a big giveaway about The Dinosaur's identity was her opening performance on The Masked Singer. Dinosaur basically exploded onto the stage and was hopping all around and busting out some sick dance moves. Anyone who has seen Jojo Siwa on stage knows that's her style of performance, almost move for move. For a show that frequently warns contestants not to mimic their everyday habits, the producers may have dropped the ball on containing Siwa.
Now that The Masked Singer has only shown two clue packages for The Dinosaur, it's truly hard to make a case for anyone else that makes sense more than Jojo Siwa. Anyone skeptical might as well accept the case is closed on this one, and that yet another one of contestants has been pegged ahead of their unmasking. Seriously, when will The Masked Singer finally get serious about making clues more difficult going forward?
The Masked Singer Season 3 is rolling strong over on Fox, with new episodes airing Wednesdays at 8:00 p.m. ET. Continue to stick with CinemaBlend for more analysis and updates on the series, and to stay on top of the latest news happening in the world of television and movies.
Your Daily Blend of Entertainment News
Mick likes good television, but also reality television. He grew up on Star Wars, DC, Marvel, and pro wrestling and loves to discuss and dissect most of it. He's been writing online for over a decade and never dreamed he'd be in the position he is today.