Netflix And YouTube Urged To Restrict Streaming To Avoid Internet Overload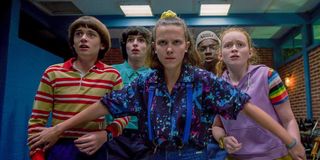 With so many people stuck inside and working from home amid coronavirus fears, the age of social distancing has seemingly increased the number of people streaming videos and TV shows. How else would everyone pass the time otherwise, right? However, Netflix and YouTube are now being called upon to restrict streaming to avoid an internet overload.
In a recent call, the European Union's Internal Market and Services Commissioner Thierry Breton urged Netflix CEO Reed Hastings to provide standard definition streaming during peak times. Breton suggested that standard definition content be an option so as to ensure that people would be able to continue using and communicating over the internet without fear of overloading it. In a statement (via Deadline), Breton, a former telecom CEO, reiterated the importance of his message to Netflix, YouTube, and other streaming platforms. Here's what he said:
While it seems internet infrastructure is holding for the time being across Europe, increased lockdowns and social distancing worldwide will likely see even more traffic online. That said, it's probably for the best to take precautions now in hopes to offset overwhelming the internet in the region.
In a quick turnaround, Netflix execs acquiesced to the request of the European Union, agreeing to reduce bandwidth rates across Europe over the next 30 days. A spokesperson revealed that the streaming restrictions are estimated to "reduce Netflix traffic on European networks by around 25%."
While it's unclear exactly how Netflix plans to limit streaming, the spokesperson maintained that subscribers would still be getting good quality video so they can continue watching and enjoying movies and TV shows without any major disruptions. It's important to note that Netflix is no stranger to fiddling with subscriber bandwidth. The company is known to adjust streaming quality depending on subscribers' internet speeds. Personally, I have experienced this adjustment to streaming quality firsthand.
My guess is that, as Thierry Breton previously suggested, Netflix will simply drop to standard definition instead of high definition. As of this writing, there's no word on whether YouTube and other streaming platforms will follow suit. For now, Netflix's reduction in bit rate is only happening across Europe, and U.S. subscribers' streaming rates are not being affected.
Stay tuned to CinemaBlend for updates. While the coronavirus pandemic has affected TV productions, shutting most if not all of them down for the time being, there are still plenty of shows to watch. So be sure to swing by our midseason schedule for more on what to watch, and check out our 2020 Netflix premiere guide as well.
Your Daily Blend of Entertainment News