How Coronavirus Is Impacting Netflix, According To Boss Ted Sarandos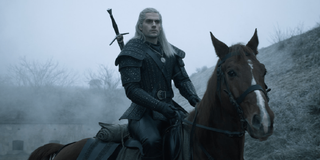 The coronavirus pandemic has affected the television industry in unprecedented ways, halting production on over a hundred shows and heavily affecting the TV pilot season. Netflix has also had to suspend production on all of its shows around the world as a response to the situation, including The Witcher Season 2. Recently, Netflix's chief content officer Ted Sarandos offered an update regarding how it's impacting Netflix on every level.
The entire TV industry was affected by the coronavirus and took measures to ensure the safety and well-being of all involved, with network shows like CBS' MacGyver and NBC's Chicago One foregoing filming on the remainder of their respective seasons altogether. However, since Netflix functions a bit differently by releasing all of their episodes at once, the streamer is in a situation where there are still plenty of original shows coming down the pipeline despite the pandemic. Speaking with CNN, Netflix's Ted Sarandos provided an update about Netflix's production amid obvious fears. In his words:
Personally, Ted Sarandos' update is surprisingly calming. With so much uncertainty going on, the streaming service has been the go-to for many viewers stuck at home due to social distancing and quarantine. That said, Netflix's chief content officer also revealed that those very things have led to even higher audience numbers, though he didn't offer a report detailing which series viewers were watching the most at the moment. Here's what he had to say about the impact on viewership:
I think Netflix has definitely made things a whole lot better for many during the pandemic, with a lot of people having virtual watch parties while at home. While viewers are usually drawn to Netflix's many original series, at least one network show is really crushing it in viewership right now, and showing just how important the streamer has become for series of all types.
What's more, Netflix execs recently complied with the European Union's request to restrict streaming to avoid internet overload. When asked about it, Ted Sarandos assured everyone that viewers wouldn't be seeing much of a difference in quality. However, the restriction is currently not applicable to American subscribers.
Stay tuned to CinemaBlend for continuing updates. While TV shows have halted production, previously filmed episodes are still airing as scheduled, so be sure to check out our midseason guide. Swing by our updated list for more information on production delays and early season endings.
Your Daily Blend of Entertainment News
Thank you for signing up to CinemaBlend. You will receive a verification email shortly.
There was a problem. Please refresh the page and try again.