Local News Reporter Has Perfect Reaction To Seeing A Herd Of Bison Coming His Way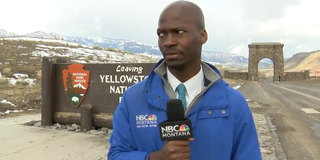 While doing news reports is generally a pretty straightforward affair, we all know that sometimes our favorite reporters are faced with unusual situations that cause them to lose their standard cool and detached demeanor and react like regular folks. This is especially true whenever things get weird live on air, but apparently, sometimes just setting up for a report when you go on location can also lead to unexpected oddities. A Montana reporter for an NBC affiliate recently had to deal with such an occasion when a herd of bison started to come his way, and, he reacted like most of us would.
Deion Broxton, a reporter for KTVM in Montana, was setting up for a shoot at Yellowstone National Park recently when he noticed a strange occurrence happening offscreen. Unfortunately, it seems that Broxton had set up in a location that was going to be needed by a herd of bison shortly, and he's selflessly showed us all what went down by posting his video to Twitter. Take a look:
You know what? None of us would have responded any differently, I don't believe. I mean, really, if anyone sees a herd of anything coming toward them and doesn't get out of the way as quickly as possible, that person is probably going to regret that decision very soon. I love cats, but if I suddenly noticed that 800 of them were coming toward me (I don't know how many animals you need for herd, but 800 seems like a good number to me) I would absolutely leave. And, not just the immediate vicinity, either, probably the whole city.
Honestly, I think we should all give some major props to Mr. Broxton, here. You can see that he was all ready to go on his remote report, even practicing whatever it was he was going to say, when he noted the bison coming at him. With his "Oh my god, oh my god..." you can tell that he was trying to decide just how big of a deal this was going to be, before finally declaring, "No. I ain't messin' with you!" and promptly packing up.
Deion Broxton didn't run, scream or act crazy; just put his camera away and removed himself from the path of the bison. He displayed remarkable chill in the face of (probable) imminent danger, or at least some really not fun times, and didn't freak the absolute fuck out, which many other people would have. He responded so appropriately, actually, that Yellowstone responded to the video with this tweet:
The Yellowstone Pledge that's referred to in the park's tweet is a series of rules people should follow when visiting the park, and includes a promise to give the wildlife (who will likely not want to deal with people at the least, and may get scared if you get too close and attack at worst) room. It suggests staying 100 yards away from bears and wolves, and 25 yards away from everything else, and Broxton certainly stuck with that rule.
I'm going to be real about myself here; I would have left the park, full stop. But, Deion Broxton actually stuck around. We don't know if he actually got to do his shoot from Yellowstone, but he did manage to get some video of the bison that led him to flee, once he was out of their way.
Yeah, five of any animal that big definitely classifies as a herd in my book. Man...those are some big butts. So, congrats to Deion Broxton for getting out of the way safely, but doing it like a reasonable human being and without any panic or tears!
Television is changing quickly these days, so be sure to stay tuned to CinemaBlend for the latest. You can see what's airing right now via our midseason guide, Netflix schedule and see what's coming to Hulu in April. For updates on everything that's been delayed or had its season cut short recently, we've got you covered right here!
Your Daily Blend of Entertainment News
Yennefer's apprentice, Gilmore Girl; will Vulcan nerve pinch pretty much anyone if prompted with cheese...Yes, even Jamie Fraser.