How Kaley Cuoco Hopes The Big Bang Theory Cast Will Reunite For TV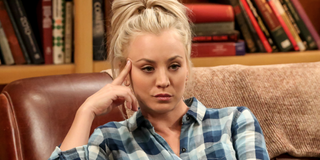 The Big Bang Theory had quite the 12-season run. While the show is over now and several cast members have moved on to other projects, the land of revivals and reboots could potentially bring the cast back together at some point down the line. In fact, Kaley Cuoco hopes The Big Bang Theory cast does get a TV reunion, but for one very specific episode.
Kaley Cuoco is a busy woman. She voices Harley Quinn for the DC Universe animation of the same name (with Season 2 on the way) and is now filming a new HBO Max show called Flight Attendant. However, the actress is still very much in awe that The Big Bang Theory went on for 12 seasons, which is extensive for any series on network television. Asked whether she would ever want to see a reboot of the beloved CBS sitcom, Cuoco answered in the negative, but she did tell Extra that she wouldn't be opposed to another kind of reunion. In her words:
Kaley Cuoco is, of course, referencing that Friends reunion special that will air exclusively on HBO Max when the streaming service launches in May. The special is bringing back all six cast members, including Jennifer Aniston and Courteney Cox, for a sit-down conversation. The event will take place on the Warner Bros. lot where the sitcom originally filmed. The get-together isn't a traditional revival or reboot, but an unscripted special celebrating the NBC series, and it reportedly cost a ton of money to get everyone back.
While it's unlikely that the cast of The Big Bang Theory will reunite at any point in the near future, it's not impossible to believe it could happen one day. Friends is just one example of what the new reunions could look like, and it's been 16 years since that show ended. Considering HBO Max will be the exclusive spot for subscribers to relive Penny and Leonard's romance, the Big Bang cast getting their own reunion show isn't too much of a stretch.
All that said, the world of The Big Bang Theory does get to live on in the Young Sheldon spin-off. A recent episode of Young Sheldon did give fans a reunion of sorts when Kaley Cuoco provided voice-over work for the show. While she didn't play Penny or appear onscreen, Cuoco was the voice of pool water that showed up in poor Sheldon's nightmare. Not the most traditional franchise return, but it was still a fun one.
The Big Bang Theory will begin streaming on HBO Max when it launches this May. In the meantime, fans can watch new episodes of Young Sheldon every Thursday at 8 p.m. ET on CBS. For more on what to watch, be sure to check out our 2020 midseason schedule.
Your Daily Blend of Entertainment News