Is Katarina Another Impostor On The Blacklist?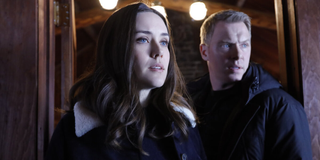 (Image credit: Will Hart / NBC)
The Blacklist changed everything last season when it ended with Red meeting up with "Katarina Rostova" in Paris. As they went to each other, they shared a kiss, and he warned her of danger. She promptly drugged and kidnapped him to extract some still unknown information. Red escaped, and a cat-and-mouse game has ensued between him and Katarina ever since.
Is she who she claims to be? Or is she an impostor? Since The Blacklist's 2020 return, Red has denied that the woman who kidnapped him and Katarina are one and the same. It was a curious thing to deny if Red knows that it is the truth.
It is fair to say that the woman claiming to be Katarina should be under just as much scrutiny as Red with his identity. Even if viewers of The Blacklist have been told that they can "trust" Katarina, there is still a lingering feeling that she could be lying. On that note, why would Red not tell the truth? Time for a deep dive!
Red Claims She Is Not Liz's Mother
Red and the truth have a strange track record on The Blacklist. Any longtime viewer can attest to that when they consider the many twists that have comprised his journey so far. Still, it seems more than a little odd for Red to deny that his kidnapper is Katarina if he knows she is.
That makes me think that she is not Liz's mother after all, and The Blacklist has laid down discreet clues that tend to lend credence to this theory. Red lying is not a super big headline. He has done that quite regularly when it comes to what Liz (and the audience) know about Katarina.
What The Blacklist Has Said
If you had any lingering doubts about the woman The Blacklist introduced as Liz's long-lost mom, there is a notable answer from the series' creator. When asked if the character introduced in last season's finale was "100% Katarina," Jon Bokenkamp told Variety:
Ever since reading this answer last year, it has stuck with me. Jon Bokenkamp does not 100% confirm that the woman is Katarina. He does say that viewers have to take it at "face value." At that point, The Blacklist's audience could. Fast forward to what has happened in Season 7, and it does not seem as believable.
Why Red Called Her Katarina
The big question would be why Red ever referred to this woman as Katarina if she is not. Well, he could know this is the person that he and someone else put in place to pose as her. There is a lot that viewers know and still do not know about Red, and many of his secrets revolve around Katarina.
It would make sense for Red to set someone up as a decoy. Someone he could publicly meet with to throw off someone trying to find the real Katarina. There is one more clue that tips viewers to her possibly being an imposter. Red had no real reaction to her "death." If he thought the real Katarina had died, I would expect a tear or two.
It Takes One To Know One
Red is an imposter. He would know if someone else is not who they say they are. You may be thinking it would be odd for The Blacklist to have not one but two imposters. The show is a lot about illusion, and in the Season 7 premiere, he called Katarina just that.
The Blacklist has had viewers so focused on this woman being Katarina that it has kept us from seeing an opening for subterfuge. There is no real proof that this woman is Katarina. She did have some memories that seemed to confirm it. But we never actually saw flashback Katarina's face during those scenes.
If "Katarina" Is Not Katarina, Who Is She?
This woman definitely knows Katarina or is her. She seems to have deep knowledge about her, so I am guessing she may be Katarina's twin, sister, or best friend. That she does not know who Red really is tells you a lot. The real Katarina should know that. At least, I would expect her to.
In somewhat related proof, The Blacklist has also teased that Katarina is "the most formidable big bad" of the series. I would not expect Liz's mom to fit that bill. Everything viewers have seen during flashbacks has shown a morally grey character who registered as a much different person than the one viewers are seeing now.
Memories And A Search
Thanks to The Blacklist's memory-centric episodes, the show seemed to double down on this woman being Katarina. She possesses memories you would assume belong to her. Or do they? I do not recall having seen Katarina remember anything with the real Raymond Reddington or Liz as a child.
When The Blacklist kicked off Season 7, the woman being called Katarina made mention of looking for someone. Is she looking for the real Katarina? That would fit a few pieces into this sordid puzzle. There are a few things that just do not make sense.
All of this said, Dom's reaction to this woman is what makes me think she still might be Katarina. She tried to kill him, and he seemed to think it was his daughter. The thing is, she might be. Just not Katarina. My current theory is that the woman claiming to be Katarina is actually her sister.
I am curious to see how all of it works out. The Blacklist has teased the "craziness" on the horizon between Liz and Red after the Katarina secret gets revealed. Maybe learning that she lied about someone who was not her mother will lessen the blow? It may be wishful thinking.
Stay tuned and find out if Katarina turns out to be an imposter. New episodes of The Blacklist air Fridays at 8 p.m. ET on NBC as one of the midseason's offerings. To brush up on your Katarina Rostova history, you can watch previous seasons on Netflix alongside content arriving in 2020.
Your Daily Blend of Entertainment News
Like a contented Hallmark movie character, Britt happily lives in the same city she grew up in. Along with movies and television, she is passionate about competitive figure skating. She has been writing about entertainment for 5 years, and as you may suspect, still finds it as entertaining to do as when she began.