The Blacklist: 5 Mind-Blowing Updates From Season 7's Fall Finale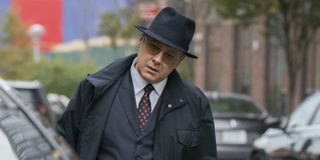 (Image credit: Virginia Sherwood / NBC)
Be warned: Spoilers for the fall finale of The Blacklist Season 7 entitled "Katarina Rostova (No. 3)" are discussed below!
The Blacklist definitely delivered on surprising fans with the showdown between Katarina and Liz in Season 7's fall finale. It was not as caustic as the previous episode's ending had indicated it may be. Liz learned a lot, and viewers got to see her react to it all as Katarina took center stage.
The Blacklist Season 7's fall finale culminated with many unexpected twists, turns, and some suspicious behavior. Red's search for his beloved friend, Ilya Koslov, made for a brazen rescue effort. So, you can put one win in the Red column. Time to dig into all of the other mind-blowing updates The Blacklist had on tap!
Liz Learned About Ilya Koslov
In one of Katarina's early stunners, she shared the info that Blacklist fans have known for a little while in Season 7. Red is not Ilya Koslov. He is his best friend, which may eventually help bring some sense of semblance to what she knows. The story that Dom told Liz is in worse tatters than ever before.
Liz Knows All About Dom
Well, Dom is still fighting for his life after the bullet he took in the standoff against his daughter's people earlier in Season 7. Katarina told Liz what The Blacklist shared in the previous episode. Dom and Ilya conspired to kill Katarina with a car bomb to "protect" Masha/Liz. They killed Katarina's husband, Pyotr, instead. Liz was not happy.
Red Thinks Katarina Is Dead
Red watched from a distance as assassins "killed" Katarina right in the middle of the street. Her demise did not seem to really bother him. In fairness, he was willing to help her at first. Maybe, he wanted to be the one to kill her? I am still incredibly confused as to their dynamics. Sworn enemies? After Season 7's fall finale, it seems that way.
Katarina and Liz Have A Secret
Liz went from thinking her long-lost mother had been killed shortly after their reunion to learning she faked the whole thing. Hence, The Blacklist turned the tables all over again! Season 7 will return from the fall finale with Red thinking Katarina is dead, while Liz knows that is not true. Things are just getting started!
Red Rescues Ilya Koslov
Ilya Koslov is back with his best buddy/maybe twin, Red. In one of The Blacklist's signature illusions, Red managed to get Ilya away from his captives, outmaneuvering the FBI in the process. After being reunited, Ilya assured Red that he did not tell Katarina (presumably about Red's real identity).
The successful crime drama has left fans with a lot to consider heading into its second half. Katarina's impact was certainly felt by Liz before the end of Season 7's fall finale. She successfully planted seeds of doubt in her daughter's mind regarding Red. Thankfully, Liz did not turn entirely against her father figure. Or at least, she did not seem to.
At this point in their relationship, Red has earned a little benefit of the doubt. Liz learned a hard lesson about making a rush to judgement last season. As for Katarina, she was teased to impact his relationship with Liz in Season 7, and she undoubtedly has. Not that she needed a lot of help after that Ilya bombshell.
Yes, he totally did not correct Liz when she told him he was Ilya Koslov last season on The Blacklist. Hence, I am anxiously awaiting Liz confronting him about not being Ilya and for her to confront the missing pieces that remain.
In related updates, Cooper determined that Liz discovered Katarina was Red's kidnapper/her next door neighbor, and lied after learning the truth. I am thrilled that Cooper confronted Liz. It is time for some honesty on The Blacklist! Elsewhere, Ressler had memory-manipulating Blacklister Bogdan Krilov's memory wiped.
If the mind wipe is successful, viewers may never know the truth about Liz's. Cue dramatic music! Fans are in for a long wait! The Blacklist will return during the midseason in March 2020. You can catch up on the crime drama's previous seasons on Netflix, which also has lots of new content joining it in 2020.
Your Daily Blend of Entertainment News
Like a contented Hallmark movie character, Britt happily lives in the same city she grew up in. Along with movies and television, she is passionate about competitive figure skating. She has been writing about entertainment for 5 years, and as you may suspect, still finds it as entertaining to do as when she began.
Your Daily Blend of Entertainment News
Thank you for signing up to CinemaBlend. You will receive a verification email shortly.
There was a problem. Please refresh the page and try again.