One Vampire Diaries And Originals Star Would Be Game To Return For Legacies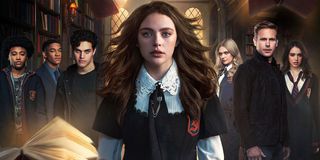 Season 2 of Legacies has already seen a character from The Vampire Diaries days return to wreak havoc. Chris Wood's villainous Kai Parker came back to terrorize the characters after Josie, Lizzie, and Alaric visited the prison world where he was being held. His return launched a two-episode arc that saw his plans thwarted once more. However, Kai Parker's reappearance left the door open for other characters to potentially return and one The Vampire Diaries and Originals star seems game for a comeback, should Julie Plec be interested.
Sebastian Roché has the distinction of playing bad guys on multiple popular supernatural series. He played the angel Balthazar in several episodes of Supernatural and portrayed The Vampire Diaries' villainous Mikael Mikaelson, one of the most memorable big bads of the series. Naturally, Roché reprised his role in The Vampire Diaries spinoff The Originals and he has some thoughts about Mikael possibly returning for Legacies. Asked whether he would ever return to play Mikael on Legacies, Sebastian Roché seemed up for it. Here's what he told TV Guide:
Make it happen, Julie Plec! Who wouldn't want to see Sebastian Roché return as the first vampire, right? The actor is fantastic at playing villains and, given that Mikael has died and come back from the dead several times over at this point, there's always a chance for him to return to Mystic Falls with a new and venomous plot.
Personally, I wouldn't mind seeing him back with stepson Klaus, whom Mikael had a deadly vendetta against. In the same interview, Roché expressed how much he enjoyed sharing scenes with Joseph Morgan and I'd be remiss to say that it wouldn't be good to see them once more. At the very least, it would be fun to see Mikael interact with Legacies' Hope.
Whether or not he ever returns remains to be seen, but it most definitely won't be in Season 2. Legacies, like a host of other shows, shut down production in mid-March due. While the cast and crew were unable to finish filming the remaining Season 2 episodes, the series wrapped up at least one of its major arcs involving Dark Josie. Of course, the episode ended on a massive cliffhanger, so there's no telling how the storyline will wrap up. Unfortunately, fans might have to wait a lot longer than usual to find out.
Legacies Season 2 is done for now, but stay tuned to CinemaBlend for updates. In the meantime, be sure to check out our updated list of TV shows that have been heavily impacted by the coronavirus, including the remaining CW slate of shows like Riverdale and Supernatural.
Your Daily Blend of Entertainment News