Tiger King's Carole Baskin Has A Message For Kate McKinnon About Upcoming Miniseries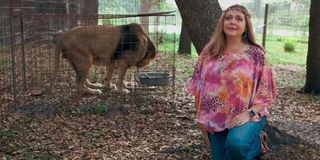 Netflix's Tiger King: Murder, Mayhem and Madness has garnered a lot of attention since its release late last month. The docu-series may have followed the story of Joseph Maldonado-Passage, the former zookeeper known as Joe Exotic, but there was plenty of time dedicated to Carole Baskin, the CEO of Big Cat Rescue. It's been confirmed that Saturday Night Live's Kate McKinnon is set to portray Baskin in an upcoming miniseries and the animal rights activist has a message for the actress about the use of big cats.
Before Tiger King made a big splash on Netflix, the Wondery podcast Joe Exotic: Tiger King, hosted by Robert Moor, closely followed the story of Exotic, his rivalry with Carole Baskin, and the big cat debacle through four years of interviews. The miniseries will be based on the podcast and not the docu-series, however, Netflix's Tiger King has reinvigorated interest in Baskin's story and Exotic's public accusation, which alleges she murdered her husband and fed him to tigers. Ahead of the miniseries, Baskin issued a statement (via EW) that called upon McKinnon to avoid using real animals. Here's what she said:
In place of real animals and to avoid big cat cruelty, Carole Baskin suggested the miniseries use of CGI animals instead of "forcing real big cats to suffer just to entertain the audience." This statement sounds like it's in line with Baskin's continued displeasure with all things Tiger King. She has previously said that she believed the docu-series was simply a "big cat version of Blackfish."
Naturally, PETA representatives also urged Kate McKinnon, Universal Content Productions and Wilsher Studios president Dawn Olmstead to actively avoid using real big cats in the miniseries. Here's what PETA reps told TheWrap:
The Saturday Night Live star signed on to portray Carole Baskin in the miniseries last November, months ahead of Netflix's Tiger King debut. Kate McKinnon is also set to executive produce the miniseries, though no release date has been scheduled.
Stay tuned to CinemaBlend for updates. In the meantime, Tiger King: Murder, Mayhem and Madness is currently available to stream on Netflix. For more on what to watch, be sure to check out our midseason schedule.
Your Daily Blend of Entertainment News