Battlestar Galactica's Katee Sackhoff Talks Bringing Her Clone Wars Role To Disney+'s The Mandalorian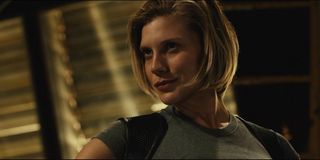 The Star Wars universe is expansive and has set the stage for a plethora of fun crossovers across mediums. The most recent example is Rosario Dawson being cast as Ahsoka in The Mandalorian Season 2, transitioning the beloved character from the animated Star Wars: The Clone Wars to live-action in one fell swoop. Might Bo-Katan Kryze also appear in The Mandalorian? Battlestar Galactica alum Katee Sackhoff discussed the possibility of bringing her Clone Wars role to the Disney+ show.
Katee Sackhoff has a long and storied career playing a multitude of characters, but she's best known to Star Wars fans for voicing Bo-Katan, a Mandalore leader who first appeared in Season 4 of The Clone Wars. Sackhoff later reprised her role in Star Wars: Rebels before returning to The Clone Wars in Season 7, a revival of the once-cancelled series. Considering that The Mandalorian has deep connections to Mandalore culture and left off with the reappearance of the Darksaber, Sackhoff says she would be down to play Bo-Katan on the Disney+ show. Here's what she told DiscussingFilm:
It sure sounds like Katee Sackhoff would be there in a heartbeat if Disney and Lucasfilm execs asked her to appear in The Mandalorian. And, while she makes sure to concede that her hope to appear on the Disney+ show isn't a guarantee that it'll actually happen, Bo-Katan's appearance in The Mandalorian would tie really well into the show's time period and events. It might even reveal how Moff Gideon got hold of the Darksaber, which was previously in Bo-Katan's possession, in the Season 1 finale.
The Clone Wars is currently gearing up to cover the Siege of Mandalore, with Bo-Katan last seen recruiting Ahsoka to help in the battle against Darth Maul. There's no word on whether Bo-Katan will ever make the leap to live-action, but if Ahsoka can do it, then there's hope that she can, too. Maybe for The Mandalorian Season 3? Time will tell.
Star Wars: The Clone Wars Season 7 is currently available to stream on Disney+. For more on what to watch, be sure to check out our list of all the big TV finales coming up this spring and summer.
Your Daily Blend of Entertainment News
Your Daily Blend of Entertainment News
Thank you for signing up to CinemaBlend. You will receive a verification email shortly.
There was a problem. Please refresh the page and try again.