7 Actors We'd Love To See Join The Cast Of The Mandalorian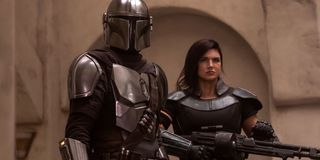 CinemaBlend is partnering with Tidal to bring you fresh content to stay in and stream with each day. We're also offering a free 30 day trial. You can sign up for the package with Tidal here. (opens in new tab)
Of the many reasons to praise The Mandalorian, I think we owe a great deal of appreciation to the top-notch cast. From how Pedro Pascal invokes emotional depth without ever taking his helmet off, Gina Carano lending her MMA talents to some impressive combat sequences, Giancarlo Esposito in another convincingly sinister role, and many more, I am not sure they could have found better actors to pull off the Disney+ series' most essential characters.
Having received word that longtime live-action Ahsoka Tano candidate Rosario Dawson has been cast to play a live-action Ahsoka Tano in Season 2 of The Mandalorian along with The Terminator's Michael Biehn, it looks like we are in for another stunning ensemble. This makes us wonder, who else would be make a great fit for the show?
From actors who have voiced interest in joining the Star Wars universe to celebrities whom we think would make a kick-ass, interstellar action hero, I have a few hypothetical casting suggestions. These are seven who would be perfect for The Mandalorian.
Jon Hamm
In 2015, Saturday Night Live aired a compilation of fake audition tapes for Star Wars: The Force Awakens, featuring a rotation of celebrities trying out for various roles, some of which appeared as themselves, including Jon Hamm. However, Emmy-winning actor's interest to play a Star Wars character is no joke and a desire he has been vocal about. While he did land a spot as the voice of Boba Fett in an audio version of the anthology book Star Wars: From a Certain Point of View, entering that world from the confines or a recording booth is simply not enough.
A role in The Mandalorian would be the perfect way to see Jon Hamm's dream come to life and an actor of his versatility and willingness would be up to play essentially anything you could throw at him. If not a rugged, heroic outlaw or a sinister non-human enemy, he could totally nail the role of a drunken bar patron who gives Mando a hard time before getting his ass handed to him in a brief cameo. Besides, random TV appearances are sort of a recurring theme in his career.
Zazie Beetz
Not since Parks and Recreation's Chris Pratt became Star-Lord have I seen a transition from TV comedy star to action hero as smoothly as Zazie Beetz. After breaking out on Donald Glover's acclaimed dramedy Atlanta, the German-American actress nailed the role of extremely lucky mercenary Domino in Deadpool 2, piquing audiences' curiosity as to where her heroic chops would take her next. Maybe in a galaxy far, far away?
Because Mando could always use some extra help, Zazie Beetz would make a good fit as someone he could fight alongside on The Mandalorian. Perhaps she could be revealed as someone from a side character's past, such as a shock trooper Cara Dune (Gina Carano) used to know or a relative of Greef Karga (Carl Weathers)? Whatever she is, she has reserved the right to play more badasses and I am ready to see that coming forward.
Sofia Vergara
Having starred on 11 Seasons of the hit ABC sitcom Modern Family, Sofia Vergara has become a prominent name in the world of comedy. Yet, the Columbian-born, four-time Golden Globe-nominee has rarely been given a chance to show off her dramatic skills. Maybe her director and onscreen ex-husband from Chef (aka The Mandalorian showrunner) Jon Favreau could give her the right platform.
The 48-year-old actress certainly proved she knows her way around a fight scene as the machine gun bra-toting Desdemona in Robert Rodriguez's Machete Kills. However, I see The Mandalorian as more of a chance for Sofia Vergara to play a subtler, yet narratively impactful, kind of character, such as a mystery villager, or even an authority figure, who plays a crucial part in Mando's latest journey. Regardless of who she would become, who knows what sort of other out-of-this-world opportunities it could lead to for her?
Bob Odenkirk
Speaking of prominent names in comedy, Bob Odenkirk is someone who has shined as a dramatic actor in recent years despite a background in low-brow comedy (see he and David Cross' surreal, Monty Python-esque HBO sketch series Mr. Show). Despite his proven versatility, he has yet to include a big-budget blockbuster adventure on his resume. Of course, there is nothing wrong with starting out just a little bit smaller.
As a reunion with Jon Favreau, who directed an episode of The Office in which Bob Odenkirk guest-starred, the actor could join the cast of The Mandalorian in roles large or small. He could play a client of Mando's, a bounty of Mando's or my favorite possibility: an old colleague of Giancarlo Esposito's Moff Gideon as a nod to their collaboration on Breaking Bad and its prequel series Better Call Saul. All I ask is that he not be reserved once again to fill in as the comic relief.
Seth MacFarlane
I would, however, nominate Seth MacFarlane to take on that role. Actually, I would go as far as saying that, of other actors who have never starred in an official Star Wars property (not counting the unaired, animated self-parody series Star Wars: Detours), he might be the most deserving of a comic relief spot in The Mandalorian.
The lifelong Star Wars fan has poked fun at the franchise countless times on both Family Guy and Robot Chicken, the latter of which he voiced a disgruntled Emperor Palpatine for. I do not know what more he would have to do earn a role on The Mandalorian, other than make a few amendments to his busy schedule. In fact, a crossover episode with his Star Trek-inspired sitcom, The Orville, might not be out of the question.
Sigourney Weaver
What supreme leader of the Scream Queens Jamie Lee Curtis is to horror movies, I would say Sigourney Weaver is to science fiction. As Ellen Ripley, heroine of the Alien franchise, Dr. Grace Augustine in Avatar, sci-fi TV actress Gwen DeMarco in Galaxy Quest, and quite a few more than that, she could be considered the highest ranking member of the "Space Queens," which, thinking about it, actually sounds like a perfect role for her in The Mandalorian.
She already battled the Queen Alien in the '80s, so why cast Sigourney Weaver be the queen of an alien race whom Mando finds himself at odds with. That is just one idea I have to somehow incorporate the 70-year-old actress into the Star Wars universe, which, at this point, is hard to believe has not happened yet.
Bruce Willis
Bruce Willis made his most recent return to television, following his breakout role on Moonlighting in the '80s and an Emmy-winning recurring spot on Friends, as a flower-like, CGI creature on The Orville. However, the guy is best known for blowing stuff up and it would be especially cool to see him bring that kind of energy to small screen sci-fi world and no series seems more fitting for that than The Mandalorian.
However, if his cryptic, voice-only appearance on The Orville is meant to indicate the Die Hard star would rather remain unseen, it seems like a veteran Mandalorian bounty hunter would be right up his alley. Not to mention, like how the aforementioned Jon Hamm makes a living out of random cameos in comedies, Bruce Willis has been known to pop up in several action movies seemingly out of nowhere (Loaded Weapon 1, G.I. Joe: Retaliation), so this would be nothing out of the ordinary.
Are you just as excited for the idea of these celebrities crossing paths with Mando, or are these not the actors you were looking for? Let us know in the comments and be sure to check back for more updates on The Mandalorian here on CinemaBlend.
Jason has been writing since he was able to pick up a washable marker, with which he wrote his debut illustrated children's story, later transitioning to a short-lived comic book series and (very) amateur filmmaking before finally settling on pursuing a career in writing about movies in lieu of making them. Look for his name in just about any article related to Batman.
Your Daily Blend of Entertainment News
Thank you for signing up to CinemaBlend. You will receive a verification email shortly.
There was a problem. Please refresh the page and try again.