Hulu Went Down And Users Freaked Out Because TV Is Life Right Now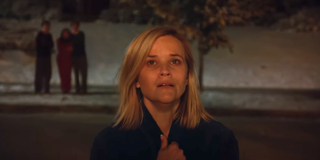 Look, we all know what the deal is right now. Everyone is saying that they're spending this much increased time at home learning to knit, bake from scratch, landscape the yard, paint a mural on the living room wall, or take on other projects and hobbies they've been dreaming about for years. And many may be taking a break from hardcore adulting to do just that, but also? We are all really watching a lot of TV while we do that stuff. There's nothing worse than trying to binge a new favorite and having the streamer go down, but that's what happened with Hulu recently, and folks were super unhappy about it.
While we all get the struggle when our streaming service of choice is down, there's no one way to react to such a loss of entertainment options. As such, Twitter was awash in a wide variety of takes on the situation when people tried to watch, oh, let's say Designing Women, so that they could abandon the current time and relive their glorious childhoods free from the stress and worry of the modern day, and found that Hulu was not going to support that decision.
Such strong words against a streaming service have never hit me in my heart place more. My internet connection dropped right as I was on my last two minutes of the series finale for one of my favorite shows last weekend, and I panicked for five minutes before realizing I just needed to try rebooting my router. It can be hard to maintain common sense or your chill when you feel cut off from the world, even if "the world" is really just old episodes of RuPaul's Drag Race.
Some people really did try to hold it together when they saw that Hulu was down and they couldn't spend the evening watching whatever it was they had their very determined minds set on, but, man...it was tough.
But, much like when I lost the internet for a bit, we all know that sometimes you just lose your shit immediately. It's not right or fair, or even reasonable, maybe, but it still happens to the best of us. Every now and then you just have to lean into the crazy and ride it into emotional breakdown town, OK?
If this Twitter user is anything like me, she's just fine right now. I mean, she had to go through an entire case of wine in a relatively short period of time and she probably sweated through her pajamas, but she's right as rain now that a new day has dawned. Maybe she'll even meditate to really clear out the panic cobwebs from this minor Hulu disaster and be able to handle future troubles better. We all learn in our own way.
It turns out that some people learn by getting super creative when they can't watch the end of their show on Hulu, and just make up the ending in what seems like the best way possible considering the stress of losing their streaming platform. I can relate.
Meanwhile, some people dealt with Hulu going down in a way that I'm sure many of us have wanted to deal with several things in the past few weeks. It's rough out here, yo.
There were actually some people who decided that this was a time to take action, though. And, wouldn't you know it, Hulu did not come out on top in those scenarios.
It can be difficult to remember that things like this aren't quite the end of the world, because we still have so many options. But one tweet perfectly summed up how we should react in times like this, and I'm a fan of the whole method.
I've never tried eating potato chips off of my chest while watching Netflix, but it's on my list now. If we can't take advice from Bobby Hill, who can we take advice from? No one, that's who!
Well, the crisis is now averted, so if you need something to watch (Who are we kidding? You know you do!) you can check out what's new to Hulu right now, our Netflix premiere schedule, get the details on all the finales coming soon and see everything that's coming to TV this summer!
Your Daily Blend of Entertainment News
Yennefer's apprentice, Gilmore Girl; will Vulcan nerve pinch pretty much anyone if prompted with cheese...Yes, even Jamie Fraser.