How Netflix's The Outer Banks Will Handle Season 2 If It Gets Renewed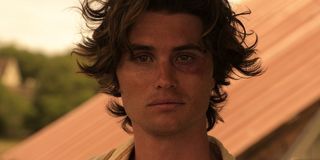 Spoilers ahead for Outer Banks' season finale.
Season 1 of Netflix's Outer Banks is full of hardship. Between John B grappling with the loss of his father to his friends thinking him dead, there is a lot going on. The first season left off on a major cliffhanger, but there has been no word from Netflix about whether the series will return for a sophomore outing. However, co-creator Jonas Pate already has a fairly good grasp on what Outer Banks will handle in Season 2 if the show gets renewed.
The end of Season 1 sees John B and Sarah successfully fleeing the FBI, only to take a boat straight into a massive tropical storm. The couple didn't have very much luck on that front and the storm sent them into the tumultuous ocean. Thankfully, they were rescued by a ship headed for the Bahamas. And that, according to Jonas Pate, is where he and his creative team would ideally like to kick things off should Outer Banks make it to Season 2. Here's what he told USA Today about his vision:
The Bahamas definitely sounds like a good place to start a potential Season 2. After all, it's where John B and Sarah are going anyway and it would make no sense if the Outer Banks sent them back so soon without exploring that storyline for them. It's especially convenient for the characters considering that it's where Ward, Sarah's father, sent $400 million in gold.
That said, it sounds like being in the Caribbean isn't all about the search for the gold. Outer Banks star Chase Stokes reveals that the Bahamas setting will prove to be an exciting journey for Sarah and John B simply because it allows them to venture to a place they've never been, free of the confines of any familiarity and comfort. Here's how Stokes puts it:
This is all theoretical for now as Netflix hasn't officially renewed Outer Banks. However, the series is currently ranking second behind the dating reality series Too Hot to Handle. Plus, Jonas Pate says he and the creative team have a vision for the story to last four seasons. That means there'll be plenty of material for them to work with should the series be renewed.
For now, viewers can watch Season 1 of Outer Banks on Netflix. Stay tuned to CinemaBlend for updates. In the meantime, be sure to check out our complete guide for all the big TV finales coming soon.
Your Daily Blend of Entertainment News