Disney+'s Scarlet Witch Show: 8 Quick Things We Know About WandaVision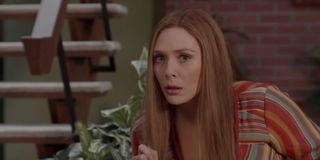 Phase Four of the Marvel Cinematic Universe is set to be a banger when you factor in all the Disney+ shows like What If?... and The Falcon and the Winter Soldier that are slated for release in the next couple of years. But the show that may arguably be the most enticing of all is WandaVision, which features the Scarlet Witch and Vision seemingly living in a sort of alternate reality sitcom.
Now, there's still a lot shrouded in secrecy about this new show, and we now know that Disney+ will debut the series on January 15, 2021, a bit later than its originally-expected 2020 debut. But have hope, true believers, as we do know a number of exciting facts about this exciting new program – and have compiled them in this feature.
WandaVision Takes Place After Avengers: Endgame
Unlike Black Widow, which is a prequel to the events of Avengers: Infinity War/Endgame, Wandavision takes place after the events of Endgame, which means that, yes, Vision is already dead. So how does he appear in this new show?
Well, that's when we get into speculation territory. Some believe that the show may be an alternate reality inside Wanda Maximoff's head, and that she might be going insane following the events of Avengers: Endgame. In the comics, Wanda is actually one of the most powerful mutants in existence, having the ability to warp reality. There's a chance that the events in WandaVision are just playing out in Wanda's head and in a different reality altogether. Trippy stuff for sure, but this might even be a chance for Wanda to reshape the MCU, giving herself a "normal" life with Vision and maybe even bringing her brother, Quicksilver, back from the dead. The sky's the limit.
WandaVision Somehow Connects To Doctor Strange In The Multiverse Of Madness
It was confirmed at 2019's San Diego Comic-Con that Elizabeth Olsen's Scarlet Witch will have a supporting role in Doctor Strange In The Multiverse Of Madness... but what role could she possibly play in the 2022 blockbuster?
This is again where we enter speculation territory. In the comics, Scarlet Witch has a history of suffering mental breakdowns, as exhibited in the famous House of M storyline where she alters reality, and only Wolverine remembers the truth. Could something like this happen in the Doctor Strange sequel and Scarlet Witch becomes the next big bad for the MCU? Or perhaps will she be the only one who can help Doctor Strange defeat a brand new big bad? Only time will tell, but neither is outside the realm of possibility.
Scarlet Witch Will Don Her Comic Book Costume At Least Once
If you watched the Disney+ Super Bowl commercial, you may have seen the blink-and-you'll-miss-it moment where Elizabeth Olsen is featured wearing Scarlet Witch's famous red outfit from the comics. It's a totally different look than what we are used to seeing the character wear in the movies, so what could this possibly mean?
I'm guessing it's probably a Halloween costume. I mean, she looks great in it, but she probably would have worn a version of Scarlet Witch's classic costume already in one of the Marvel Cinematic Universe films if it was going to be her live-action costume. But you never know. Maybe this will be the start of a new thing for Ms. Maximoff. It could just be that the MCU is teasing us like they did when they showed the Hulk running with the Avengers in the first full Infinity War trailer.
The First Season Will Only Be Six Episodes Long
Remember how The Mandalorian felt too short at only eight episodes? Well, feel thankful that we had those two extra episodes, because WandaVision will only have six episodes in its first and possibly only season. But this seems to be the trend for the Marvel TV shows since The Falcon and the Winter Soldier and Loki will also both only be six episodes in their first respective seasons.
We know that Game of Thrones director Matt Shakman will be directing all six episodes of the first season. So the directorial vision (pun not intended) will likely be singular in nature. Matt Shakman has also worked on more comedic TV shows like the dark comedy crime-drama Fargo, as well as the silly, It's Always Sunny in Philadelphia. So Shakman is likely the best choice for an ostensibly comedic show with possibly dark undertones.
Black Widow And Captain Marvel Co-Writer Jac Schaeffer Will Be Showrunning The Series
Jac Schaeffer, who has already dipped her toe in the MCU pool by co-writing Captain Marvel and Black Widow will be the head writer for WandaVision. She also wrote and directed the sci-fi romantic comedy, TiMER, and wrote the recent comedy, The Hustle, starring Rebel Wilson and Anne Hathaway.
At present it is unclear if Jac Schaeffer will be credited with writing the entire season, but at the very least she has penned the script for the first episode. The show will be in the format of a sitcom from different eras of television, so humor will definitely play a part in this first season, which is good, given Jac Schaeffer's background. And since she will now have experience in writing for both movies and TV shows for Marvel, we can probably expect a lot of the events in WandaVision to have ripples throughout the rest of the MCU.
Kat Dennings And Randall Park Will Reprise Their Roles From Previous MCU Movies
Kat Dennings, who played political science student Darcy Lewis in Thor and Thor: The Dark World, and Randall Park, who played FBI agent Jimmy Woo in Ant-Man And The Wasp, will be featured characters on WandaVision. Last we saw Darcy Lewis, she was working alongside Thor, Dr. Erik Selvig and Jane Foster to stop Malekith, the leader of the Dark Elves of Svartalfheim. Jimmy Woo was last seen as Scott Lang's parole officer.
The big question is, why? The two characters have so little in common that it's hard to imagine why they are both being brought back for WandaVision specifically. Will they even be real, or possibly figments of Wanda's imagination? I'm not complaining, though. I miss Darcy Lewis, and Jimmy Woo is a hoot in Ant-Man And The Wasp.
Kathryn Hahn Will Be Playing A "Nosy Neighbor"
Bad Moms' Kathyrn Hahn is set to play a "nosy neighbor" character. Who will she be a nosy neighbor to? That I'm not entirely sure. It could be Randall Park for all we know.
Given that WandaVision is meant to be like a sitcom from different eras of television, she'll likely be the nosy type who keeps peeking in the window to offer comic relief. The question is, will she be in each time period as a nosy neighbor, or only a specific time period? There are many question marks to this show still, and this is just yet another one of them.
Teyonah Parris Is Playing Monica Rambeau, The Grown-Up Daughter Of Captain Marvel's Maria Rambeau
This might be the most surprising of all the characters on WandaVision since her role didn't seem all that major in Captain Marvel, but Chi-Raq star Teyonah Parris will be playing Maria Rambeau's daughter, Monica all grown up on the series. If you remember from Captain Marvel, Maria was the cute child played by Akira Akbar who helped Carol Danvers pick out the color of her costume. But what in the world is she doing on this show?
Your guess is as good as mine on this one. In the comics, Monica Rambeau actually becomes the second Captain Marvel. Is that what's going to happen in WandaVision? Questions, questions! I have them!
That's pretty much everything we know for certain about WandaVision – but as you can see there are more questions about this show than answers, which is part of the fun of these new Disney+ projects. They promise to both broaden Marvel Cinematic Universe lore, and create new concepts and ideas to daydream about as we wait for the next movie. In a lot of ways, they almost seem like extended end-credit scenes, but stretched out for hours at a time. WandaVision will arrive on Disney+ on January 15, 2021
This poll is no longer available.
Your Daily Blend of Entertainment News
Rich is a Jersey boy, through and through. He graduated from Rutgers University (Go, R.U.!), and thinks the Garden State is the best state in the country. That said, he'll take Chicago Deep Dish pizza over a New York slice any day of the week. Don't hate. When he's not watching his two kids, he's usually working on a novel, watching vintage movies, or reading some obscure book.
Your Daily Blend of Entertainment News
Thank you for signing up to CinemaBlend. You will receive a verification email shortly.
There was a problem. Please refresh the page and try again.