Why The Mandalorian's Jon Favreau Tried To 'Ugly Up' Baby Yoda Behind The Scenes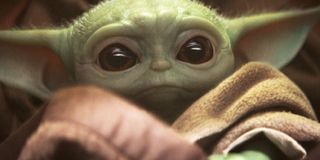 When The Mandalorian first premiered on Disney+ last November, viewers were excited to see what the first Star Wars live-action series had in store. No one probably expected to fall in love with the adorable green creature the internet collectively dubbed "Baby Yoda." The sweet (and very expensive) puppet became one of the most recognizable characters from the show and has only gotten more attention since his debut. However, The Mandalorian creator Jon Favreau revealed why he wanted to "ugly up" Baby Yoda behind the scenes.
Baby Yoda is arguably one of the cutest Star Wars characters in the history of the franchise. That cuteness — his tiny body, floppy ears, and the big, wide eyes — helped to catapult him to internet stardom. But, when it came to the character design in pre-production, Jon Favreau always wanted Baby Yoda to look a little weird. Here's what Favreau told Vanity Fair regarding how he approached Baby Yoda's design:
Uglying up everything about Baby Yoda must have been a hard feat, but the design team managed to do it by seemingly combining the cute with the creepy. That included making Baby Yoda's teeth sharper and more fang-like, which allowed him to swallow a whole frog, as well as adding more off-putting sound effects. Jon Favreau even rejected character designs that softened "the rough edges on him" or made Baby Yoda's cheeks a bit rosier.
All that said, Baby Yoda turned out to be exceptionally cute regardless and many are very protective of the creature. However, there's a moment in Season 1 when he's Force choking someone and it's disturbing when compared to his adorable face. So, I suppose The Mandalorian's design team succeeded. Ultimately, Jon Favreau explained that he wanted to avoid making Baby Yoda a funny character. Here's how he put it:
Baby Yoda is definitely not exclusively comic relief and that's honestly for the best. Personally, I can't wait to see what's in store for the adorable creature in Season 2 of The Mandalorian. Whatever his story holds, the internet will be ready with the memes.
The Mandalorian Season 1 is currently available to stream on Disney+. Season 2 is scheduled to premiere at some point in October. For more on what to watch, be sure to check out our 2020 summer TV premiere guide.
Your Daily Blend of Entertainment News