The Witcher Season 2 Rumors Suggest Two Major Actors Passed On A Role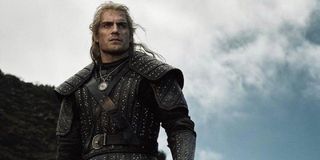 The Witcher Season 1 proved to be a huge success for Netflix, introducing author Andrzej Sapkowski's fantasy world to a whole new audience that invested a lot of attention (and memes). Naturally, the pressure was on to land perfect cast additions for Season 2. Prior to the official casting announcements, fans clamored for Star Wars alum Mark Hamill to take on the role of Vesemir, the Continent's oldest and most experienced witcher. Killing Eve star Kim Bodnia was ultimately cast in the role, but resurfaced rumors suggest that two major actors actually passed on the role of Vesemir before Bodnia's casting.
The Witcher Season 2 will include several new faces, including Game of Thrones' Kristofer Hivju and Peaky Blinders' Paul Bullion. However, the role of Vesemir may prove to be the most important one of all, as he is a mentor and father-figure to Henry Cavill's Geralt of Rivia, and will likely play an instrumental role in Season 2. According to one leak (via The Independent), Kim Bodnia was apparently not the producers' first choice for Vesemir. Rumor has it that none other than Michael Keaton and Mads Mikkelson were the top picks, but they presumably passed on the opportunity.
Of course, the reports haven't been confirmed by the actors of the streaming service, so they should be taken with a grain of salt. That said, Michael Keaton and Mads Mikkelson are both very talented and either would have been pretty great in the role of Vesemir. Both actors have been outstanding in their previous roles and would have no doubt added their own unique flair to Vesemir, who's described as the "charming relic of the witcher Golden Age."
Michael Keaton previously starred in genre-friendly fare like Spider-Man: Homecoming and 1989's Batman, as well as highly acclaimed dramas such as Spotlight and Birdman or (The Unexpected Virtue of Ignorance). While he hasn't exactly embraced TV very much, it would make sense for him to land at a high-dollar streaming service to get the most out of his efforts.
Meanwhile, Mads Mikkelson is best known for his work on TV's Hannibal, as well as feature roles in Rogue One and Casino Royale. He also recently starred in the video game Death Stranding, so maybe fans will see him join the Witcher video games after this deal reportedly didn't work out. It's unclear why the actors supposedly turned down the role of Vesemir and the rumored report doesn't offer much more information beyond that.
Whether or not these and other Season 2 rumors will prove true, it's fun to speculate and imagine what could have been while waiting on more updates about The Witcher's next installments. Personally, I think Kim Bodnia was ultimately the right choice no matter who may have possibly been up for the role. He's proven himself a reliable mentor and father-figure to Killing Eve's Villanelle — though whether he's a good or bad influence is up in the air — and I'm sure he'll bring the same tenacity to The Witcher.
Production on Season 2 of The Witcher began in February, but was shut down due to current events. However, Season 1 is currently available to stream on Netflix. For more on what to watch, be sure to check out our 2020 summer TV premiere guide.
Your Daily Blend of Entertainment News
Your Daily Blend of Entertainment News
Thank you for signing up to CinemaBlend. You will receive a verification email shortly.
There was a problem. Please refresh the page and try again.