The Blacklist: What Unexpected Ending Is Red Predicting In Season 7 Finale Trailer?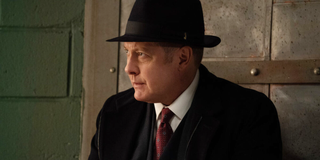 (Image credit: Virginia Sherwood / NBC)
The Blacklist is coming to an end faster than fans would probably like. Due to the television season being forced to wrap up early, the crime drama is bidding farewell with its Season 7 finale this coming Friday, May 15, and will add some high-quality animation to help close the season out. The finale's trailer video hints at an ominous conclusion, which leaves us with a big question: what is the unexpected ending that Red is predicting?
The Season 7 finale's biggest surprises might not just be the combination of animation and live-action. According to Red's ominous tease, "What happens next doesn't end the way you think it's going to." Wait, what? It all happens towards the end of the brief teaser for The Blacklist's season-ender, and it is a theory-inducer on steroids. Check out the trailer and regroup below for speculation.
For such a short clip, there were quite a few details thrown in there, including Liz blowing in with her gun drawn and aimed. The Blacklist may want viewers to think Liz is coming for Red, but I doubt that's the case. Of course, she has thrown in with her villainous mom as of late, so who knows? It is time to dig into what Red says in the Season 7 trailer and what it could mean.
Who Is Red Talking To?
Red could theoretically be speaking to any number of people, including a Blacklister of the Week, should there be one. However, his tone suggests that he is speaking to someone familiar, and he wants to sound intimidating while issuing his warning. My best guess is that Red is talking to Liz or her mother.
I am leaning more towards Liz on this one, though. The quasi-warning sounds like one of the many comments he has made to her in the past. Combined with everything that has been going on with Liz's conspiring with Katarina, and knowing Red is not Ilya Koslov, and one can easily assume that message from Red will preface some game-changing moments.
As for Katarina, I could see the two crossing paths during The Blacklist's Season 7 finale, with Red saying the to her. That said, his tone is not as ferocious as I would expect it to be if he were putting Katarina on the spot. After all, this is the person who kidnapped and tortured him and his friend, and then faked her death to throw him off her scent.
What Does Red's Message Mean?
Red tends to not over play his hand through words, though he does love flowery dialogue. At the core of his trailer quote is the notion that whoever Red is warning has some preconceived vision for how things are meant to play out, and Red does not have faith in their prediction skills.
Katarina and Liz have plans on The Blacklist, namely to learn Red's real identity and who is trying to have Katarina killed, and Red is holding onto both secrets incredibly tight, having resisted torture to protect the identity of Katarina's would-be assassin. Perhaps Red is warning that learning either of these things will not necessarily be a good think like Katarina or Liz wants it to be. Since Red says "next," it seems whoever he is speaking with has already accomplished something in the Season 7 finale.
Theoretically, Liz or Katarina could have uncovered part of their desired info, and instead of viewing it as the answer to everything, it will lead to something unexpected. I would have to assume how Katarina and Liz currently expect their troubles to end whenever they each secure the info they seek on The Blacklist, but when has that ever happened? That scenario is clearly unlikely.
The Blacklist's Season 7 finale comes right after the 150th episode set up quite the showdown with Katarina re-entering the picture, and Liz continuing their silent alliance. After teasing a fight between the family before Season 7's production shutdown, fans will have to wait and see if that plays a part in it.
Tune in to find out if Red's prediction comes true, as well as what it means, when The Blacklist's mixed-media finale airs on Friday, May 15, at 8 p.m. ET on NBC. After it airs, TV fans have this summer's premieres to look forward to as they wait for Season 8. You can watch previous unexpected endings streaming earlier seasons on Netflix, along with lots of 2020 arrivals.
Your Daily Blend of Entertainment News
Like a contented Hallmark movie character, Britt happily lives in the same city she grew up in. Along with movies and television, she is passionate about competitive figure skating. She has been writing about entertainment for 5 years, and as you may suspect, still finds it as entertaining to do as when she began.