The Masked Singer's Frog Explains Why He Didn't Actually Sing On The Show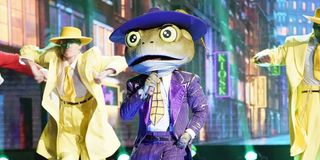 Spoilers ahead for The Masked Singer Season 3 finale.
The Masked Singer's Frog went all out in Season 3, bringing the energy, the swagger, and more than a little excitement to the Fox competition show. Frog swept the audience away week after week with his dance moves and song choices, and all without having to melodically sing one note. With everything from MC Hammer's "U Can't Touch This" to 50 Cent's "In da Club," The Masked Singer's Frog rapped his way through the competition. But the third-place runner-up had a reason for it.
Kicking the The Masked Singer's Season 3 finale off with a rendition of P. Diddy's "Bad Boys for Life," which led to his elimination, Frog's unmasking revealed him to be none other than rapper and CSI: Cyber vet Shad "Bow Wow" Moss. Moss' rapping played heavily in cluing many viewers in on his identity early on (along with a near-endless stream of Like Mike clues.) So if singing in each round might have fooled people a little longer, why didn't he just do that during the competition instead?Moss had his reasons, and explained those choices to TVLine:
And get the party going, he did. Shad "Bow Wow" Moss (who dropped the "Lil" part of the moniker years ago) knew he had major competition and used his experience as a performer to hype the crowd up and entertain them to great success. He definitely had a much different vibe going than Jesse McCartney's Turtle or Kandi Buruss' Night Angel, who came in second and first place, respectively, and it was a big reason why he avoided being eliminated until the finale.
To be sure, the rapper's Frog costume drew attention from the start. Dressed to the nines in a zoot suit and hot pink suspenders, Shad Moss came ready to entertain. In fact, the one thing he felt very confident with was in knowing he could get the audience grooving. Here's how Moss put it:
The Masked Singer has already been renewed for Season 4 and is currently slated to premiere at some point in the fall on Fox, assuming the filming schedule is able to go forward as planned. The competition series will maintain its Wednesday night time slot at 8:00 p.m. ET, and hopefully the producers find someone as energetic as Bow Wow to Season 4 and beyond.
Stay tuned to CinemaBlend for updates. For more on what to watch in the coming months, be sure to check out our 2020 summer TV premiere guide.
Your Daily Blend of Entertainment News