Batwoman Revealed The Arrowverse's First Look At Bruce Wayne, Sort Of, With Wild Comic Story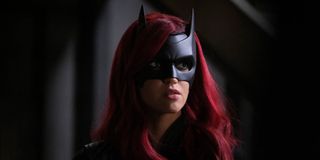 Warning: SPOILERS for the Batwoman Season 1 finale are ahead!
The Arrowverse has been naming dropping Bruce Wayne for years, and we even met an older version of him from another universe in the Crisis on Infinite Universe crossover event, played by none other than Batman: The Animated Series' Kevin Conroy. Well, tonight in the Batwoman Season 1 finale, we finally got our first glimpse of what Earth-Prime's Bruce looks like, with Alphas actor Warren Christie being brought in. Only we didn't actually meet Bruce in the episode, but see someone who now boasts his likeness.
During Batwoman's inaugural season, antagonists Alice and Mouse have frequently disguised themselves using other people's faces, a trick learned from Mouse's treacherous father, the late August Cartwright. Well, when Tommy Elliot, a.k.a. Hush, allied himself with those two, he demanded a new face in exchange, resulting in his old visage being cut off and him rocking the bandaged look like his comic book counterpart. Alice finally gave Hush his new face in the Season 1 finale, a.k.a. "O, Mouse," but it was not to his liking, to put it lightly, and he demanded that she supply him with a new one.
While Mouse scoffed at the idea, Alice still needed Hush for her plans, so she agreed to his forceful request. As the episode progressed, Alice learned that the kryptonite wants (it's the only substance that can penetrate the Batsuit) is located within Wayne Tower, a place one can't steal from on a whim. Desperate to carry out her revenge against Kate Kane, Alice poisoned Mouse after he threatened to leave her because she was so obsessed with vengeance. And while she grieved for the loss of her adoptive brother, she didn't wait long to carry out the next phase of her agenda.
Cut to the end of "O, Mouse," which saw Alice designing Tommy Elliot's new face, and sure enough, he now looks like Bruce Wayne, Tommy former childhood best friend who he's become obsessed with. Thanks to his new look, Alice believes it should be easy enough for Tommy to walk into Wayne Tower, take the kryptonite and bring it back to her. Judging by the smile on his face (as seen below), Tommy is all too eager to go along with this.
There's a precedent for Hush looking like Bruce Wayne, as in the comics, Tommy Elliot performed plastic surgery on his face to disguise himself as the Gotham City playboy in his ongoing effort to torment Batman. Now we get to see Tommy Elliot wreak similar havoc on Batman, with Warren Christie taking over the role from Revenge's Gabriel Mann. It's worth noting that Christie already has a little Arrowverse experience under his belt, as he appeared as Carter Bowen in Arrow Season 1.
Like so many TV shows this season, Batwoman had to end a little abruptly due to the current health crisis, resulting in Season 1's final two episodes not being filmed. So we'll have to wait until Batwoman Season 2 debuts in early 2021 to see how Tommy Elliot looking like Bruce Wayne will specifically send waves across the show. However, Batwoman showrunner Carolie Dries did tease TV Line with the following about what we can expect:
Taking into account how well Kate Kane and Luke Fox know Bruce Wayne, not to mention that this is a world where all sorts of shapeshifters and people well-versed in the art of disguises are running about, it makes sense that our intrepid protagonists will eventually figure out this isn't the really Bruce. Still, Tommy knows Bruce well enough too, so it's easy enough to imagine him taking advantage of Bruce's vast resources and fooling Gotham City's general population.
However, don't think this means we've seen the last of OG Tommy Elliot, i.e. the one played by Gabriel Mann. Warren Christie may be breathing life into the character for the foreseeable future, but Caroline Dries indicated that the door's not closed on potentially bringing Mann back down the line. As she put it:
Of course, Warren Christie being cast as a Bruce Wayne-looking Tommy Elliot also means that he can also play the real Bruce Wayne should Batwoman, or any of the Arrowverse shows, decide to bring him in. As things stand now, Bruce has been missing for years, and along with his whereabouts being unknown, we still don't know why he vanished, though it might have something to do with the strong implication that he killed The Joker.
Regardless, at least now we finally know what this universe's Bruce Wayne looks like, thus bringing us one step closer to potentially meeting him in the coming years. Considering that the Arrowverse proudly features DC A-listers like Superman, The Flash and Martian Manhunter, it'd be nice if Bruce could join that lineup. It'd be even bette if he got to suit up as Batman, something Titans' version hasn't been seen doing yet and Gotham's version only did in the series finale. That might be a pipe dream considering how particular Warner Bros and DC can be with the character being depicted on the small screen, but hey, a fan can dream, right?
For now though, Kate Kane and the gang have enough to keep them busy. Not only is Tommy Elliot looking like Bruce Wayne going to cause trouble, but Kate's father, Jacob Kane, has declared all-out war on Batman, to the point that he and his Crows operatives tried to gun her down in the Season 1 finale. We also recently learned that Julia Pennyworth has cut ties with crime boss Safiyah Sohail, who knows Kate Kane is Batwoman, and Caroline Dries confirmed she will be a significant villain in Batwoman Season 2.
Batwoman airs Sunday nights at 8 p.m. EST on The CW. Stay tuned to CinemaBlend for any major news concerning Season 2, but for now, keep track of what's currently airing with our handy TV schedule.
Your Daily Blend of Entertainment News
Connoisseur of Marvel, DC, Star Wars, John Wick, MonsterVerse and Doctor Who lore. He's aware he looks like Harry Potter and Clark Kent.
Your Daily Blend of Entertainment News
Thank you for signing up to CinemaBlend. You will receive a verification email shortly.
There was a problem. Please refresh the page and try again.