An American Horror Story Star Wants To Play Batwoman After Ruby Rose's Arrowverse Departure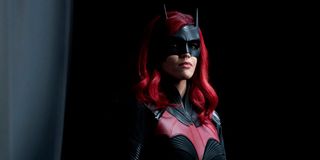 After just one season in the role, it was announced that Ruby Rose was leaving Batwoman ahead of Season 2. Suffice it to say that the news was pretty shocking. Her departure marked the first time a leading role would have to be recast in all of Arrowverse history, so it was a big deal. Who could replace Rose in the role of Kate Kane / Batwoman? Well, one American Horror Story star has thrown his hat in the ring for consideration.
Batwoman Season 1 ended with Alice bestowing Tommy Elliot with a whole new face, that of billionaire playboy Bruce Wayne. It was a great way to cap off the freshman season after production shutdowns in March reduced the episode order. With the superhero show already renewed for Season 2, things were looking up. Then, unexpectedly, Ruby Rose parted ways with the series. That left a gaping hole to fill, and American Horror Story vet Billy Eichner took to Twitter to express his interest in taking on that responsibility. Check out his post below!
Billy Eichner would certainly make for a fun casting, though I'm not sure it's what The CW and Warner Bros. had in mind. He's got a lot of time on his hands, so he made another post asking about possibly playing Batwoman. His passion for Kate Kane was very much alive! Read what he said below.
Naturally, the Parks and Recreation alum was joking about playing Batwoman, but it's pretty funny nonetheless. That said, if the actor were to, theoretically, play the red-haired superhero, I'd imagine his weapon of choice would be a cleaning product. Disinfecting the soles of his shoes? That's dedication to cleanliness right there.
Ruby Rose was first cast as Batwoman ahead of the Arrowverse's "Elseworlds" crossover event in 2018 and appeared to assist Green Arrow, The Flash, and Supegirl in their search for John Deegan. A few months later, in May of 2019, Batwoman was picked up to series by The CW. Rose's shocking choice to step down from playing Batwoman proved to be a "very difficult decision," but she made it clear that she was "truly grateful" for the opportunity to play Kate Kane.
The role of Batwoman will definitely be recast in the coming months, though how far along in the process The CW might be is currently unclear. If the search doesn't go well and things get really desperate, Billy Eichner seems more than ready to don the cape and cowl. Either way, it looks like Tommy Elliot isn't the only one who'll have a new face in Season 2.
Batwoman Season 2, along with new seasons of The Flash, Black Lightning and freshman series Superman & Lois, won't premiere until January 2021. Stay tuned to CinemaBlend for updates. For more on what to watch in the meantime, be sure to check out our 2020 summer TV premiere guide.
Your Daily Blend of Entertainment News