How The Great's Nicholas Hoult Feels About People Thinking He's 'Stolen' From Hugh Grant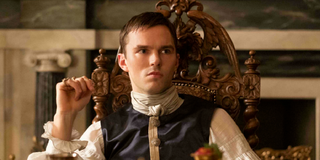 Nicholas Hoult has had a long career, with roles ranging from a young Beast in X-Men: First Class to Nux in Mad Max: Fury Road. However, Hoult's breakout role was in the 2002 film About a Boy, where he starred alongside Hugh Grant and Toni Collette. Headed back to television with the release of Hulu's The Great, Hoult recently revealed how he feels about people thinking he's "stolen" certain mannerisms from Grant over the years.
The Great is a satirical comedy that follows Elle Fanning's Catherine the Great, an 18th century royal who marries Nicholas Hoult's Peter III and then plots to have him killed. This isn't Hoult's first experience parodying royals either, having played Harley in The Favourite.
However, it seems fans have picked up on some of Hoult's mannerisms in these particular roles as being similar to that of Hugh Grant. Did Hoult steal some of the things Grant does as an actor? Not exactly, but Hoult's About a Boy co-star was definitely an inspiration. Here's how Hoult explained it to Collider:
It's definitely a compliment. It's not unsurprising to learn that Nicholas Hoult was influenced by Hugh Grant after working with him in About a Boy, especially knowing that they starred in the movie together when Hoult was still a child star. Actors grow over the course of their careers, and any inspiration that comes from others evolves over time to become distinct to their own personal acting styles. This definitely seems to have happened with Hoult.
The Great marks Nicholas Hoult's first major live-action TV role since BBC's Skins in 2008, and he recently voiced Fiver in the animated Watership Down miniseries. Due to the current health crisis delaying production and scheduling conflicts with another project, Hoult had to drop out of his role as the villain in Mission: Impossible 7 and was replaced by NYPD Blue vet and Titans star Esai Morales.
The Great Season 1 is currently available to stream on Hulu. Although The Great is labeled a miniseries, the show ended on a cliffhanger that hints at a potential Season 2. However, Hulu execs haven't confirmed whether the show has a future beyond its first season. For more on what to watch in the coming months, be sure to check out our 2020 summer TV premiere guide.
Your Daily Blend of Entertainment News
Your Daily Blend of Entertainment News
Thank you for signing up to CinemaBlend. You will receive a verification email shortly.
There was a problem. Please refresh the page and try again.