What To Watch On Netflix If You Like 13 Reasons Why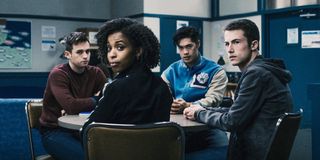 In June 2020, 13 Reasons Why ends with a shorter fourth season. The controversial series has seen a major evolution since its initial run. When it premiered on Netflix in 2017, it started as a series about Hannah Baker (Katherine Langford ) and the choices and circumstances that led to her suicide. Season 2 continued Hannah's story, and explored more of her secret life. Season 3 took a major shift with a mystery involving all the characters that we had come to love. It also involved a whole new perspective with the introduction of the character Ani (Grace Saif).
Based on the 13 Reasons Why Season 4 trailer, it seems like the final season will have all the secrets, lies, and murder catch up with the teens. Clay (Dylan Minnette) seems especially near his breaking point. 13 Reasons Why was an up and down roller coaster from start to finish. It's definitely not a show for everyone, and parents should be cautious when allowing their teens to watch it.
However, for fans of 13 Reasons Why, it was a series that addressed the loneliness, consequences, and depression that sometimes haunts teens as they try to find themselves. If you're going to miss the drama and intrigue of 13 Reasons Why, here are a few other series and movies on Netflix to check out.
Skins (2007)
Skins is a UK series about teens. It's full of first loves, deceptive characters, drugs, partying, and the gritty side of growing up. Skins aired for six seasons (with a seventh season consisting of mini-series movies), and had three sets of cast members, including future stars Dev Patel, Kaya Scodelario, Joe Dempsie, Hannah Murray, and Nicholas Hoult.
Why It's a Good Option for 13 Reasons Why Fans: Skins and 13 Reasons Why are both very dark teen dramas. They deal with serious issues, including death. Both series also don't shy away from finding some humor in the darkness. 13 Reasons Why and Skins include an array of complex characters who are both the villains and heroes at times throughout the shows. For viewers not afraid of dark teen material, Skins is an excellent substitute for 13 Reasons Why.
Stream it on Netflix here.
The Perks Of Being A Wallflower (2012)
The Perks of Being a Wallflower focuses on shy teen Charlie (Logan Lerman) as he is thrusted into the jungle that is high school. Luckily, he befriends two senior step-siblings Sam (Emma Watson) and Patrick (Ezra Miller). Through their guidance, Charlie gets through one of the toughest years of his life as he deals with past trauma, relationships, family issues, and growing pains.
Why It's a Good Option for 13 Reasons Why Fans: Charlie goes through a lot during his first year of high school, while also dealing with his own sense of sadness and depression. Like 13 Reasons Why, it discusses depression and how it affects teens. Unlike Hannah, Charlie finds a way to deal with it that doesn't result in his death. It's another look at teen depression, and the steps to manage it.
Stream it on Netflix here.
Gossip Girl (2012)
The rich and beautiful teens of the upper west-side have their secrets and scandals exposed when a mysterious figure named Gossip Girl starts to post them on her blog. Gossip Girl's cast includes Blake Lively, Leighton Meester, Penn Badgley, Ed Westwick, and Chace Crawford.
Why It's a Good Option for 13 Reasons Why Fans: If teen scandals are your thing, then it doesn't get much more scandalous than Gossip Girl and his loose lips. 13 Reasons Why is a lot more depressing than Gossip Girl, but they both involve teen secrets and bad behavior being publicized, and all the ways that you can hurt someone emotionally by your actions.
Stream it on Netflix here.
All The Bright Places (2020)
All the Bright Place is a love story between Finch (Justice Smith) and Violet (Elle Fanning), two emotionally damaged teens who find a sense of hope within each other. Sadly, hope only gets you so far without the proper treatment.
Why It's a Good Option for 13 Reasons Why Fans: All the Bright Places is another book to film/TV adaptation that addresses the issue of mental health in teens. With this story, we kind of get two sides of the coin. We get one character who goes to drastic measures because of their mental and emotional illnesses, and one who decides to live and work on recovery. Like 13 Reasons Why, It's a heartbreaking story that's bound to cause controversy.
Stream it on Netflix here.
Degrassi: Next Class (2016)
Degrassi is a Canadian drama that originally began in the 80s. It then spun-off into Degrassi: The Next Generation, which aired from 2001 to 2015. Degrassi: The Next Generation's most famous alumni includes Aubrey Graham (aka Drake) and Nina Dobrev. After Degrassi: TNG ended, Netflix stepped in and revived the series as Degrassi: Next Class.
Why It's a Good Option for 13 Reasons Why Fans: The Degrassi kids over the years go through so many struggles and issues. The Next Class Degrassi students deal with major issues like teen pregnancy, coming to terms with their sexuality, mental issues, and more. Both series go through some of the scariest, and most damaging issues, facing teens.
Stream it on Netflix here.
Before I Fall (2017)
Zoe Deutch plays Sam, a popular girl who gets into a fatal car crash. She wakes up the next morning, and must relive the day over. Sam continues to relive the day trying to prevent her death. Each do-over allows her to grow, and actually change into a better version of herself.
Why It's a Good Option for 13 Reasons Why Fans: Like 13 Reasons Why, Before I Fall deals a lot with how everyone's actions (big or small) impact each other, and how it's vital to take responsibility for one's actions. Also like 13 Reasons Why, the movie revolves around a mystery. Before I Fall's major mystery is how to prevent her death, while 13 Reasons Why has several.
Stream it on Netflix here (*_Before I Fall_ *will be available on Netflix on June 8)
The End Of The F---ing World (2017)
The End of the F***ing World is a British dark comedy about two teens, James (Alex Lawther) and Alyssa (Jessica Barden) who embark on an adventure together. He has the agenda to kill her on their trip, and she just wants to escape her home-life.
Why It's a Good Option for 13 Reasons Why Fans: The End of the F*ing World is a teen drama-comedy that tackles serious issues, but remains clever and funny about them. If you're a 13 Reasons Why fan and want your teen drama with a side of comedy, then The End of the F*ing World is just the show to watch. It's still a dark series but approaches it with charm and wit.
Stream it on Netflix here.
Then Came You (2019)
Maisie Williams, Asa Butterfield, and Nina Dobrev star in Then Came You, a romantic dark comedy. Skye (Maisie Williams) is dying from a terminal illness and Calvin (Asa Butterfield) is a hypochondriac. The two quickly bond, and she helps him learn to live, while he helps her live out the rest of her days.
Why It's a Good Option for 13 Reasons Why Fans: 13 Reasons Why and Then Came You both deal with the loss of a friend. Clay loses Hannah before they really get to build a deep strong bond, and with Calvin and Skye, you watch them form it in Then Came You, all while knowing that ultimately she will die. Both the movie and the series show the heartbreak of losing someone that you care about, especially at such a young age.
Stream it on Netflix here.
Control Z (2020)
This Spanish language series (English dub possible) focuses on Sofia (Ana Valeria Becerril) as she tries to investigate the hacker who released a bunch of secrets about the popular kids. Sofia is an outcast because she's a little weird, and spent some time in a psych ward. She has keen observational skills that make it easy for her to read people and their secrets. Along with the new boy Javier (Michael Ronda) and one of the hackers targets Raul (Yankel Stevan), she does whatever it takes to get to the bottom of this mystery.
Why It's a Good Option for 13 Reasons Why Fans: As the series goes on, more and more secrets come to light through this hacker. Control Z follows in 13 Reasons Why's footsteps in having a dangerous mystery, an outsider leading the charge, and major twists and turns at every corner. It also deals with some of the same serious issues as 13 Reasons Why, like body harm, bullying, sexual identity, and physical abuse.
Stream it on Netflix here.
The Spectacular Now (2013)
Miles Teller and Shailene Woodley star in The Spectacular Now, a coming of age story about a popular boy falling for the introverted girl-next-door. This may sound like a lot of teen romantic dramas and comedies from the 80s and 90s, but it's a bit more complex, as it deals with issues like alcoholism and low self-esteem.
Why It's a Good Option for 13 Reasons Why Fans: The Spectacular Now addresses the emotional toil that many young people face while growing up. It also shows that damage the selfishness of youth can have on others. These are themes that it shares with 13 Reasons Why.
Stream it on Netflix here.
Find out how it all ends for Clay and the gang when the final season of 13 Reasons Why premieres on Netflix on June 5, 2020.
Spent most of my life in various parts of Illinois, including attending college in Evanston. I have been a life long lover of pop culture, especially television, turned that passion into writing about all things entertainment related. When I'm not writing about pop culture, I can be found channeling Gordon Ramsay by kicking people out the kitchen.
Your Daily Blend of Entertainment News
Thank you for signing up to CinemaBlend. You will receive a verification email shortly.
There was a problem. Please refresh the page and try again.