The Storyline Sweet Magnolia's JoAnna Garcia Swisher Really Wants To Explore In Season 2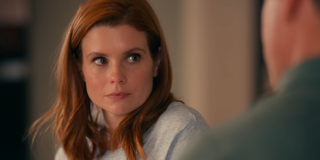 Sweet Magnolias left fans with a lot of questions at the end of Season 1, and with that, those fans are hoping that the romantic drama gets a second season from Netflix to at least help tie up those many loose ends. The series details the romantic, career and family ups and downs of three life-long female friends in the fictional small town of Serenity, South Carolina, and while audiences might be clamoring for resolutions to certain potentially life and death plot points, star JoAnna Garcia Swisher is hoping to be able to dig into something a bit different for Season 2.
When we meet JoAnna Garcia Swisher's Maddie Townsend at the beginning of the show, she's in the middle of a much-gossiped about divorce from her high school sweetheart husband of many years, Bill. Ol' Bill decided to have an affair with the nurse who works for his medical practice, Noreen, and left Maddie and their three children (Ty, Kyle and Katie) to become engaged to Noreen. As if that isn't bad enough, Bill and Noreen are also expecting a baby, which makes the breakup even more difficult for Maddie.
JoAnna Garcia Swisher recently spoke with Good Housekeeping about the series and what she'd like to see happen, should Sweet Magnolias get the go-ahead for Season 2. As you might expect, she really wants to be able to dig deeper into a storyline that has potential to create some great drama: Maddie's relationship with Noreen.
One of the wonderful things about Sweet Magnolias is that the show doesn't take the easy way out and portray Noreen as a wicked homewrecker who had her sights set on Bill whether or not it would help destroy a long-standing marriage and family. It's pretty clear that Noreen has gotten in way over her head with Bill, but now that she's pregnant, is trying very hard to make the best of a terrible situation.
For instance, we see Noreen repeatedly try to be supportive of Bill and Maddie's kids, and she attempts to bond with them on many occasions. While Ty can basically take her or leave her, and youngest child Katie seems basically fine with getting to know her, Kyle is the only one of the three who actually goes out of his way to try and reciprocate Noreen's efforts. He can often be found striking up a conversation with Noreen without any prompting from her or his father, and even confides in her when he realizes he has a serious crush on a girl who has been his friend since they were much younger kids.
By the time Season 1 wraps up, Noreen has left Bill (And, good for her. That dude is the worst.) and Serenity behind because she realizes she's not really happy with their relationship or the way he treats her. On top of that, Maddie has little clue about how much Kyle and Noreen have bonded, and he has much bigger things to worry about than losing a friend in his almost-step-mother.
With Kyle's new issues, I can absolutely see Noreen hearing about what's happened and coming back around to support him, which would lead to some ample opportunities for she and Maddie to talk. This would be especially good, because we already saw in Season 1 that Maddie was very willing to treat Noreen with respect, even when she must have been furious with the much younger woman. Finding out how much of a comfort she was to Kyle would likely bring about some mixed feeling for Maddie.
Hopefully, Netflix will take into account that Sweet Magnolias spent several days in its Top 10 after being released on May 19, and give the people what they want by ordering Season 2. Until we find out whether or not Maddie and Noreen will be able to reconvene, be sure to check out what's new to the streamer in 2020 and see what's coming to TV this summer!
Yennefer's apprentice, Gilmore Girl; will Vulcan nerve pinch pretty much anyone if prompted with cheese...Yes, even Jamie Fraser.
Your Daily Blend of Entertainment News
Thank you for signing up to CinemaBlend. You will receive a verification email shortly.
There was a problem. Please refresh the page and try again.