Netflix's Sweet Magnolias Love Interests, Ranked By Suitability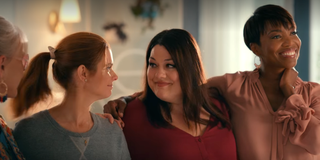 Sweet Magnolias has managed to captivate significant portions of Netflix's large audience since the show released back in May. And, that's with good reason, as the series, which is based on the novels of the same name by Sherryl Woods, combines the small town charm of shows like Hart of Dixie and Gilmore Girls, with the drama of Virgin River and the sweet romance of a Hallmark movie. (OK, fine. Things get a teensy bit spicier than that.)
While Sweet Magnolias focuses on a group of life-long female friends in the small (and fictional) South Carolina town of Serenity as they navigate their careers and family struggles, a big part of the series is following Dana Sue Sullivan (Brooke Elliott), Maddie Townsend (JoAnna Garcia Swisher) and Helen Decatur (Heather Headley) as they deal with their, sometimes complicated, love lives. So, you know what that means...There are men aplenty in Sweet Magnolias!
As you might imagine, though, some of these guys are way more suitable for our ladies than others, so I'm here to break down the details on each of them, to see which one comes out on top as the best man for each woman, and the best potential long-term love interest overall. Dana Sue, Maddie and Helen all have more than one potential suitor at their disposal during Season 1 of Sweet Magnolias, so we have plenty of hunky choices to think about. Let's go!
Warning! SPOILERS for Sweet Magnolias are below. You can keep reading, but some secrets will be revealed!
7) Bill Townsend
I know that everyone has different ideas of what constitutes "suitability" in a romantic partner, but, come on, people. No one who has watched Sweet Magnolias all the way through can honestly argue that Chris Klein's Bill is anything but the worst of the worst. Sure, he's never been aggressively abusive, but aren't we all tired of holding people to standards so low that they basically reside in a hand-basket next to the devil?
At this point, the only positives for Bill are that he's got a good job doctoring the people of Serenity, and is the father of Maddie's three children. The negatives? He cheated on Maddie (his high school sweetheart) with his much younger nurse, Noreen (Jamie Lynn Spears), and got her pregnant; he's mostly terrible with his own children, selfish, and petty. Oh, and we can't forget that he left Maddie for Noreen and got engaged to her, but when even she realized he was Chief Douche of South Carolina and dumped him, he then thought it was a good time to try to get Maddie back. I can't with this man. A pox on Bill Townsend!
6) Ronnie Sullivan
OK. These are rough times, folks, so I can admit to being a bit torn when it comes to Dana Sue's estranged husband Ronnie (Brandon Quinn). And, it's not just because he's good looking, alright? Whatever he did to piss Dana Sue off (it seems like he cheated, but the show doesn't confirm it), he's abided by her rules and stayed out of town so that she could get over the hurt he caused her. On top of that, he's kept in touch with their daughter, Annie (Anneliese Judge) while away, and appears to have a very good relationship with her.
Those aren't all of Ronnie's potential plus sides. While Dana Sue seemed a bit miffed that he showed up suddenly when she called to tell him they needed to talk, it's very clear that Ronnie's smolder can still get to her quite a lot. She may be readying herself to start down a brand new relationship road, but Dana Sue is not over Ronnie just yet. Plus (Yes! There's more!), when she told him about what's going on, he asked to come back so that he can help her, so he doesn't appear to be done with Dana Sue, either. We're not sure what Ronnie did to get ousted from the Sullivan home, though, so he's gotta go near the bottom of the list for now.
5) Ryan Wingate
Woof. I mean...FINE. Ryan (Michael Shenefelt) is hardly a demon roaming the earth. And, it's pretty clear once he comes back into town that the problems that he and Helen had were not all of his fault by a long shot. But, when he and Helen (who'd been an on again / off again couple since high school) quickly reconciled, didn't we all know it wasn't going to last?
Helen and Ryan really are a case of two people who can't quite let go of each other, even though it's so apparent that they have very different goals in life. There's not even any indication that he repeatedly let her down or led her to believe he wanted the same things that she did. These two just don't fit, and it took a random mention of their potential future children, to really drive that point home to both of them, hopefully for the absolute last time. Look, Helen has another potential on the very near horizon, and I don't need this mess with Ryan screwing it up!
4) Micah Harrison
WOW. So, for someone who had no romantic prospects at the beginning of the series, Dana Sue will come out as a dark horse competitor by season's end, and Micah (Marland Burke) is number two of three total reasons for that. When Micah comes back to town, he does not have good news for her, but it's clear that a) he feels 100% bad about it and b) he and Dana Sue had some super wild times back in the day. The only thing we're unsure of right now is just how wild those times were, but it seems pretty obvious that these two got up to some smooshing in the times before Dana Sue was a consistently annoyed business owner and single mom.
Micah seems like a really good guy, and he's certainly a good and dear friend to Dana Sue. But, despite this and the fact that they have a history they enjoy delving into to relive old times (not to mention the fact that Micah made no mention of a wife / girlfriend in his new neck of the woods who's waiting on him to return), it does appear that he and Dana Sue are now strictly in the no-removing-of-our-pants-in-front-of-each-other zone. Oh, well. It's not like Ms. Sullivan doesn't have other options, the last of which we're going to get to right now...
3) Jeremy Reynolds
Well, hello Mr. Farmer! I really love how Dana Sue just got lucky all at once, don't you? All it took was one little trip to visit a farming co-op to see if she wanted to buy from them again for her restaurant. There, she happened upon the new owner, Jeremy (Chase Anderson), and those double entendre sparks were sent flying. I'm sure you remember Dana Sue telling Jeremy that she was going to "wrap her lips" around one of his strawberries and him responding with a sly, "You can taste anything here you like." Phew...Get. At. It. Dana Sue!
Now, we only saw Jeremy briefly in the last two episodes, but he's so into Dana Sue that...well, just insert your own sex joke, my friends. They share a love of good food, classic cars and managed to kiss on the very day they met. We (and Dana Sue, for that matter) might not know a lot about him, but I can pretty much guarantee that, as long as she doesn't take Ronnie back, Jeremy is going to be one tomato-juice-dribble-down-her-chin-clearing good time. And, she really needs that right now. Hallelujah!
2) Cal Maddox
Listen, everyone. Just calm down! I can hear you sharpening your pitch forks, but I really do have good reasons for placing Justin Bruening's Cal second on this list. And, to prove that I'm not sitting over here purposely hating on the former professional baseball player, I'm going to go ahead and start with the reasons I do like Cal. At the top of that list is that he spent most of Season 1 helping Maddie get over being cheated on by Bill, so that she can learn to trust and love again. He's also better than Bill is with all three of her kids (after only a short time), a good guy and, you know...pretty easy on the ol' peepers.
But, while Cal is helping Maddie get back on the, uh, love horse (My apologies. Seriously.), he doesn't quite feel like a long term dude to me. Not because he's her son's baseball coach; they've managed to get past that and the town gossip that comes with it by the end of the season. Instead, it just seems like the unfortunate circumstance of Maddie having been in such a long relationship that went so wrong so recently ago. Cal feels destined to be a transition man for Maddie, and my opinion isn't helped by the fact that he overstepped his bounds as her new boyfriend and had a scout come watch her son and talk to him, without telling her anything about it. So, we'll see.
1) Erik Whitley
Now we're getting somewhere! While I thought for a time that Dana Sue's sous chef Erik (Dion Johnstone) was going to end up being the man for her, that quickly changed when we got a glimpse of him interacting with Helen. He went from some very gentle flirting, which Helen didn't seem to notice at all, to pining so gorgeously over her when she got back together with Ryan (Stupid Ryan!), that you couldn't help but feel for him. Of course, by the end of the season, he was shooting his shot as directly as possible, and Helen seemed into it.
Sure, Erik has some demons in the form of some trauma that he still needs to fully clear up, but he remained a good, strong man and true friend through the season. Not only did he take young Sullivan's staff member Isaac (Chris Medlin) under his wing, but he became a sort of wellness mentor to Dana Sue, after helping her get through some medical difficulties with his cool head, steady hands and quick thinking. By the time Nearly Perfect Erik showed up at Helen's with a hot homemade brownie (teehee) and cinnamon ice cream, we were all ready for them to just get nekkid already. Their visit got cut short, but Helen was comfortable enough with Erik to finally break down over the loss (yet again) of Ryan, so here's hoping Season 2 finally gives us this dream pairing.
Those are all the main men in Sweet Magnolias Season 1, and while I do believe I got the rankings right, what do you think? Take the poll below to let us know, and be sure to check out our 2020 Netflix guide and summer TV guide to see what you can watch in the coming weeks!
This poll is no longer available.
Your Daily Blend of Entertainment News
Yennefer's apprentice, Gilmore Girl; will Vulcan nerve pinch pretty much anyone if prompted with cheese...Yes, even Jamie Fraser.