Sam Heughan Shares Excitement For Outlander Reunion In New TV Show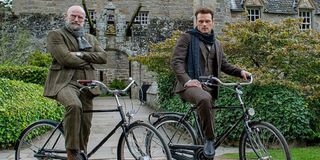 Outlander Season 5 has been over for a only a short while, with fans are already facing an extended Droughtlander, but a new spinoff series starring Sam Heughan and Graham McTavish might be just what the doctor (or travel agent) ordered. Men in Kilts: A Roadtrip with Sam and Graham will reunite the Outlander actors, and Heughan sounds very excited about the new TV show.
Onscreen, Jamie Fraser and his uncle Dougal Mackenzie had a rather rocky relationship, and their inability to see eye-to-eye resulted in Dougal's death in Outlander's Season 2 finale. However, Sam Heughan and his former co-star Graham McTavish developed an offscreen relationship that couldn't be more different, and the actors will be taking to the Scottish highlands for the spinoff docuseries, Men in Kilts: A Roadtrip with Sam and Graham. Heughan couldn't be more thrilled about the upcoming Starz show and he posted his reaction to Twitter. Check it out below!
Honestly, the trailer for Men in Kilts looks very fun. Sam Heughan and Graham McTavish share a bike and a boat, all while touring picturesque Scotland settings. Who wouldn't be excited for that? What's more, Heughan's Jamie Fraser doesn't wear kilts as frequently as he used to, but the actor is back to donning them in the Starz docuseries. I'm sure many fans will agree with me when I say that more time with Heughan in kilts is never a bad thing.
Sam Heughan's excitement may stem from getting to travel to Scotland with his friend and fellow Outlander actor. But also, Heughan was thrilled at the prospect of learning even more about Scottish culture.
Outlander fans should also be very excited for Men in Kilts. Aside from Heughan and Graham McTavish touring Scotland in general, they'll also be visiting well-known Outlander locations like Inverness and the battlefield at Culloden. The latter being a pivotal turning point in the Starz series as well as an integral piece of Scottish history. Assuming they can find their way around, that is.
Men in Kilts may not be the only Outlander spinoff coming to Starz. There's an "ongoing discussion" about a spinoff centering David Berry's Lord John Grey. That character was last seen in Season 5, though fan interest in a Lord Grey spinoff show has been prevalent for some time now. Nothing has been confirmed as of yet, but I'd be thrilled if it were to finally get greenlit along with any other Outlander ideas floating around. The thought of a John Grey spinoff and Men in Kilts together on the same network sounds incredible.
Men in Kilts: A Roadtrip with Sam and Graham does not yet have a scheduled release date, but stay tuned to CinemaBlend for updates on the new show. In the interim, fans can watch all five seasons of Outlander on Starz. For more on upcoming TV show premiere dates, be sure to check out our 2020 summer guide.
Your Daily Blend of Entertainment News
Thank you for signing up to CinemaBlend. You will receive a verification email shortly.
There was a problem. Please refresh the page and try again.