Why One WWE Star Thinks It Would Be 'Cool' To Play Batwoman's New Lead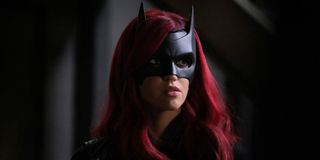 Since the Season 1 finale of Batwoman, a lot has changed behind the scenes. Ruby Rose exited the series, and it was assumed her role would simply be recast. However, it was announced soon after that Batwoman Season 2 would go in a different direction altogether and introduce a new character in the titular role. Now, one WWE star reveals that it would be "cool" to play Batwoman's new lead.
While Kate Kane's version of Batwoman will be replaced, series showrunner Caroline Dries and The CW are still committed to casting a member of the LGBTQ+ community. Enter WWE star Sonya Deville, whose name has come up quite often as a potential candidate. We here at CinemaBlend also think Deville would make a great Batwoman, too! The wrestler recently spoke about potentially playing "Ryan Wilder" instead of Kate. Here's what Deville had to say about it:
There would have definitely been a lot of pressure to fill Ruby Rose's shoes as Kate. While replacing her completely needlessly complicates things for Batwoman Season 2, inventing a whole new character for the superhero series would make it easier for Sonya Deville to "bring something very different" to the role.
During her chat with ComicBookMovie.com, the WWE star also mentioned that she first learned about the role on social media, when she was tagged by fans as a potential candidate. At the time, Sonya Deville had no idea that Ruby Rose had stepped down. Following the fancasts, Deville herself took to Twitter to express interest in the role, alongside quite a few others who threw their names into the ring for consideration.
It's unclear who The CW will ultimately cast to play the new Batwoman. However, when asked whether she'd had any contact with the network about potentially playing the character, Sonya Deville didn't shoot it down. In her words:
Interesting! Is it possible Sonya Deville has already auditioned for Batwoman? Maybe. For now, the wrestler is still prioritizing the WWE, which makes things a bit difficult considering Batwoman would be a full-time commitment. But "nothing is impossible," according to the wrestling star. Fans will just have to wait and see how everything pans out.
Batwoman Season 2 is scheduled to premiere in January 2021. For more on what to watch in the meantime, be sure to check out our 2020 summer TV premiere guide.
Your Daily Blend of Entertainment News
Thank you for signing up to CinemaBlend. You will receive a verification email shortly.
There was a problem. Please refresh the page and try again.