8 Actors Who Would Be Perfect To Play Lestat In The Vampire Chronicles TV Show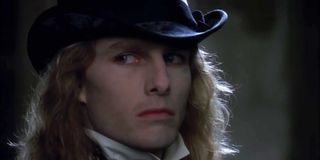 Since 2017, Anne Rice's wildly popular book series The Vampire Chronicles has been in development as a TV series. This is not the first time that the books have been turned into screen material. The first time was with the cult classic Interview With a Vampire, and then later with Queen of The Damned. The Vampire Chronicles also inspired a Broadway musical called Lestat. Despite the clear fan base, The Vampire Chronicles TV Show has not had an easy road to production.
Hulu was originally supposed to be the home of The Vampire Chronicles show but the streaming service decided to pass on it. Like any good vampire, the show rose again when AMC acquired rights to The Vampire Chronicles and Anne Rice's The Lives of the Mayfair Witches.
At the heart of these novels are the vampire Lestat, who was played in Interview with a Vampire by Tom Cruise, then by Stuart Townsend in Queen of the Damned, and most recently by Hugh Panaro in the Lestat musical. These three men gave very different interpretations of the famous literary character, but had a certain confidence that threaded throughout. Fans of Anne Rice's novels, or even just the movies and musical, are probably anxiously awaiting casting news for this iconic character.
Before we get our hopes and dreams shattered by the final casting decision, let's pick some people we would like to see play Lestat in The Vampire Chronicles series.
Timothee Chalamet
Timothee Chalamet may be a bit too on the nose as a pick, but it doesn't change the fact that he works. Chalamet has a French father which gives him French origins like Lestat. He is around the same height as the character and close to the age of book Lestat.
Chalamet's performance in Little Women screams "The Brat Prince," with a bit of arrogance, self-centeredness, a flare for the dramatics, and pure vanity. Timothee Chalamet already has the luxurious hair for the role, it just might have to be dyed or he could have to wig it up. Chalamet is also quite busy as a star in-demand, but he might just find some time to film a Vampire Chronicles show.
Harry Styles
Before you go HARRY STYLES?! Let me explain. Yes, we haven't really seen Styles act. His one major role in Dunkirk was basically a non-speaking role, and he passed on the chance to be Prince Eric in The Little Mermaid, so we have nothing to judge Style's acting abilities on (except some hilarious SNL skits), but there is an attitude and a presence that Styles exhibits that matches Lestat.
Styles is also around the right age, height, and his campiness and rockstar sensibility screams Lestat. All Styles would need was a blonde curly wig. He could pull it off. The real dilemma would come if Styles actually had the time to film a series, which is highly unlikely with his intense touring and recording schedule. In a perfect world, Harry Styles would be a real consideration for Lestat.
Johnny Flynn
Johnny Flynn is much older than Lestat was when he became a vampire. However, this is Hollywood where age only matters for some genders and book facts don't exist. Also, in my opinion, Flynn is a very young looking mid-30-year-old. He probably can't pass for 21, but he could pass as 20-something-ish. Flynn gave a great performance in Emma as Mr. Knightley, making him ready for another period piece.
Flynn also has a musical background that ties nicely with Lestat's acting and rockstar sides. As Mr. Knightley Flynn showed a sweet, complex character, but I'm sure as Lestat, he could play a dark, complex character. He also already has the blonde hair, so him needing a wig is only a maybe option, not a must option, like with others on this list.
Iwan Rheon
Iwan Rheon has shown that he's a pretty good actor with versatility in multiple projects. With his portrayal of Simon in Misfits, he has shown that he can play creepy, complicated, wounded characters, and that he can play a straight up monster as Ramsay in Game of Thrones.
Rheon is more on the shorter side, being 5'8", but that's why editors are so great at their jobs. They can make anyone look 6 feet. It is also a bit hard to imagine how he would look with blonde curly hair, but I'm willing to take the gamble and say he could work the wig. I believe that Rheon is a strong enough actor to capture the complexities and duality of Lestat. He's also another actor with musical experience that fits into Lestat's background and persona.
Evan Peters
Evan Peters has really shown some acting range during his time on American Horror Story. Many of his evil characters have had a bit of cockiness to them that could translate well to Lestat. Peters is also in his 30s, but not so much in it that he couldn't play a 20-something. Peters also has shown that he can pull off almost any hair style, so curly blonde shoulder-length hair shouldn't be a problem for him.
Peters, however, has a hard edge with most of his characters and performances that could make it difficult for him to have Lestat's jolly, twisted humor. However, under the right direction, he could turn his often serious demeanor into a more playful character, like we've seen with Quicksilver.
Lakeith Stanfield
Get your "that wouldn't be historically accurate!" and "Lestat isn't black!" out now. Feel better? Good. Now Lakeith Stanfield doesn't look the part, but he's a very charismatic, versatile actor who would do one hell of a job as Lestat.
To cast him would involve a lot of changing of Lestat's backstory to make it work, but it's also fiction so they could easily find ways to work around it and keep most, if not all of Lestat's pre-vampire history and life in the 18th and 19th century. Stanfield could definitely give us a touch of spoiled, lots of sex appeal, plenty of vanity, and just enough vampirism to really make Lestat shine in a TV series.
Tom Hiddleston
If you're a Marvel fan and have seen Tom Hiddleston's portrayal of Loki, I don't think I need to say much more. I guess I'll also add his performance in Only Lovers Left Alive. Hiddleston is much older than book Lestat, but Hiddleston is nearly perfect for the role. He really knows how to bring complicated, wounded, but still likable characters to life.
Hiddleston also feels like someone who just screams French, blonde vampire in the 1700s, right? He also has this nature that makes it easy to envision him as someone very into fashion and a lavish lifestyle.
Michiel Huisman
Anne Rice once mentioned that if she could cast Lestat, Chris Hemsworth would be one of her top choices. However, realistically, Hemsworth is far too busy launching big franchises to film an entire series, especially if it gets renewed for multiple seasons. She also mentioned Anson Mount and Stephen Amell, and you know who is kind of a mixture of all those rugged men? Michiel Huisman.
Huisman is another actor technically out of the Lestat book age range, but besides that, he has the right look, charisma, and hypnotic allure fitting of a vampire. He also has some boyish charm, but with a dark edge fitting of Lestat.
I had a hard time selecting only a few choices, because I think right now, there are actually many actors that could bring this dynamic, fun character to life. I also would love to see a new comer get a chance to put their stamp on Lestat. Lestat is such an important character to Rice fans that I hope whoever ends up winning the role really gives us an outstanding performance.
Spent most of my life in various parts of Illinois, including attending college in Evanston. I have been a life long lover of pop culture, especially television, turned that passion into writing about all things entertainment related. When I'm not writing about pop culture, I can be found channeling Gordon Ramsay by kicking people out the kitchen.
Your Daily Blend of Entertainment News
Thank you for signing up to CinemaBlend. You will receive a verification email shortly.
There was a problem. Please refresh the page and try again.