What Zoey's Extraordinary Playlist's Alex Newell Wants To See In Season 2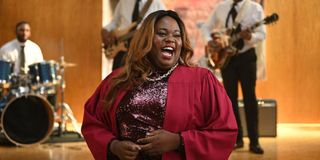 NBC officially renewed Zoey's Extraordinary Playlist for Season 2 and it was such a relief for many viewers who have grown quite attached to Jane Levy's Zoey Clarke and the "heart songs" only she can hear. Season 1 ended on a strong note, with the characters singing an emotional rendition of "American Pie" and, while certain story arcs were tied up, there were plenty of open-ended narrative paths to explore in the future. With Season 2 now on the horizon, Alex Newell has revealed exactly what he wants to see for Mo going forward.
As Zoey's gender-nonconforming neighbor, Mo became the titular character's dependable confidante over the course of Season 1. By the season's fourth episode, Mo's own backstory came to light. Even though Mo is perfectly comfortable around Zoey and others without shame or remorse, that wasn't the case when it came to church and singing in the quire. Mo initially presented as male when singing in the church choir, but with Zoey's help in sorting through that internal conflict, Mo later shined like a star, just as the character's mother predicted.
So, what's next for Mo? Newell has some matronly ideas for where Zoey's Extraordinary Playlist Season 2 could take the soulful character's story. Here's what Newell told TV Insider:
Alex Newell and I are on the same page because that's exactly what I want to see for Mo in Season 2 as well. There are so many stories left to explore in both Mo's past and present familial relationships, and it would be fantastic if Zoey's Extraordinary Playlist introduced Mo's mom next season. Who doesn't want to see what that dynamic would look like? Of course, all other members of Mo's family are also welcome, especially if they're similarly fabulous.
As for who could play Mo's mom in Season 2, Alex Newell already has the perfect person in mind: Claws and When They See Us star Niecy Nash. Newell says that he has Nash's number and is definitely "trying to manifest it" into happening. (Not a plug for that show.) NBC execs and Zoey's showrunner Austin Winsberg need to call up Nash and book her before she gets too busy, because now that Newell has mentioned it, I can't imagine anyone else playing Mo's mom.
The Glee alum goes on to say that with Mo, he really wanted to portray the issues that come up at the intersection of "sexuality, identity, and faith." In that vein, Season 1's "Zoey's Extraordinary Neighbor" was a very personal episode for Alex Newell, and he admitted there was one take where he "couldn't stop crying" while filming. Newell's Mo is certainly one of the many highlights of the show, and I hope that Season 2 will explore the character even more.
Zoey's Extraordinary Playlist Season 1 is currently streaming on Hulu. Season 2 does not yet have a premiere date, but stay tuned to CinemaBlend for more. In the meantime, be sure to check out our 2020 Summer TV premiere guide for more on what to watch.
Your Daily Blend of Entertainment News
Your Daily Blend of Entertainment News
Thank you for signing up to CinemaBlend. You will receive a verification email shortly.
There was a problem. Please refresh the page and try again.