Friends: All The People Who Lived In Monica's Apartment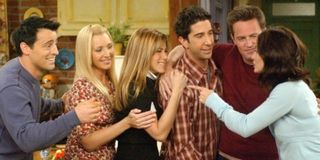 The series Friends has a few iconic locations. The first, of course, is the Central Perk, the coffee shop where we see the Friends characters relax and get bad customer service from Rachel (Jennifer Aniston). The second iconic location from the series is Monica's apartment. The place has experienced lots of ups and downs, everything from the first "we were on a break" breakup of Ross (David Schwimmer) and Rachel to the time Chandler (Matthew Perry) told Monica (Courteney Cox) that he loved her.
Monica's apartment has been as central to the story of Friends as the characters themselves. It's been the place where most of the exciting action has happened, and the place where many Friends characters have lived.
Let's take a trip down memory lane and see how many people have actually lived in Monica's apartment.
Monica's Grandmother
We never met Ross and Monica's grandmother, but we learned that she was the original tenant of Monica's apartment. In fact, the landlord still thought the grandmother lived there. In the episode "The One with the Flashback," Monica reveals to Joey (Matt LeBlanc) that she got the apartment when her 87-year-old grandmother moved to Florida. She's also afraid of her VCR.
In the episode "The One Where Nana Dies Twice." Ross and Monica lose a grandmother, who is revealed to be named Althea in "The One with the Embryos," but this is not the grandmother who gave Monica her apartment. She is confirmed to very much be alive when she's mentioned as a guest at Monica and Chandler's wedding.
Phoebe And Monica
At least a year before the pilot episode aired, Monica and Phoebe (Lisa Kudrow) were unhappily living together. The episode "The One with the Flashback" showed that Monica's need for tidiness and order, and her strict rules, drove free spirited Phoebe mad. Phoebe even secretly moved out of the apartment, letting everyone know but Monica. A hundred fake trips to the repair shop later, Monica finds out that Phoebe moved into her grandmother's place to get away from Monica. Phoebe tells Monica that she loves her but doesn't think they'll be friends for much longer if they stay roommates.
Briefly, Phoebe once again becomes roommates with Monica, but this time also with Chandler. Phoebe's apartment catches on fire due to Rachel's hair straightener, so Rachel and Phoebe have to live with Monica and Chandler, and Joey.
At first Rachel moves in with Monica and Chandler, because Phoebe believes her candles are the reason that the place burnt down, but they later learn that it was Rachel's fault. This results in Joey and Rachel living together, and Phoebe being a guest at Monica and Chandler's place. Quickly, she remembers why Monica and her are not good roommates.
Rachel And Monica
On the Friends pilot episode, "The One Where Monica Gets a Roommate," Rachel leaves her fiance Barry (Mitchell Whitfield), and needs a new place to stay to start her independence. We then get to experience Monica and Rachel as roommates for most of the series. They only separate when Monica and Chandler decide to take their relationship to the next level and move in together.
Rachel then moves in with Phoebe, then Joey, and eventually Ross. Rachel and Monica's personalities seemed to balance each other out the most as roommates. Monica manages to annoy or strike fear in all her other Friends roommates.
Joey and Chandler
In Friends' best episode ever (there is no debating this), "The One with the Embryos," Joey and Chandler win Rachel and Monica's apartment. The two sets of roommates go head to head in a who knows the others better quiz competition. If Monica and Rachel win, Joey and Chandler have to get rid of their rooster. If Joey and Chandler win, they get Monica's apartment. Ross writes the questions (so you can't blame the questions) for the trivia game. The game is pretty intense from start to finish, eventually going into a lightning round to declare a winner.
Obviously, Monica and Rachel lose when Ross asks them to name what Chandler does for a living, because no one knows that. It's some job with numbers. Naturally, they get it wrong, losing their apartment as a result.
Monica and Rachel don't leave their apartment easily, but eventually they go. The two beloved pairs then spend the next seven episodes in each other's apartment. In the episode, "The One with All the Haste," Rachel and Monica attempt to get their apartment back.
They first try to bribe Joey and Chandler with Knicks tickets, and then they eventually try to win it back with a game of drawing the highest number card. Once again, Rachel and Monica lose, but while Joey and Chandler are at the Knicks game, Phoebe gives them the idea to just move switch the apartment's back while the guys are at the game.
The guys are understandably annoyed when they return home to find their stuff moved back into their own place, but they eventually relent when Monica and Rachel agree to kiss for a minute. Of course this works, and order is restored. Phoebe even points out if they kissed originally, then no one would have had to move in the first place, but what fun would that have been?
Chandler And Monica
Monica and Chandler are one of the best sitcom couples in history (also not up for debate). The show hinted about them possibly hooking up way before they officially did in London. From the Season 4 finale onward, Monica and Chandler became Friends IT couple. They had a few bumpy moments, but they were way more solid than Rachel and Ross ever were on the series. In Friends Season 6, "The One on the Last Night," Chandler and Monica move in together, and they stay roommates in Monica's apartment until they move away on the series finale, "The Last One."
Their time together as roommates is much like many married couples: full of fear of getting crumbs on the bed and trying to keep things in a certain order. The couple officially become a married couple living in Monica's apartment in Season 7, "The One with Monica and Chandler's Wedding."
Ross
On the Friends series finale, "The Last One," Phoebe points out that everyone of the characters has lived in Monica's apartment at some point (and seen plenty of Ugly Naked Guy). Ross chimes in that he's never lived there. Monica then reveals that Ross, in fact, did live there for a summer before going to college. He was Grandma Geller's roommate for a summer as he pursued his dreams of being a dancer. I would personally pay to see a prequel series about young Ross living with his grandmother trying to become a dancer.
Since Friends is likely not getting a reboot series anytime soon, it's time that I pitch the idea of an anthology series of people who lived in Monica's apartment pre-Friends. Let's learn more about Grandma Geller, let's see who lived there before that, and before that. Hollywood, it could work. For now, we'll just have to enjoy watching the Friends characters live in the apartment while it's streaming on HBO Max.
Your Daily Blend of Entertainment News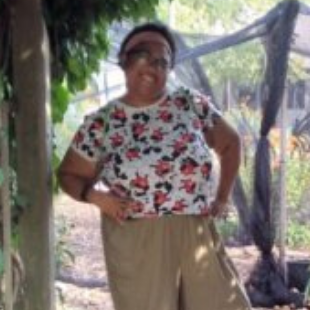 Spent most of my life in various parts of Illinois, including attending college in Evanston. I have been a life long lover of pop culture, especially television, turned that passion into writing about all things entertainment related. When I'm not writing about pop culture, I can be found channeling Gordon Ramsay by kicking people out the kitchen.