Descendants Co-Star Sofia Carson Mournfully Recalls Learning About Cameron Boyce's Tragic Death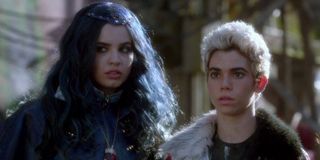 It has been nearly a year since Descendants star Cameron Boyce died due to an epileptic seizure. He was only 20-years-old at the time. The actor was found unresponsive in his home and was being treated for epilepsy prior to his death. The news, however, was sudden and Boyce's death devastated his family and friends. Recently, the late actor's Descendants co-star Sofia Carson mournfully recalled where she was at the time when she learned about Boyce's tragic death.
Sofia Carson, who played Princess Evie in all three Descendants movies, was heartbroken when she heard about Cameron Boyce's death last year. Carson had been preparing for Netflix's Feel the Beat, about a group of misfit dancers training to compete, when she received word that Boyce had died. Here's what the actress told ET about her feelings from that day:
Cameron Boyce was indeed "loved by so many," as could be attested to by the outpouring of love and emotion from family, friends, and co-stars following news of his death. The Disney Channel also aired a lovely tribute to Boyce following the premiere of Descendants 3, one of the last projects he filmed before his death.
Sofia Carson went on to describe Cameron Boyce as someone who gave off a feeling of warmth whenever he was around and that he was essentially "sunshine wearing shoes." As for whether Carson would do another Descendants movie if the opportunity arose, she seemed doubtful. In her words:
That makes sense considering how pivotal Cameron Boyce was to the Descendants movies, which followed the children of Disney's greatest villains. Sofia Carson was right; it "wouldn't be the same" at all.
The actor's legacy lives on in the Cameron Boyce Foundation, which was started by his family after he died. The foundation donates to charitable causes and raises awareness about epilepsy. What's more, Boyce had finished a number of projects before his death, including HBO's Mrs. Fletcher and the upcoming documentary Showbiz Kids, which profiled several child stars and their experiences growing up in the spotlight.
Meanwhile, Sofia Carson's Feel the Beat is currently streaming on Netflix. For more on what to watch in the coming months, be sure to check out our 2020 summer TV premiere guide.
Your Daily Blend of Entertainment News
Thank you for signing up to CinemaBlend. You will receive a verification email shortly.
There was a problem. Please refresh the page and try again.