The Bachelorette: What Happened To JoJo Fletcher After Season 12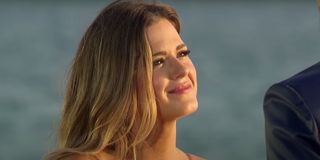 Ever since the world first got to know her on Season 20 of The Bachelor, JoJo Fletcher has become one of the most popular and well-liked former contestants in the show's history. So much so that Fletcher became the one handing out roses on Season 12 of The Bachelorette, where she met and fell in love with her eventual fiancé Jordan Rodgers.
In the years following her 2016 appearance on The Bachelorette, JoJo Fletcher has remained busy with a handful of television and web series, some pretty big partnerships, and even with wedding planning, which has proved to be no easy task in the wake of the 2020 Coronavirus pandemic. So, for all your Bachelor and Bachelorette fans out there, let's look into what Texas native has been up to these past four years.
The Former Bachelor And Bachelorette Star Inked A Deal With Goldman Sachs In 2018
Prior to her time on The Bachelor and then The Bachelorette, JoJo Fletcher was already quite experienced in the home remodeling business, and in 2018 Goldman Sachs wanted to capitalize on her fame and passion by forming a partnership to appeal to young borrowers looking to purchase or renovate a home of their own.
According to a 2018 report in Business Insider, Goldman Sachs contacted the reality star to help promote the Marcus brand to help create a series of promotions and dozens of television appearances in Middle America to spread the word about the financial institution as well as help with its image in the wake of the financial crisis. Through the partnership, JoJo Fletcher became an ambassador for the brand, and spent a lot of her time speaking with outlets like Entertainment Tonight in segments focused on home improvement projects.
JoJo Fletcher And Jordan Rodgers Launched The Engaged With JoJo And Jordan Web Series In 2018
JoJo Fletcher and Jordan Rodgers found love on Season 12 of The Bachelorette, but it wasn't all for show as the couple has remained strong going on four years. Since their 2016 engagement, the couple has pivoted from the hit ABC series to a number of other ventures, including the web series Engaged with JoJo & Jordan, which debuted on services like YouTube, Facebook Watch, Instagram, Twitter, and Amazon in September 2018.
The couple spoke with People ahead of the series launch where they revealed that it wouldn't be like the "picture-perfect" production of The Bachelorette, instead being a more honest and stripped-down look at their love and day-to-day life together as they fall deeper in love with one another. Engaged with JoJo & Jordan ran for 28 episodes before the final video was posted in April 2019. But fear not as the couple has continued with other ventures together.
JoJo Fletcher And Jordan Rodgers Started Hosting The CNBC Series Cash Pad In 2019
Around the time JoJo Fletcher and Jordan Rodgers were knee-deep in their original web series, the couple partnered up with cable financial news channel CNBC for the home remodeling series Cash Pad. Unlike most shows of this type that typically focus on renovating a house in which the homeowner lives, the 2019 series instead saw the couple helping people spruce up their short-term rental properties.
With filming split between Texas metropolises Austin and Dallas, as well as Phoenix, Arizona, Cash Pad saw the couple invest in the properties featured on the series, essentially becoming business partners with the owners, according to an Austin 360 profile on the project. Full episodes of the series can be watched on the CNBC website.
JoJo Fletcher And Jordan Rodgers Became The Hosts Of The Paramount Series Battle Of The Fittest Couples In 2019
It's no secret that JoJo Fletcher and Jordan Rodgers take their physical fitness seriously, so it should come as no surprise that the couple was brought on to host the Paramount competition series Battle of the Fittest Couples. Since premiering in October 2019, the reality competition series has seen multiple couples go head-to-head to determine who is the fittest couple and see who will win the $100,000 grand prize.
Ahead of the show's release, JoJo Fletcher sat down with Deadline to provide some background information on the show and why she and her fiancé were so excited to serve as the hosts, stating:
Over the course of the show's debut season, 12 couples battled through a series of physical and mental challenges with two couples (the losers of that week's competition and also the winner's choice) square off in the "Rage Cage" to see who would get sent home.
In June 2020, The Couple Celebrated What Was Supposed To Be Their Wedding Day
As anyone who has tied the knot knows, preparing for your wedding is one of the most stressful things a couple will do. It's expensive, takes a great deal of organization, and you have to be ready for anything and everything to go wrong. In addition to dealing with all the normal stresses of the pre-wedding planning stage, JoJo Fletcher and Jordan Rodgers had to deal with the Coronavirus pandemic.
After spending nearly a year getting everything ready for the big day, JoJo Fletcher announced on June 13, 2020, that she and her fiancé would push their nuptials back a year to 2021 in an Instagram post celebrating what was supposed to be their wedding day:
On the bright side, the couple has waited this long to get married after first falling in love in 2016, so another year won't be anything for them. And hey, it gives them more time to iron out all those little details.
It has been an eventful four years for JoJo Fletcher since finding love on The Bachelorette, and based on everything she has accomplished since 2016, we can all expect to see more from the reality star and her former NFL quarterback soon-to-be-husband.
Philip grew up in Louisiana (not New Orleans) before moving to St. Louis after graduating from Louisiana State University-Shreveport. When he's not writing about movies or television, Philip can be found being chased by his three kids, telling his dogs to stop yelling at the mailman, or yelling about professional wrestling to his wife. If the stars properly align, he will talk about For Love Of The Game being the best baseball movie of all time.
Your Daily Blend of Entertainment News
Thank you for signing up to CinemaBlend. You will receive a verification email shortly.
There was a problem. Please refresh the page and try again.