How Saturday Night Live Prepared Jimmy Fallon For The Tonight Show: Home Edition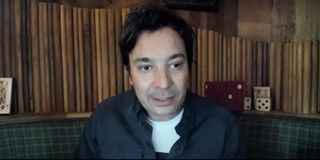 Jimmy Fallon graduated from a full-time role on Saturday Night Live to taking on the world of late night with The Tonight Show Starring Jimmy Fallon. The host and his team had to transition the NBC series from filming in front of a live studio audience to producing episodes remotely, and Fallon cited the ways in which SNL prepared him for the The Tonight Show: Home Edition.
The Tonight Show Starring Jimmy Fallon initially did away with the live studio audience before shifting completely to filming remotely. There was no real adjustment period, but hosts like Jimmy Fallon, Stephen Colbert, and John Oliver had to make it work regardless. Fallon recently joined SNL writer Paula Pell for a Paley Center for Media video discussion.
The pair reminisced on their time together doing the show before Paula Pell wondered whether the fast-moving nature of SNL helped Jimmy Fallon in making the switch to shooting The Tonight Show from home. Here's what Fallon said:
The host went on to say that he "jumped right in." But, that's not to say that there weren't challenges at first. Jimmy Fallon shared that the last show filmed at 30 Rock was done without a live audience. However, the news of no audience came last minute. The Tonight Show had already been written for an audience and not silence so the "jokes did not work" for that particular episode. The evolution of the show was noticeable, especially once the kinks were ironed out following the move to Fallon's home.
For what it's worth, Jimmy Fallon and his team have managed to do a pretty decent job of putting together its at home edition of The Tonight Show. It was a bit rough at first, but the momentum has been going strong lately, with Fallon bringing in celebrity guests like Lady Gaga and more.
That said, Jimmy Fallon recently found himself in hot water after a 2000 SNL sketch of him doing a blackface Chris Rock impersonation resurfaced and began circulating online. The late night host apologized for his past actions during a Tonight Show monologue.
New episodes of The Tonight Show Starring Jimmy Fallon air weeknights at 11:35 p.m. ET on NBC. If you're looking for more on what to watch, be sure to check out our 2020 summer TV premiere schedule.
Your Daily Blend of Entertainment News
Thank you for signing up to CinemaBlend. You will receive a verification email shortly.
There was a problem. Please refresh the page and try again.