Zoey's Extraordinary Playlist's Jane Levy Reveals The Advice Lauren Graham Gave Her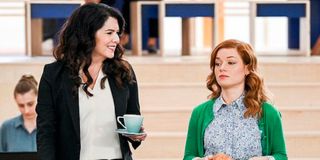 Zoey's Extraordinary Playlist boasts an extraordinary cast, musical numbers, and a whole lot of heartfelt storytelling. At the center of it all is series star Jane Levy, whose titular character is able to hear others singing their innermost thoughts and feelings. While Levy has starred in other TV shows, Zoey's Extraordinary Playlist was different from anything she had tackled before. Recently, the actress revealed the advice Gilmore Girls alum Lauren Graham gave her while filming Season 1.
Jane Levy may be surrounded by an exceptional cast of co-stars, but she carried Zoey's Extraordinary Playlist. She was in practically every scene in Season 1 and, since all of the storylines connected back to her, Levy's Zoey was pivotal to every aspect of the show. For Levy, that meant 15-hour days, dance rehearsals, ADR sessions, and reminding herself to eat. Having starred in Gilmore Girls for seven seasons, Lauren Graham knows what it's like leading a one-hour drama. Speaking with Deadline, Levy revealed the advice Graham gave her about the role. Here's what she said:
Lauren Graham offered some pretty sage advice. Gilmore Girls was game-changing for Graham and it seems the same opportunity has now come along for Jane Levy. And it's true that roles like Zoey Clarke really don't "come up often."
Jane Levy went on to say that being a part of Zoey's Extraordinary Playlist has been rewarding for her. The musical drama "speaks so specifically" to everything the actress looked for in a role and that she couldn't "imagine anyone else playing Zoey." After watching Levy give her all to Zoey all season, I can't imagine anyone else playing the character either. When she slips into character, it's magic.
Zoey's Extraordinary Playlist has been renewed for Season 2, so Jane Levy will get to play Zoey once more next season. According to showrunner Austin Winsberg, the series could explore more of Zoey's powers in Season 2. Whatever next season brings, viewers should definitely expect more "heart songs" and what life now looks like for Zoey following her father's death.
Zoey's Extraordinary Playlist Season 1 is currently streaming on Hulu. For more on what to watch in the coming months, be sure to check out our 2020 summer TV premiere guide.
Your Daily Blend of Entertainment News
Thank you for signing up to CinemaBlend. You will receive a verification email shortly.
There was a problem. Please refresh the page and try again.