Stargirl Season 1: 5 Questions After Episode 7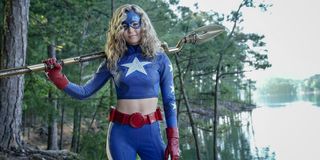 Spoilers ahead for Stargirl Season 1's seventh episode, called "Shiv Part One."
Stargirl really ramped up the tension in Season 1's "Shiv Part One." The episode not only gave us Cindy Burman's backstory, but it furthered the plot of the Injustice Society of America and introduced a budding, but potentially complicated, new relationship for Brec Bassinger's Courtney. The episode was also a turning point because it saw the titular hero go up against a formidable villain that left her bloody and unconscious.
Now that all of the characters, both heroes and villains, have been properly introduced and Season 1 is at the halfway point, the story is picking up steam and Stargirl is shining bright. That said, the seventh episode piled onto the mysteries of the season. Here are five Stargirl questions we have after Episode 7.
5. How Did Cindy Burman's Mom Really Die?
Stargirl revealed that Cindy's mom died when she was just a kid and it wasn't long before her father got remarried — twice. The story was meant to explain why Cindy went from being a seemingly nice kid to the meanest girl in the fourth grade and beyond. Now in high school, Cindy openly hates everyone and showcases abhorrent behavior whenever she can, ridiculing the kids at school and even threatening her stepmom. She's angry, that's for sure.
Once it's revealed that Cindy's dad is actually the supervillain Dragon King, and a member of the Injustice Society of America, her behavior starts to make a bit more sense. However, Dragon King heavily insinuated that Cindy was responsible for her mom's death, though the circumstances of her death remain ominous. Did Cindy have a tantrum and unleash her powers on her own mother? It's possible, and perhaps Stargirl will answer the question in a flashback or some kind of expository scene at some point before the end of Season 1.
4. Is Starman Really Stargirl's Biological Dad?
When Courtney first discovered Pat's stash of Justice Society of America memorabilia — costumes, tech, pictures — and learned that the staff that called to her belonged to Community alum Joel McHale's Starman, she became convinced that he was her biological father. Courtney believed that Starman's death was the reason for why her dad disappeared from her life as a kid.
Honestly, it seemed like Courtney's way of coping with an absent father, while also feeling validated in taking up the mantle of Stargirl. If it's a part of her father's legacy, then she's a shoe-in, right? Pat was Starman's best friend and was adamant that he didn't have a daughter, but Courtney was convinced and Pat stopped correcting her. However, I don't have the same faith as Courtney and don't think Starman was her dad at all. I feel we're in for a big shocker down the line, but it's one plotline that needs to be resolved.
3. What Machine Does Brainwave Need To Power?
Dragon King's presence in Season 1's seventh episode offered a bit more insight into what the Injustice Society of America has been up to. Their plans had previously been kept under wraps for the most part, but this episode made clear the reason for why Principal Bowin was showing up in Brainwave's hospital room to play him the violin. She needs to wake him up because, according to Dragon King, the ISA needs Brainwave's abilities to power their oft-discussed mystery machine.
Unfortunately, Dragon King didn't elaborate on what kind of machine it is, why it needs powering, or what the ISA planned to do with it in the first place. Are they trying to destroy Blue Valley with it? Sell it? Who knows at this point? That said, it's no wonder that Cindy was trying to maintain her relationship with Brainwave's son Henry, whom Dragon King believed possessed his father's powers (he does).
2. Will Cameron Stop Seeing Courtney If He Learns About His Dad?
Stargirl has now established that only Cindy is aware that her father's a diabolical villain. Henry is clearly unaware that his father is Brainwave and poor Joey, who died a few episodes ago, never figured out that his dad was The Wizard (now also deceased). Meanwhile, Cameron has yet to discover that Icicle is his father. That lack of knowledge puts him in a weird situation with Courtney, whom he asked to be his date to the homecoming dance.
The two had been exchanging sweet smiles and shy glances for some time now and Cameron finally got up the nerve to ask her out. But, what happens when Cameron finds out about his dad? If he realizes that Courtney is also Stargirl, it could complicate their whole relationship before it gets started. That said, Icicle may be in the same situation soon since he's catching feelings for Courtney's mom, Barbara.
1. Who Exactly Is Stargirl's High School Janitor?
Justin the Janitor has been going about his job for several episodes, minding his business, and staying out of the students' way. However, the lingering camera shots indicate that there's something more to Justin than meets the eye. He always seems to be quietly observing Courtney and speaking in riddles.
In Stargirl's most recent episode, it's revealed that he not only has a mysterious sword, but he saves Courtney's life. When Stargirl's Cosmic Staff alerts Pat that Courtney's down for the count, it leads him to the gym where he finds her unconscious. Meanwhile, Justin lurks in the background and recognizes Pat from his days as Stripesy.
It's possible Justin will be revealed as a former Justice Society of America member and that's why he recognized Pat. Is Justin's true identity that of the Shining Knight from DC Comics? Considering that he has a sword, it's very possible. For now, only time will tell how Justin will come into play over the next few episodes of Stargirl.
New episodes of Stargirl Season 1 air Tuesdays at 8:00 p.m. ET on The CW. The superhero series is also available to stream on DC Universe every Monday. For more on what to watch in the coming months, be sure to check out our 2020 summer TV premiere schedule.
Your Daily Blend of Entertainment News