The Last Dance: One Story From Michael Jordan's Past That Didn't Make It Into The Docuseries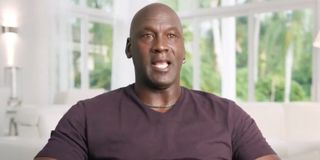 One of the best elements of ESPN's The Last Dance was how far director Jason Hehir and his team dove into the personal lives of some of the Chicago Bulls' greatest stars. This was especially true when it came to Michael Jordan. From his childhood to his later years with the fan-favorite NBA team, anecdotes from Jordan and those who know him best helped paint a better picture of who the basketball legend is on and off the court. Despite there being so many stories though, there was one from Jordan's childhood that didn't make it into the doc.
One of the interviewees featured in The Last Dance was Michael Jordan's mother, Deloris. Mrs. Jordan shared a number of fun stories about her son and even read some of the letters he would send her while he was attending college. But one story she told, which was ultimately omitted from the docuseries, was a tale involving Jordan's father, which is sure to give you a better idea as to where the Hall of Famer's noted work ethic comes from:
This story, which Jason Hehir revealed to the Los Angeles Times, would have been a nice addition to The Last Dance. But with so much footage already at their disposal, one could imagine that he and his team couldn't think of a good place to fit in it.
Many things have been said about the late James Jordan Sr., but the most common adjective that's been used to describe him is "hard-working." Michael Jordan has long cited his father as one of the biggest reasons why he's never strayed away from hard work. In the past, Jordan even revealed that it's because of his father that he would stick his tongue out when driving to the hoop. Apparently, the elder Jordan would stick his tongue out while working.
James Jordan Sr. was heavily featured in The Last Dance, especially during the earlier installments, and the show would do an effective job of illustrating the close bond he shared with his son. Of course, the docuseries would also cover Jordan Sr.'s tragic murder during a carjacking in 1993.
While the bulk of Michael Jordan's life was included in The Last Dance, there were certain elements, like this story from Deloris Jordan, that were left out. One of the key aspects of his personal life that wasn't highlighted was his domestic life, which includes his marriages to ex-wife Juanita Vanoy and current wife Yvette Prieto.
Despite this story of James Jordan Sr. and other tidbits not making the cut, The Last Dance still did a masterful job of shedding some light on Michael Jordan's life.
The Last Dance can be streamed on ESPN.com and will be available to stream on Netflix later this month.
Covering superheroes, sci-fi, comedy, and almost anything else in film and TV. I eat more pizza than the Teenage Mutant Ninja Turtles.
Your Daily Blend of Entertainment News
Thank you for signing up to CinemaBlend. You will receive a verification email shortly.
There was a problem. Please refresh the page and try again.