Fans Are As Displeased At The Chilling Adventures Of Sabrina Being Cancelled As They Were About The OA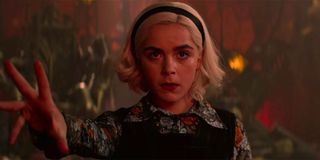 Chilling Adventures of Sabrina had seemingly been popular during its time on Netflix, but like so many other Netflix programs (never forget The OA) at this point, it is gone too soon. News broke last week that Chilling Adventures of Sabrina was cancelled, though fans will be getting one more season to say goodbye.
While the cancellation could be worse, there are a lot of really upset fans on social media right now. In fact, some of them are dropping f-bombs in order to make their level of annoyance at the subscription streaming service very clear.
Others have pointed out all of the positives Chilling Adventures of Sabrina have brought to the table over the past three seasons. Many of those people are noting the Netflix show has been really important for representation and more, also comparing it to its CW sister show.
While I'm not sure all the shots at Riverdale are fair given that show airs on The CW before heading to Netflix and The CW would make the cancellation call for that series rather than Netflix, the other points are loud and clear. Chilling Adventures of Sabrina has a lot to offer to its Gen Z and Millennial audiences and a lot of them will seriously be missing the series.
Probably my favorite tweet of the whole series is the person who juxtaposed the Chilling Adventures of Sabrina person with "the real villain" of the drama. But don't take it from me; rather, take a look at that hot take, below.
Finally, some fans are just trying to take the news in stride and not get too upset, although clearly it's not easy. After all, there is a silver lining. Netflix subscribers will get Season 4, which is expected to hit the streamer this fall.
If you'd like to join the movement, a hashtag has even been created that's very user friendly. That hashtag is none other than #savecaos and has united fans of the Netflix series in myriad places.
Look anytime a show gets cancelled, there are some people who are left a little upset about that series' exit. However, this cancellation seems a little similar in some ways to The OA when people were extremely passionate after that series got cancelled as well. That cancellation ended up starting a little bit of a movement and uniting fans online, though Netflix never reversed course with that series. Still, it brought people together.
Meanwhile, Riverdale and Chilling Adventures of Sabrina are sister shows and will be crossing over as had been hoped by certain factions of the fanbase, only via the comics. So if that's something you are looking forward to, it will be coming along with Season 4. Though it's only a pipe dream now, creator Roberto Aguirre Sacasa did say Season 5 would have been a big one and there have been hints that a TV crossover would have happened during that round, as well, so that makes the cancellation even more bittersweet.
Maybe one day Netflix will reverse course, but I wouldn't hold my breath. Unlike The CW, which often keeps shows like Riverdale or Arrow on the air long past their peak in creativity, Netflix often cancels programs on or around Season 4. Going longer probably would have been the bigger surprise than this cancellation news. However, never say never. Look no further than Lucifer as evidence of that.
Amazing Race & Top Chef superfan with a pinch of Disney fairy dust thrown in. If you've created a rom-com I've probably watched it.
Your Daily Blend of Entertainment News
Thank you for signing up to CinemaBlend. You will receive a verification email shortly.
There was a problem. Please refresh the page and try again.