Why Lucifer's Season 5 Twist Is A 'Brilliant Move,' According To One Of Its Stars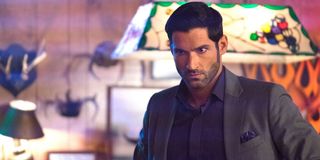 Lucifer's Season 5 trailer teased that the beloved titular character was acting kind of strange, and Chloe picked up on it right away. Lucifer dismissed the concern, saying that he's been in Hell for thousands of years since the end of Season 4, so of course he'd be different. However, the Lucifer who's returned to Earth isn't him at all, but his evil twin brother, Michael. Recently, Aimee Garcia revealed why Lucifer's Season 5 twist is such a "brilliant move."
Michael won't just be posing as his twin brother, but his goal is to completely steal Lucifer's life. Tom Ellis will have his work cut out for him as he plays both roles and it looks like things will come to blows between the siblings before all is said and done. The reveal that Lucifer had a twin didn't just surprise the fans, but it shocked the Lucifer cast as well. Speaking with ET, Aimee Garcia discussed the cast's reaction to that massive twist. Here's what she said:
It is a rather "brilliant" twist and stirs up some familial drama between Lucifer and his far more devilish brother. At the same time, Michael taking over Lucifer's life will surely throw a wrench into the already established relationships Lucifer has built over the last four seasons. That said, the twist should make for some interesting storylines in Lucifer Season 5.
Aimee Garcia's Ella Lopez will be particularly frustrated upon "Lucifer's" return. Before Lucifer returned to Hell at the end of Season 4, Ella had found her way back to religion. Garcia confirms that Ella will be rather pissed at Lucifer in Season 5 and will be convinced by Michael's portrayal of his brother. Here's how Garcia put it:
Perhaps Ella will be just as shocked to learn that it's not really Lucifer she's beating up, but Michael. Aimee Garcia also added that Michael definitely "has an agenda," so it'll be interesting to explore exactly what he's up to and why in Season 5. I'd wager it'll be just as much of a surprising twist as the reveal that Michael is posing as Lucifer. Either way, Lucifer Season 5 can't come soon enough.
The first half of Lucifer Season 5 will premiere on Friday, August 21 on Netflix. The second half of the season is still TBD for now, but stay tuned to CinemaBlend for updates on the show. For more on what to watch in the coming months, be sure to check out our 2020 fall TV premiere guide.
Your Daily Blend of Entertainment News
Your Daily Blend of Entertainment News
Thank you for signing up to CinemaBlend. You will receive a verification email shortly.
There was a problem. Please refresh the page and try again.