Lucifer Boss Shared Season 5 News That Should Get Deckerstar Fans Pumped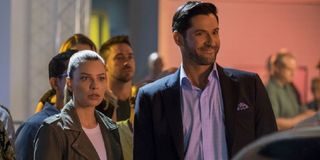 In the moments leading up to Lucifer's return to Hell in Lucifer's Season 4 finale, Chloe finally told Lucifer she loved him and he reciprocated. However, this was right before he left so their relationship is currently up in the air. What's next for Chloe and Lucifer in Season 5? Lucifer showrunner Joe Henderson recently shared some news that should get Deckerstar fans pumped.
Lauren German's Chloe and Tom Ellis' Lucifer, lovingly called Deckerstar by fans of the show, have been a will-they/won't-they pair for quite some time, but Lucifer's Joe Henderson suggests that that might not be the case for long. Asked what fans could expect of Deckerstar in Season 5, here's what he said:
Joe Henderson is a tease! His response is incredibly vague, but also exciting because fans of Chloe and Lucifer have been waiting several seasons for them to get their act together. Now that Chloe has revealed her true feelings to Lucifer, and knowing that Season 5 is Lucifer's last, perhaps the show will finally go all in on their romantic relationship.
After agreeing to return to his position as King of Hell, Lucifer has an uphill battle in Season 5, but that doesn't mean there isn't room to further his romance with Chloe. However, how much time they will have together does depend on when Lucifer will be back from Hell.
Speaking with TVLine, Lucifer's showrunner teasingly suggested Lucifer wasn't coming back from Hell, but fans know better than to think the titular character won't return to Los Angeles in Season 5. It's all just a matter of when and how he and Chloe will finally get together that's important.
Tom Ellis, whose appearance in the Arrow-verse crossover "Crisis on Infinite Earths" confirmed Lucifer's connection to the multiverse, did post a video to Instagram confirming Trixie would appear in Season 5, so Deckerstar fans can rest assured that he and Chloe will be reunited sooner rather than later.
Lucifer Season 5 doesn't yet have a scheduled release date, but the series, which is split into two halves and has more episodes than it did in Season 4, will premiere at some point this year. In the meantime, be sure to check out our 2020 midseason schedule to find out when other streaming and network shows will premiere. For some non-devilish series coming to Netflix in the new year, swing by our 2020 Netflix premiere schedule.
Your Daily Blend of Entertainment News