Lucifer Season 5 Gets Official Premiere Date After Accidental Netflix Leak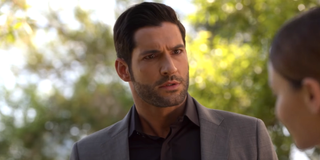 Fans of Lucifer have had to endure a bit of a roller coaster ride the last couple of years. First the show was cancelled by FOX after three seasons, then it was picked up by Netflix for Season 4. After a blockbuster showing when it returned on the streamer, though, fans were told that Season 5 would be the Devil's last go-round...only to later be told that Season 6 actually is a possibility. All we've really been looking forward to right now is word on when Season 5 will hit Netflix, and after some leaks hit the internet, we finally have our answer.
Season 4 of Lucifer debuted on Netflix in May of 2019, so fans have now waited over a year to get what could be (Maybe?) the last set of adventures on Earth-666 for our naughty celestial. But, Netflix has finally filled us in on when we can expect to see the first part of the supersized new season, and we're getting blissfully close to laying eyes on those angelic abs once more. Tired of the suspense? Well, just taking a look at this lovely Twitter tease should help quite a bit:
Well, now. Two things spring to mind (haha) after looking at this post, don't they? First of all, part one of Lucifer Season 5 can be in our eyeballs on August 21. That's now a teensy bit less than two months away, which isn't that long to wait at all. Secondly, thank the devil for this little clip show that accompanied the announcement. If nothing else, it's sure to keep us all on our eager toes during the rest of the wait until Lucifer comes back. Our boy sure has gotten up to some salacious shenanigans in the past, hasn't he?
Even though there's still a lot of confusion over whether or not Lucifer will really come back for at least one more season after this planned finale season, it seems like those at Netflix felt they had to at least give us confirmation on Season 5's premiere. The release date hadn't been officially announced yet, but some viewers were getting the information when they searched for the show on the streaming service. Many had shared the date online and, even though it was soon taken off of Lucifer's Netflix page, they were already showing their excitement:
While that excitement is completely warranted, when we revisit Lucifer in Season 5, things will be a bit different for him. Both he and Chloe have finally opened up to each other about their true feelings, and while the showrunners promise that good times will be had on the Deckerstar front in the new season, this does not mean that the proceedings will be filled with sweetness and light...or filthy, hot sexytimes, which is (I'm sure) what Lucifer would want.
For starters, there's the little matter of Lucifer heading back to his old home, a.k.a. his throne in hell, because he believes Father Kinley's prophecy about finding his true love and it unleashing evil. Lucifer thinks this means that he and Chloe can't be together, and the only way for him to keep the demons and other assorted supernatural baddies in hell is for him to stay there and keep an eye on them. So, he and Chloe will be apart, and any real potential romance put on hold until they can actually be together again.
Secondly, while I'm betting that all Lucifer fans are hoping this won't actually be an issue at all, there's the fact that we know Eve will be making a come back in Season 5. Eve and Lucifer reconciled for a time when she found her way to Earth in Season 4, but she also made eyes at Maze, who was more than interested in the slightly child-like party girl. Hopefully, after leaving on a journey of self-discovery that did not include spending more time with Maze, those two can rekindle some sort of relationship and Eve will have grown beyond the need for a romance with Lucifer, so as to not interfere with Deckerstar anymore.
It's a good thing that we don't have much longer to wait to binge Season 5 of Lucifer, because the possibilities for this new set of episodes just sound too good.
Until the first part of Season 5 drops on August 21, you can rewatch all of Lucifer on Netflix right now. If you need more to fill your viewing schedule, though, be sure to look into what else is new on the streamer in 2020 and see what's coming to TV this summer!
Yennefer's apprentice, Gilmore Girl; will Vulcan nerve pinch pretty much anyone if prompted with cheese...Yes, even Jamie Fraser.
Your Daily Blend of Entertainment News
Thank you for signing up to CinemaBlend. You will receive a verification email shortly.
There was a problem. Please refresh the page and try again.