Lucifer Adds Supernatural's Rob Benedict For Season 5, Definitely Not Playing God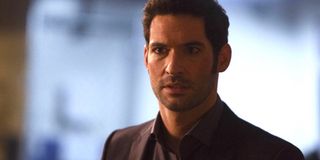 Rob Benedict will be joining the cast of Lucifer in Season 5. The actor has been a staple of The CW's Supernatural for many seasons, recurring as the fan favorite character Chuck Shirley, an eccentric author who was later revealed to be God. Benedict will be playing in Lucifer's sandbox in Season 5, but don't expect him to be portraying the big man upstairs. It's not that kind of crossover!
Lucifer Season 5 was always expected to premiere at some point this year. Now that there is an official release date, the casting announcements have begun. According to TVLine, Rob Benedict will be playing the role of Vincent Le Mec. The character is described as a "hardened French Mercenary whose violent work brings him to Los Angeles." Naturally, he'll cross paths with Lucifer, Chloe and the rest of the devilish gang.
How Vincent Le Mec will be received by Lucifer is anyone's guess at this point, but Rob Benedict's casting is exciting nonetheless. The actor will reportedly appear in the penultimate episode of Season 5. Luckily, Benedict filmed his scenes prior to the Hollywood-wide shutdowns in March.
That said, viewers shouldn't expect his character to pop in when the Netflix series returns in August. That's because Lucifer Season 5 will be split in half, with the first eight episodes debuting in advance of the remaining eight. The first half of the season will be followed by a break, though it's unclear how long that will be.
While it would have been fun if Rob Benedict had played God on Lucifer, I'm sure he's relieved to be taking on a different role. There's also the fact that the role of God has already been filled by 24 vet Dennis Haysbert (sorry, Rob!). Haysbert's iteration of the character is set to appear throughout Season 5. I think it would be pretty fun if he and Benedict's Vincent Le Mec just so happened to bump into each other in the second half of the season. What a meta moment it would be!
In other good news, Lucifer was recently renewed for Season 6. It was announced last year that Season 5 would be the series' last. However, it was reported in February that Netflix execs were in talks with Warner Bros. to bring the series back for a sixth season. Lucifer's showrunners and (after ironing out some contract issues) Tom Ellis were also on board to return for a Season 6. With all the puzzle pieces in place, the official announcement followed shortly after.
All four seasons of Lucifer are currently streaming on Netflix. The first half of Season 5 is scheduled to premiere on August 21. For more on what to watch in the meantime, be sure to check out our 2020 summer TV premiere guide.
Your Daily Blend of Entertainment News
Thank you for signing up to CinemaBlend. You will receive a verification email shortly.
There was a problem. Please refresh the page and try again.