10 Awesome Shows Coming To Netflix In August 2020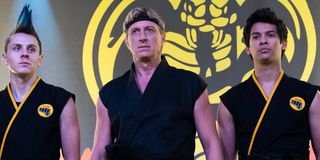 August is here, and with its arrival comes the reflection that this summer hasn't been nearly the same season that most people are used to, for all the obvious reasons. While TV has been impacted slightly less than the movie side of Hollywood, things aren't looking too wonderful for the small screen's future. Thus, everyone can be quite thankful that Netflix is keeping consistent in releasing quality content over recent months, and at a time where many television networks are finding new ways to fill upcoming time slots.
Netflix has always been one to space out its quality TV projects over the entire year, and that will continue to be the case in August. There's a little something for everyone coming to the streaming platform in the near future. We have foul-mouthed comedy, some true crime, a returning hit, and a docuseries that will use poop (among other things) to show just how close we are with each other, so let's dive in. But not, like, directly into the poop.
Connected - 8/2
Human beings are all connected, though that may not be so evident when only looking at another person. In Connected, science reporter Latif Nasser will travel the world with the aim of showing viewers interesting humanity-driven connections in really strange ways. For example, your human poop can feasibly be traced back to something as seemingly random like a catastrophic shipwreck, or even a place far beyond our own galaxy. I'm not sure how that works, mind you, but I can say right now that I will be watching Connected to find out.
World's Most Wanted - 8/5
Unsolved Mysteries has been a big hit on Netflix since debuting in July, but it only launched with six episodes. For those looking for more mysteries where the criminals weren't caught, World's Most Wanted profiles some of the world's biggest criminals who have not yet been captured. We're talking criminals who have long evaded top government organizations, though, so I wouldn't expect this series to lead to quite as many leads as Unsolved Mysteries has inspired. But who knows? Maybe Netflix subscribers will ultimately be the ones to bring down a major kingpin!
The Rain (Season 3) - 8/6
The Danish post-apocalyptic series is back for another season, and if you haven't gotten on board with Rain yet, you're missing out. Simone and Rasmus are still figuring out how to save humanity, but they have different ideas on how exactly to make that happen, assuming such a positive fate is even possible. Rain is a great series for anyone looking for a show with a unique non-zombie twist on the apocalypse, and it will be ending with this third season, so its full run is definitely short enough to binge during the week of its release.
Wizards: Tales Of Arcadia - 8/7
Guillermo Del Toro's Tales Of Arcadia semi-anthology will finally release its final chapter, following 3Below and Trollhunters. In Wizards, a young apprentice of Merlin will join forces with characters from the prior shows for what will be a time-bending adventure. Will the worlds of trolls, magic, and humans be safe from harm? Probably, since this is a kids show after all. That said, Del Toro has been known to give audiences a sad ending from time to time, and with this being the final season, character fates are totally up in the air.
Teenage Bounty Hunters - 8/14
High school can be hard, but as many previous teen dramas have shown, it can get infinitely more difficult when elements from outside the classroom start to bleed into school life. The latest example of this will come from Teenage Bounty Hunters, in which two twin girls become bounty hunters along with being high school students. It sounds like the Olsen Twins meets Buffy The Vampire Slayer meets Dog The Bounty Hunter, and all of that combined together sounds pretty cool, right?
DeMarcus Family Rules - 8/17
Rascal Flatts bassist Jay DeMarcus is getting a reality show on Netflix that will give fans and curious viewers a backstage pass to check out his camera-worthy home life shared with wife Alison, who is a former beauty queen, The series will highlight the couple's life in Nashville as both juggle their wild lives as well as more domestic challenges within the home. Family reality shows aren't something Netflix is necessarily known for, so it will be interesting to see how successful this series will be, and if it will lead to other celeb-fronted lifestyle shows being produced by the streaming giant in the future.
Hoops - 8/21
What if Hoosiers had a baby with Bad News Bears, and it immediately used F-bombs right out of the womb? I'm not sure that would be Hoops, exactly, but you get the gist of what I'm getting at here. For the new show, Jake Johson voices a disgruntled high school coach looking to make the big leagues. He thinks he can do it making winners out of a losing team, but that's far easier on paper than in practice. Ron Funches, Rob Riggle, and Cleo King also lend their voices to Hoops, which looks like an animated comedy that will feature as many F-bombs as basketballs.
Lucifer (Season 5 Part 1) - 8/21
Season 5 of Lucifer was supposed to be the final season, but someone at Netflix made a deal with the fictional devil in the meantime, with Season 6 now on the way. The result is that Season 5 will get a chance to breathe across its split-up release schedule, and will ultimately lead into a final season that expands some of the storylines that were originally going to be wrapped up within the series finale. But that's all yet to come, and in the meantime, there will be plenty of Season 5 delectables on the way for fans to enjoy.
Emily's Wonder Lab- 8/25
School is almost back in session, and for any parent looking to give their kid some additional learning that also skews fun, Emily's Wonder Lab is on the way. Xploration Outer Space's Emily Calandrelli hosts this new show that features fun and engaging experiments and activities that younger kids can do. Normally, educational programming isn't always effective at holding children's attention spans, though the Wonder Lab looks like it should appeal to anyone whose parents obsessed over Bill Nye the Science Guy and Beakman's World.
Cobra Kai (Season 1 & 2) - 8/28
While it wasn't conceived as a Netflix Original, the story of Johnny Lawrence's life after The Karate Kid is coming to the streaming service, and for anyone who missed it on YouTube, it's a day one binge. (Plus, Netflix is producing Season 3.) Cobra Kai strikes a perfect balance in recapturing the feel of the original franchise while modernizing everything enough so that adults who grew up with the Karate Kid features won't feel like they're watching a kid's show. On that note, this series is definitely more mature in terms of language, so parents should keep that in mind before convincing younger viewers how to wax on and wax off.
Be sure to catch all these shows as well as some others coming to Netflix (opens in new tab) in August. Continue to stick with CinemaBlend for more news on what's coming to streaming and linear TV, and the latest happenings in television and movies.
Mick likes good television, but also reality television. He grew up on Star Wars, DC, Marvel, and pro wrestling and loves to discuss and dissect most of it. He's been writing online for over a decade and never dreamed he'd be in the position he is today.
Your Daily Blend of Entertainment News
Thank you for signing up to CinemaBlend. You will receive a verification email shortly.
There was a problem. Please refresh the page and try again.