What The Community Cast Is Doing Now, Including Donald Glover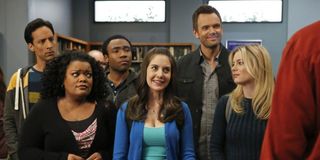 When a certain show about a community college ended up airing long ago back in 2009, no one expected it to become as big of a hit as it did, and creating the stars that came along with it. Now, more than a decade later, Community has developed a cult following, to the point where there have been plenty of rewatches, and even a cast reunion recently. Pretty sure all of us are still waiting for that "six seasons and a movie" plot point to finally come true.
However, it's been nearly six years since the end of Community, and one can only wonder what the Community cast has been up to since then. From Alison Brie to Donald Glover, they have truly been all over the map in terms of work, and we're here to catch you up to date on where they have been since the famed show about six adults in a community college came to a close.
Joel McHale (Jeff Winger)
As the main star of the show, I'm pretty sure that at some point, we all wanted to punch Jeff Winger in the face – but usually, he would save himself not that long after and make me like this once-lawyer even more. Joel McHale did a fantastic job of bringing that character to life – and making my emotions change about him about as much as he changed partners.
Joel McHale himself has been pretty busy since the end of Community. In regards to films, he's kept it pretty low-profile but has had several guest and recurring appearances on TV shows like the Netflix hit Santa Clarita Diet, Mr. Iglesias, the superhero show Stargirl, and X-Files. McHale has also had a couple of voice roles in animated shows, such as Regular Show and BoJack Horseman. In terms of upcoming projects, a new film titled Queenpins is due to release soon, so keep an eye out for everyone's favorite ex-lawyer in theaters soon.
Gillian Jacobs (Britta Perry)
Be honest – you also got annoyed by Britta just as much as Jeff at some point, but at least she had a good heart for most of Community. Gillian Jacobs portrayed the famous activist for the entire run of the series and has been working hard since its end. Like many of her costars, she's had several recurring and guest roles on big TV shows, such as the HBO comedy Girls and the Netflix show Love. On the big screen, she's had plenty of roles in comedies to show off her joke skills, like Hot Tub Time Machine 2, Ibiza, Life of the Party, and the 2020 Disney+ release Magic Camp.
For upcoming movies, Gillian Jacobs does have a couple of new films coming out, the comedy Mark, Mary & Some Other People, and the action film Violence of Action, but there are no set release dates yet. However, it's sure to be interesting to see her in a film that different from her normal comedic roots. She's also expected to be seen in The Fear Street movies coming to Netflix.
Danny Pudi (Abed Nahir)
Arguably, I'd say that Abed Nahir was one of the most remembered characters from Community just for the randomness that he would spew from his mouth and the absolute craziness that would occur whenever he decided to stir up trouble. Danny Pudi did an excellent job of portraying Abed and has kept himself busy since the end of the show. Though he's appeared in major films like Star Trek Beyond, mainly, he's stepped into the world of voice work, so you might recognize his voice from several other animated shows. His most prominent piece of voice work has been portraying Huey in the Hulu reboot of DuckTales. In terms of live-action acting work, Danny Pudi has been seen on several other shows in guest appearances like Dr. Ken but has mainly stuck to a lot of voice work.
Danny Pudi has a couple of movies coming out this year – the Disney+ release Flora & Ulysses and a black comedy film Corner Office, with the former having released back in February. It's fun to see that he's stepped a little bit more back into the live-action world, but hopefully, we can see even more of Danny Pudi's hysterical jokes and scenes – whether that be in person or animated.
Yvette Nicole Brown (Shirley Bennett)
I swear to God, I have seen Yvette Nicole Brown everywhere. Shirley Bennett was one of my favorite characters out of everyone in the group in Community – just for how religious and yet absolutely ridiculous, she was. It was like a complete 180 constantly for her character and that's what made her so fun. Yvette Nicole Brown shined in this role and has had plenty of work since the end of this show.
Prior to her role on Community – and I'll just put this in here because I loved her in this – Yvette Nicole Brown played Helen from the iconic Nickelodeon show, Drake & Josh (one of my all-time favorites), but since the end of Community, she's been busy on television and film alike. In terms of movies, she's had several roles and cameos in big-time hits such as Avengers: Endgame, and the Disney+ release Lady and the Tramp.
On television, Yvette Nicole Brown has had so many guest and recurring appearances that if I wrote them all down here, you'd be reading this article for days. Just trust me on this one – you've seen her most likely on many comedy shows. Brown is also a prominent guest on talk shows, such as The View, The Talk, and The Real. Another big side-hustle that she does is that she loves The Walking Dead, and has appeared on the post-talk show, Talking Dead, several times because of it. Stars have to have their obsessions with TV just like us, right?
With future projects, Yvette Nicole Brown does have an upcoming movie coming out in 2021 titled Broken Diamonds, a drama that made its debut at the Santa Barbara International Film Festival. She's also set to appear in the Disney+ series Big Shot, so keep an eye out for this iconic actress to return back to our screens in the future.
Alison Brie (Annie Edison)
Alison Brie is amazing in every single way in my opinion because she is a true master of genres. Her role on Community as Annie Edison showed that she had some serious comedy chops and could make me laugh until my stomach hurt, but she's had plenty of work in other shows and movies as well. For example, Alison Brie had a recurring role in the AMC drama Mad Men, and then a main role on the Netflix hit, GLOW, as well as a part in the animated series, BoJack Horseman ­­– three very different genres, and she was amazing in each part.
She's also had plenty of work in movies since the end of Community as well, such as the biopic- comedy film The Disaster Artist, the Academy-Award nominated The Post, and most recently, Promising Young Woman, one of the standout hits of 2020 and has recently been nominated for the Best Picture award at the 2021 Academy Awards.
A future project Alison Brie has coming up is a new TV series that is in pre-production, called Roar, but not much info has been released yet. Even so, it'll be exciting to see the return of her to TV soon since GLOW was recently canceled. I think we all need a little bit more Alison Brie in our lives to make us laugh again.
Donald Glover (Troy Barnes)
Let's just get this down in writing right here – in my opinion, Donald Glover is right for leaving the show and Troy back in Season 4 of Community, because he has done some amazing things since the end of it – even if his character was iconic. Let's start out with film and television. Donald Glover has made appearances and had roles in many blockbuster films, like Spider-Man: Homecoming, and even portraying a young version of Lando Calrissian in Star Wars in Solo: A Star Wars Story. On television, he's created a hit FX series titled Atlanta, a comedy-drama that won Donald Glover a Primetime Emmy.
But that's just film and TV. Donald Glover is also known as his music counterpart, Childish Gambino, for which he has released several albums since the end of Community. He's won several Grammy awards, including Song and Record of the Year for "This is America." So this man really is a jack of all trades.
In terms of what he has coming up, Donald Glover is extremely busy. He is currently working on a reboot of the classic Brad Pitt and Angelina Jolie film, Mr. and Mrs. Smith, where he will be playing Mr. Smith. He is also writing and moving into Seasons 3 and 4 of Atlanta after a long wait, so fans of the show, be on the lookout for him to return to our TV screens once more.
Ken Jeong (Ben Chang)
Is this man the face of many memes everywhere? Yes, for sure. But Ben Chang, while problematic, was a funny as heck character and Ken Jeong is the reason behind it. Since the ending of Community, Ken Jeong actually had his own series for a while, titled Dr. Ken, for which many of his Community co-stars guest-starred on it. He's also made appearances in many films, like his role in the rom-com Crazy Rich Asians, and the Disney+ movie, Lady and the Tramp, as well as the 2021 release, Tom and Jerry.
But where you've most likely seen him the most since then is his competition shows. Ken Jeong is currently a panelist on both The Masked Singer and The Masked Dancer, where people have to guess what celebrity is hidden behind costumes. He does have a new movie coming out soon, El Tonto, another comedy film, but there's no set release date up yet. I'm still just as excited though.
Chevy Chase (Pierce Hawthorne)
Pierce Hawthorne was most certainly not the most accepting character but he sure was funny, and Chevy Chase delivered those lines and iconic scenes amazingly. Since Community ended, Chevy Chase has kept it relatively low key in terms of acting. He's more known for many of his comedic roles back in the '90s and '80s, but he has been in a couple of movies like Hot Tub Time Machine 2, The Last Laugh, and The Incredible Mr. Dundee. And he reprised his role as Clark Griswold for the 2015 comedy Vacation.
As for what's ahead, Chevy Chase does have a voice role in a new movie coming out soon, called Panda vs. Aliens. I think I can make a pretty educated guess what that is going to be about, so I can only imagine what a comedic legend like Chevy Chase is going to bring to the table.
Jim Rash (Craig Pelton)
The dean of Greendale was one of my favorite parts of Community, because he was so random and out there, and I adored that. Jim Rash, the man behind the memorable Dean Craig Pelton, has had plenty of work since the show's end. He has popped up in many films, such as Captain America: Civil War, Thoroughbreds, and a film out right now tightly Long Weekend, a romantic science fiction comedy-drama – jeez, talk about a lot of genres. And that's just acting. As a writer, Jim Rash won an academy award for co-writing the screenplay for the 2011 movie The Descendants.
He's also developed a pretty prominent voice acting career as well. Jim Rash has a role on DuckTales on Hulu as Gyro Gearloose, and a recurring role on the cartoon Harley Quinn, and the Star Wars animated series as Flix on Star Wars Resistance. Jim Rash has a new show coming up in the future titled My Dad the Bounty Hunter that is in pre-production, so I'm looking forward to watching my favorite dean back on TV again – and to be honest, don't we all want someone to love us the same way the dean loved Jeff?
Now that is one talented cast. Which of their future projects are you looking forward to the most? Hopefully, some of them will be in some new 2021 releases.
Big nerd and lover of Game of Thrones/A Song of Ice and Fire. Will forever hate season eight. Superhero and horror geek. And please don't debate me on The Last of Us 2, it was amazing!
Your Daily Blend of Entertainment News
Thank you for signing up to CinemaBlend. You will receive a verification email shortly.
There was a problem. Please refresh the page and try again.