The Goldbergs' Bryan Callen Accused Of Sexual Assault And Misconduct By Multiple Women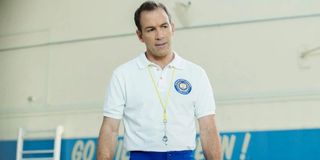 Within the last few years, Hollywood has taken major steps in addressing sexual assault, with companies taking any potential allegations seriously. This has definitely applied to recent situations in which high-profile celebrities have been accused. Now, Bryan Callen, who plays Coach Mellor on ABC's The Goldbergs has been accused of sexual assault and misconduct by multiple women.
In a lengthy story from The Los Angeles Times, four women accused Bryan Callen of sexual assault and misconduct incidents that span multiple decades. In the piece, former actress Katherine Fiore Tigerman alleged that Callen raped her during a 1999 encounter. In a statement to the trade, Callen formally denied the allegations, calling their encounter consensual.
Katherine Fiore Tigerman explained that she originally met Bryan Callen in 1994, before Callen was an established actor. By 1999, Tigerman was 23 years old and had moved to Los Angeles. It was during this time that she reunited with Callen, leading to the two becoming friends. Tigerman alleges that during one date, the two went to dinner alone at a restaurant where she began to feel ill. She says the two then planned to attend a movie and stopped at Callen's house to check the newspaper for showtimes.
Tigerman, who says she was still feeling unwell, went to the bathroom and alleges that Callen was immediately outside the doorway when she left the restroom. Soon after, the two were in Callen's bedroom where Callen allegedly pushed her onto his mattress and proceeded to have sex with her while Tigerman was reportedly pleading for him to stop. Callen would later drive her back home, and she would call her then-boyfriend, Rino Romano, about the incident.
Other incidents reported within the story include a 2009 incident in which Callen allegedly forced himself on a department store employee in a fitting room and began to kiss her against her will. Claire Ganshert, an aspiring actress, claimed to have had a four-year with Callen, during which she felt "devalued and demoralized." She also alleges that Callen said women have a "biological, primal desire to be raped."
Comedian Tiffany King also claimed that Callen attempted to solicit sex from her for stage time and money. Other individuals have corroborated the stories of each of the women and have recalled hearing of the incidents in the past.
The allegations against Callen also come shortly after his friend and fellow comedian Chris D'Elia was accused of misconduct. Callen defended D'Elia during the situation.
Bryan Callen has adamantly denied all of the claims and, in his statement to The Times, he asserts that he has never raped or forced himself on anyone and says he will not allow cancel culture to "subvert" what he knows to be the truth:
Callen, whose credits also include Madtv and The Hangover, has starred on The Goldbergs for each of its seven seasons and also appeared as a main cast member on the short-lived spinoff, Schooled. As of right now, Callen is not set to return for the show's upcoming eighth season.
Keep it here at CinemaBlend for more news from the world of TV and movies.
Your Daily Blend of Entertainment News
Covering superheroes, sci-fi, comedy, and almost anything else in film and TV. I eat more pizza than the Teenage Mutant Ninja Turtles.
Your Daily Blend of Entertainment News
Thank you for signing up to CinemaBlend. You will receive a verification email shortly.
There was a problem. Please refresh the page and try again.