9 Wildest Moments In Netflix's The Umbrella Academy Season 2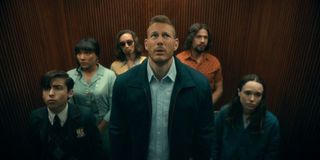 Netflix made everyone's weekend a lot more weird, action-packed, and crazy with the release of The Umbrella Academy Season 2. The first season left us with many unanswered questions, and Season 2 answered many of them, but of course it left us with a billion more questions going into a potential Umbrella Academy Season 3.
The Umbrella Academy Season 2 was bigger, bolder, and wilder than the premiere season. Season 2 started with the Hargreeves siblings scattered around Dallas in the early 60s. Five (Aidan Gallagher) is the last to arrive and lands in 1963, a few days before the assassination of President John F. Kennedy. The rest of the season is just on a high voltage and only increases the energy as the season continues. If you thought The Umbrella Academy Season 1 was wild, then wait until you hear some of the stuff that happened in Season 2.
As we'll be discussing major plotlines from The Umbrella Academy Season 2, expect spoilers. You have been warned.
Lila Vs The Umbrella Academy Battle
The moment Lila Pitts (Ritu Arya) crossed paths with Diego (David Castaneda), there was one big reveal with her after another. First she was the nosy crazy girl, then the crazy girl who was surprisingly skilled at fighting, and then (what I assumed was the big reveal about her) we were told that The Handler (Kate Walsh) was her mother. But wait, there is more.
The Umbrella Academy found themselves in a battle against thousands of members of The Commission. Vanya (Ellen Page) used her powers to wipe them all out with one swoop. Before the Umbrella Academy could celebrate, Lila mimicked Vanya's powers and sent them all flying across the farm. She quickly started battling each one, while using their powers against them.
It became apparent that Lila was one of the original forty-three children born on October 1, 1989, and her power allowed her to just borrow other people's powers.
If that wasn't enough of a mouth drop moment, then the Handler killed everyone, including Lila, and then one of the trio of Swedish assassins killed The Handler. Five jumped a few minutes back in time to save everyone (but the Handler). That whole segment was full of crazy shocking moments that will probably bring consequences in The Umbrella Academy Season 3.
Five Murders The Board Members Of The Commission
The Handler makes a deal with Five to kill the board members of the Commission so that she can take over. In exchange for the bloodbath, he gets a briefcase to take his siblings back to 2019. Seeing it as his last resort, Five slaughters them all in a horrific fashion. Only Carmichael (who has a fishbowl for a head) is left.
Five catches Carmichael and he literally becomes a fish out of water. We later learn that Carmichael is still alive, but in a real fishbowl as Five hands him over to the Handler. She later eats Carmichael alive when he tries to expose that she had Five kill Lila's parents. The scene wasn't extremely graphic, but enough was seen and implied for us to get the full Five is a psycho vibe.
Reginald Shows His True Form
The Umbrella Academy Season 1 finale implied that Sir Reginald (Colm Feore) may be from another planet. Season 2 confirmed that Sir. Reginald is indeed an alien. He decided to stop working with the Majestic 12 when he discovered that they assassinated President John F. Kennedy.
They refused to let Reginald leave and threatened to expose his real self, so he decided to take care of them by (presumably) killing them all. Viewers didn't see Reginald's complete alien form, instead, we just saw the back of his slimy head. Seeing the mask of Reginald's face probably made viewers go "I knew it" and then "eww." This reveal really opens up The Umbrella Academy Season 3 to explore more of Reginald's home planet.
Ben Possesses Klaus
Klaus (Robert Sheehan) gives his deceased brother Ben (Justin H. Min) the chance to experience the world again through his body. Ben uses the opportunity to talk to his crush, one of Klaus's cult followers. He also gets to have a nice reunion with Diego. Ben's new possession powers come in handy when saving the world from Vanya again.
He enters her body and is able to go into her mind and convince her not to blow up everything again. The Ben possessing Klaus part was comedic and added another funny layer to that brother dynamic, but it was clever how the show used the power again in a more profound way, allowing that timeline Ben to be the hero before moving on from the human world.
The Sparrow Academy
The big cliffhanger of The Umbrella Academy Season 2 was that the original timeline has changed and now Reginald never formed the Umbrella Academy, instead, he made the Sparrow Academy with Ben as the leader. We'll learn more about how this came to be (which I think we can probably all figure out), but just the shock of a new academy and the excitement of meeting other of the 43 children is enough to make me really want the next season to premiere soon.
The Apocalypse Of 1963
Umbrella Academy brought viewers right into the action with what looked like a scene from the X-Men franchise with each Hargreeves showing off their power and kicking some butt. Then we got a major bang when the United States was nuked by the Soviets. This set the tone for the season and showed us another dark possible future for the Umbrella Academy.
Luckily, Five stopped that potential destruction but seeing it play out in the first few minutes just made it clear how action-packed the season would become.
Five Vs. Five
The most unexpected moment of The Umbrella Academy Season 2 was seeing Five again in his natural older body (played by Sean Sullivan). This lead to both Fives trying to outsmart the other. And then we were treated to a battle of the Fives. Young Five eventually won with the help of Luther (Tom Hopper).
It was great seeing Five take on Five, and though younger body Five is 14 days older, we're still not sure if he's the older and wiser one.
Luther Gets High Off Laughing Gas
The Umbrella Academy Season 2 had many intense, dramatic moments, so when we got the comedic ones, it was a welcomed treat. Luther got to be a little bit more relaxed in Season 2, and one of those moments came when he just decided to get high with Elliot (Kevin Rankin). Elliot pulled out his father's laughing gas and it was a tripping mess from there. This scene also just added to the likeableness of Elliot and how it was such a shame to see his gruesome end. R.I.P Elliot.
Harlan's Powers
When Vanya saved Harlan (Justin Paul Kelly) Umbrella Academy once again proved that she is one of the most powerful members. Surprisingly, it was later revealed that when Vanya brought Harlan back from death, she transferred her powers over to him. In order to stop him from being destructive, she seemingly took them away.
However, one of the final scenes of Season 2 showed him still having some powers, possibly just a lesser, more manageable amount. Harlan having powers has to have done something to the past, so I can't wait to see how a Harlan with power changed the course of the future.
Perhaps, he found a way to keep his mom and him young and alive, so Vanya and them may reunite in season 3. We shall see…
I am now anxious for The Umbrella Academy to return (despite no official renewal yet). I really want to meet the members of the Sparrow Academy. Both seasons of The Umbrella Academy are currently available to stream on Netflix. Stream it here (opens in new tab).
Your Daily Blend of Entertainment News
Spent most of my life in various parts of Illinois, including attending college in Evanston. I have been a life long lover of pop culture, especially television, turned that passion into writing about all things entertainment related. When I'm not writing about pop culture, I can be found channeling Gordon Ramsay by kicking people out the kitchen.
Your Daily Blend of Entertainment News
Thank you for signing up to CinemaBlend. You will receive a verification email shortly.
There was a problem. Please refresh the page and try again.