The Umbrella Academy: 6 Questions That Season 2 Needs To Answer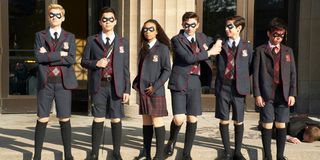 The Umbrella Academy made quite a splash when it debuted on Netflix last year. Following a dysfunctional family of superheroes who reunite in the wake of their adoptive father's death, the comic book adaptation was imaginative, mysterious, and occasionally pretty dark. Spoilers from Season 1 of The Umbrella Academy ahead!
The Umbrella Academy Season 2 will pick up where the Season 1 cliffhanger left off, with the Hargreeves siblings time traveling to the past to prevent the destruction of the world.
The Netflix series may have tied up some of its story arcs in Season 1, but the finale proved that everything is fair game and all rules are out the window. With that in mind, here are six questions The Umbrella Academy still needs to answer in Season 2.
Will Allison and Vanya Reconcile?
The Umbrella Academy Season 1 quickly established the various dynamics between the Hargreeves. Clearly, not everyone got along (looking at you, Diego and Luther). However, Allison and Vanya's relationship emerged as the heart of the show. Whereas Ellen Page's Vanya often went overlooked by the rest of her siblings, Emmy Raver-Lampman's Allison made attempts to bridge the divide and include her.
Allison also cared for Vanya's well-being the most. But, growing tensions between the sisters escalated and Vanya, in an uncontrolled rage, used her power to cut Allison's throat. Allison thankfully survived, but it's unclear where her and Vanya's relationship stands now. With the sisters together in the past, it's possible Season 2 will explore their dynamic further and allow for some healing.
Will The Umbrella Academy Travel To More Than One Time Period?
To save them from the impending apocalypse, Five used his powers to travel back in time, transforming the Umbrella Academy from adults to teens once more. Beyond the fact that they'll be in the past, there's not a ton of information about which time period the siblings ended up in.
Knowing that Five can travel to different eras, it's possible that he and the rest of the Hargreeves won't stick to one time period and will visit different decades. Of course, anything could go wrong and Five's powers aren't an exact science. That said, there's always a chance that the Hargreeves will be separated in time. Either way, I'm hoping Season 2 offers some background as to how time travel will be incorporated.
What Happened To The Other 36 Babies?
The Umbrella Academy Season 1 begins with the backstory of how Sir Reginald Hargreeves went around the world and adopted seven babies born under mysterious circumstances. However, Vanya, Allison, and the rest of their siblings may not be the only ones with unique abilities.
In fact, there were 36 other babies born on the same day in 1989. Unfortunately, we never learn what happened to any of them or where they may have ended up in Season 1. Perhaps Season 2 will finally answer whatever became of them and how they grew up. Might some of them have a run-in with The Umbrella Academy? Never say never.
Will Vanya Have Her Powers Dampened Again?
Vanya had one of the most harrowing stories in Season 1. Sir Reginald made her feel inferior to the rest of her siblings and she grew up in their shadow while they got to take down bank robbers with their powers. So you can imagine how shocked Vanya was when she found out that she did actually have powers. It turns out that Reginald had been dampening her abilities all along.
Part of Vanya's journey was in realizing her untapped potential. That said, her powers did bring about the apocalypse, so her siblings will have to figure out a way to stop her. But, how do they go about doing that and does that mean they'll try and pull a Reginald and dampen Vanya's powers all over again? Season 2 will hopefully provide more clarity on how she can possibly control them.
How Did Ben/Six Actually Die?
Ben's death is truly one of the biggest mysteries in The Umbrella Academy. The rest of the Hargreeves siblings acknowledge his death, but they never bring up exactly how he died. Despite being dead, Ben was still a part of the Netflix series, primarily because Klaus' powers allowed him to convene with the deceased. Ben would offer sage advice occasionally or give his opinion about the bad ideas Klaus gets himself involved with, but none of his other siblings seemed to realize who Klaus was talking to.
Of course, Ben's death is never revealed in the comic book series either, but that doesn't mean the show couldn't explain exactly what caused his death. We know that Ben will be a part of Season 2, so it would be great if The Umbrella Academy explored his backstory and what happened to him.
Can The Umbrella Academy Stop The Apocalypse This Time?
Five's reappearance in the present seemingly set in motion the Umbrella Academy's journey towards stopping the apocalypse. But, despite his ability to time travel and knowing what would happen in advance, Five remained mum on the matter for most of the season. That is, until it was too late.
As it turns out, the apocalypse wasn't actually an external event. Rather, it was caused by Vanya's immense powers gone, well, apocalyptic. The Hargreeves siblings tried to stop her from going nuclear, but it was too late. The Umbrella Academy Season 2 gives them another chance to fix things and stop the apocalypse from happening for good this time. Time traveling helps, but they're gonna need to work with Vanya if they're to truly set things right.
The Umbrella Academy Season 2 is set to premiere on July 31 on Netflix (opens in new tab). All ten episodes of Season 1 are currently available to stream on the service. For more on what to watch to fill The Umbrella Academy void, be sure to check out our 2020 Netflix schedule, as well as our summer TV premiere guide.
Your Daily Blend of Entertainment News