7 Great TV Characters Who Are On The Spectrum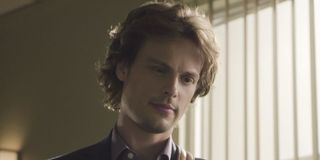 These days, the entertainment industry seems to be more diverse than ever and, by proxy, working to include better examples of cultural representation in movies, literature, but especially on television. This also includes those who are on the autistic spectrum, which many TV characters, from today or yesteryear alike, serve as an admirable reflection of.
It should be noted that some of the most often discussed characters in reference to autism in various works of fiction are merely implied to be on the spectrum. These names have included Boo Radley in Harper Lee's novel To Kill a Mockingbird, both Jim Parsons' Sheldon Cooper and Mayim Bialik as Amy Farrah-Fowler on CBS sitcom The Big Bang Theory, and even Ryan Gosling's nameless hero, otherwise referred to as "Driver" in director Nicolas Winding Refn's 2011 Neo-noir thriller Drive.
For this list, however, we want to focus specifically on characters, and, in particularly, those who come from television, whose diagnosis is confirmed and also important to their role on the series they originate from. Of those many beloved and revealing characters, we narrowed down this list to just seven of our favorites.
Dr. Shaun Murphy (Freddie Highmore) - The Good Doctor
Speaking of diagnoses, this character is both groundbreaking for representation of people on the spectrum and those in the medical field. British actor Freddie Highmore followed up Bates Motel with his Golden Globe-nominated role as Dr. Shaun Murphy in The Good Doctor, a Fox drama following an autistic savant's journey to be accepted by his peers after he his hired as a surgeon. The decision proves to be controversial to some employees at St. Bonaventure Hospital, who eventually see Murphy for the good that his genius-level intellect is capable of.
Max Braverman (Max Burkholder) - Parenthood
One of the most praised TV characters for their authentic portrayal of Asperger's is Max Braverman. Played by The Purge star Max Burkholder, the young son of Adam (Peter Krause) and Kristina Braverman (Monica Potter) sees as many highs as he does see lows for his disorder on the popular NBC dramedy Parenthood. Max has been subjected to ignorant ridicule and prone to uncontrollable tantrums, but he would later refer to his disorder as one of his greatest strengths when he made a bid for his school's student council president, acting as an inspiration for his classmates in the series and students like him in the real world.
Abed Nadir (Danny Pudi) - Community
Prior to the introduction of Max Braverman, another beloved NBC series saw an especially unique representation of the spectrum from one lovable Greendale Community College student. Instead of obsessions based on science or mathematics, Danny Pudi's portrayal of Abed Nadir on Dan Harmon's Community is fixated on movies and television, which is, more or less, his primary form of communication. This aspect of the character was the focus of one of the most heartfelt from the series' first season in which Abed is able to finally connect with his stubborn father (Iqbal Theba) through his own autobiographical experimental student film.
Entrapta (Christine Woods) - She-Ra And The Princesses Of Power
Perhaps one of the most infectious and entertaining characters on TV on the autistic spectrum is Entrapta, voiced by Christine woods on She-Ra And The Princesses Of Power. On the Netflix update of the similarly titled 1980s animated fantasy series, Entrapta becomes part in the Resistance against her former employers, the Horde. In addition to her bubbly, energetic personality, above average strength, and larger than life purple pigtails, the Etherian is scientist and mechanical engineer of genius ability, which often comes in handy on adventures with the Princess Alliance, even when they cannot seem to follow her highly sophisticated technical jargon.
Spencer Reid (Matthew Gray Gubler) - Criminal Minds
There is a character of almost that exact description (minus the engineering and pigtails, of course) on a show that is most definitely not for children and recently had its final curtain call after 15 seasons on CBS. Matthew Gray Gubler is one of a mere few series regulars who lasted the entire run of popular crime procedural Criminal Minds, during which he played the FBI Behavioral Analysis Unit's walking encyclopedia/calculator hybrid Spencer Reid, who is actually an especially unique case for representation of mental health on television. While his Asperger's has proven undeniably effective in solving crimes, Reid also has a history of schizophrenia, which he inherited from his equally brilliant mother, played by Jane Lynch.
Sonya Cross (Diane Kruger) - The Bridge
Like Spencer Reid, Sonya Cross is another character whose Asperger's syndrome is a powerful tool when investigating heinous crimes, but is also a bit of a barrier in the realm of social interaction. The latter proves to be a comparatively greater hurdle for the El Paso-based detective, played by Inglourious Basterds actress Diane Kruger on FX's North American-remake of European thriller The Bridge, who is prone to inappropriate comments and failing to show empathy. It is not the most endearing portrayal of the spectrum, but one of raw honesty that makes Det. Cross one of the boldest characters on television in recent memory.
Julia (Stacey Gordon) - Sesame Street
Thankfully, there are also characters on spectrum specifically created for children, much like Julia on Sesame Street. The 4-year-old, red-headed Muppet, voiced by Stacey Gordon, was introduced to the iconic children's program in 2017 for an episode that aims to teach young viewers, and even Big Bird, too, about what it means to have autism. The episode immediately takes notice of Julia's unique talents with her impressively advanced skills in painting and her invention a refreshing and fun way of playing tag, but is also keen to point out her own struggles with being shy around new friends and an unsettled reaction to police sirens, in well-rounded and endearing effort to make more people aware of the spectrum.
What do you think? Did we cover some of the best characters from television on the autistic spectrum, or did we fail mention the one whom you personally admired the most? Let us know in the comments and be sure to check back for additional information and updates on how mental health is represented in media, as well as even more retrospectives of some of the most intriguing and beloved characters ever created, here on CinemaBlend.
Jason has been writing since he was able to pick up a washable marker, with which he wrote his debut illustrated children's story, later transitioning to a short-lived comic book series and (very) amateur filmmaking before finally settling on pursuing a career in writing about movies in lieu of making them. Look for his name in just about any article related to Batman.
Your Daily Blend of Entertainment News
Thank you for signing up to CinemaBlend. You will receive a verification email shortly.
There was a problem. Please refresh the page and try again.