That Time Prince Harry Visited Meghan Markle On Suits And Most People Didn't Notice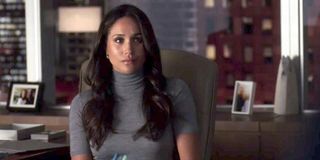 It's no longer a secret to anyone on the planet that Meghan Markle and Prince Harry are a couple, but that wasn't so much the case just a few years ago. As a matter of fact, it turns out that the royal figure actually visited Markle on the set of Suits right before the pair went public with their relationship in 2017. According to sources, most of the Suits cast and crew didn't even notice Prince Harry was even there.
Long before Meghan Markle was officially a royal, she started played Rachel Zane on USA Network's legal drama Suits for seven seasons. Since she left the show, Markle hasn't really gone back into the acting world (for obvious reasons), but Suits was very much a staple of her pre-royalty career. According to the book Finding Freedom by Omid Scobie and Carolyn Durand, barely anyone batted an eye when Prince Harry visited Markle at her Toronto workplace while he was in town for the Invictus Games in 2017. A member of production shared what happened that day to the royal reporters (via Town & Country), saying:
I'm sure the reason why most people didn't know Prince Harry came to visit until he's already left because, well, he's Prince Harry. The royal family has always been heavily protected, and I doubt that he would have just been able to walk onto the set of Suits without some form of detailed security plan and bodyguards, and possibly ways to disguise himself. Besides, if too many people had known he was there, we all would have heard about it before now, and the Suits set possibly would have been mobbed by onlookers.
That said, it seems the cast and crew members who did know that Prince Harry would be visiting Meghan Markle on set were "so gracious" about his time there. So now I'm curious...did Gina Torres meet Prince Harry? Did anyone else from the cast go on the set tour with the couple, or were the others specifically from the set areas they went to? Everything is possible with him being on set. Whatever the case, it's pretty cool that the royal got to see where his wife worked at the time, and that he seemed intrigued by the TV process.
The biography also went on to detail the security measures put in place for Meghan Markle while she was still working and discreetly dating the prince. According to the book, the actress' name was taken off of filming schedules and she had bodyguards accompany her to work. While that doesn't come as much of a surprise, one crew member noted that Markle's romantic relationship with Prince Harry was "awkward at the beginning."
For many, Suits was never the same following Meghan Markle's departure, but the show did go on for two more seasons. Not to be forgotten, however, is that Markle's character was referenced in the drama's final season, with Patrick J. Adams making his own return to the show to confirm that at least Mike and Rachel were still together.
Suits news is few and far between these days, but stay tuned to CinemaBlend for updates. In the meantime, be sure to check out our 2020 Fall TV premiere schedule for more options.
Your Daily Blend of Entertainment News
Thank you for signing up to CinemaBlend. You will receive a verification email shortly.
There was a problem. Please refresh the page and try again.