Joy-Anna Duggar Shares Baby Bump, Plan For 'Little Princess' Name In New Post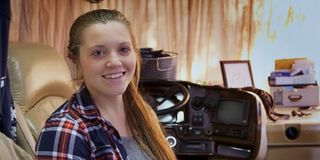 Joy-Anna Duggar shared some happy news recently. After announcing that she and husband Austin Forsyth were expecting their second child back in March, the Counting On reality show star took to social media to show off her baby bump. Duggar was thrilled about her bundle of joy and revealed the plan to name their "little princess" in a new post.
Nine months after her miscarriage, Joy-Anna Duggar revealed that she was expecting again. This time around, a baby girl is on the way for the 19 Kids and Counting alum, who already had a two-year-old son named Gideon with Austin Forsyth. Over on Instagram, Duggar posted a photo of herself wearing a T-shirt that read "Pardon My Bump" while cradling said baby bump. Duggar wrote a caption confirming that she is 25 weeks along in her pregnancy. Meanwhile, Gideon stood against his mother's legs in the picture, looking adorable in a red shirt and diaper. Check out Duggar's post below:
The decision not to name her "little princess" until she was born makes a lot of sense. First of all, picking a name is incredibly hard and there are several choices that make the decision that much more complicated. And besides, Joy-Anna Duggar and Austin Forsyth still have a number of months to go before their daughter is born, so there's plenty of time left to decide on a name. Perhaps the inspiration will come to them when they finally meet her. The Counting On star's baby girl is due in August.
Joy-Anna Duggar married Austin Forsyth in 2017, and the couple welcomed their first child on February 23, 2018. In May of 2019, Duggar announced she was pregnant again, only to share the heartbreaking news later on that, after 20 weeks, she had suffered a miscarriage. She and her husband were understandably devastated and heartbroken at the time.
Thankfully, everything is looking up for the couple, and it sounds like the baby girl is in good health, with Joy-Anna Duggar counting down the days until she's born. You can imagine Gideon is equally thrilled about having a baby sister to help take care of. Most recently, the Duggar men revealed how grateful they were for their wives ahead of Mother's Day, and I have no doubt that Austin and Gideon have something in mind to celebrate Joy-Anna on the special day.
Season 10 of Counting On, a spinoff of 19 Kids and Counting which follows the older Duggar siblings and includes parents Jim Bob and Michelle Duggar, wrapped at the end of 2019. Rumors swirled that Season 11 had already begun filming earlier this year. However, at the time of this writing, TLC hasn't officially renewed the series for Season 11.
Stay tuned to CinemaBlend for updates. For more on what to watch, be sure to check out our 2020 summer TV premiere guide.
Your Daily Blend of Entertainment News